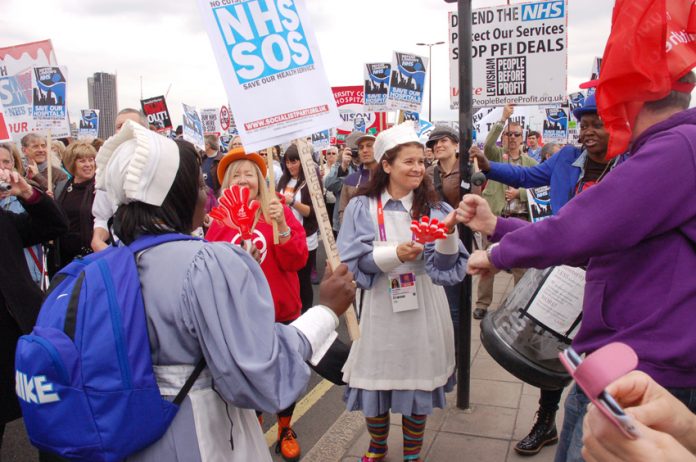 THE TUC Congress yesterday passed Emergency Motions against the Lobbying Bill, and against the attack on the right to strike of London Underground workers.
Mover of Motion 5, James Anthony, of Unison, said the government has turned the scandal of rich lobbyists into an attack on trade unions.
'We do intervene in elections. We ask the public to vote for parties that support public services.
'With the bill outlawing any activities in the run-up to an election, our work could be affected.'
He stressed: 'The bill is about attacking opposition. They want to tie the unions up in bureaucracy.'
He concluded with an appeal to Labour, 'Don't water down the bill, defeat it.'
Seconder Tony Kearns of the CWU said: 'At Prime Minister's Questions, Cameron said Labour don't want unions outside the law and that unions don't want to be controlled by the law – but that's what the bill is all about.'
Kearns added: 'Ninety-nine per cent of lobbyist activity is not going to be covered by this bill.
'This is about gagging democratic debate, about state control of the trade unions.
'It's about shutting us up. But nobody is going to shut up the trade unions.'
Congress continued to pass emergency Motion 6 on the Tory GLA proposals to ban strikes on London Underground.
Mover Glenroy Williams, RMT, said: 'This is the same mayor who told the workers of London they can't go on strike unless they have a 50% majority vote for it, when he can only get a 30% vote.
'He wants to ban action by overground staff against plans to introduce driver-only operations, because he wants to cut staff.
'This is to set the ball rolling for cutting other staff.
'We ask you to support this motion to defend the right to strike.'
Seconder, Fliss Pemru, TSSA, said: 'Mayor Johnson has been supporting the Lobbying Bill. No wonder he wants to ban strikes.
'Our members want to take strike action because of blatant cuts in staff.
'A strike will affect the travelling public.
'But if these cuts go through, every day will be a strike day – there won't be any staff.'
She concluded: 'The public and the unions are on the same side. Support the London-wide day of action on 23rd October against London Transport cuts.'
Speaking in support, Steve Gillan, of POA, said: 'This goes to the heart of things. In 1994 the POA had the right to strike taken away from it.'
He warned: 'There is an agenda. People in government will look at every union that provides an essential service to make a further attack on trade union rights.'
Congress also voted unanimously to back ambulance workers taking strike action against an imposed 25% cut to their sick pay.
Moving Composite Motion 4 'Ambulance and Service – NHS employer-imposed cuts to sick pay', Sharon Holder of the GMB said: 'This emergency motion affects thousands of ambulance workers in England who are facing imposed cuts to their sick pay.'
She added: 'Union members across the three unions have overwhelmingly voted to reject cuts on a fantastic turnout.
'GMB members returned a 90% rejection with members saying they were prepared to take industrial action should their employers impose changes without agreement.'
Holder continued: 'Within days of all three unions reporting their members' rejection, the NHS employers wrote to say that the changes would be imposed on 1st September without trade union agreement, resulting in a 25% cut in sick pay and staff have had no contractual notice of these detrimental changes.'
She warned: 'Organising through our unions to collectively bargain for our members is at stake here.
'The GMB, alongside Unite and Unison, have not agreed to collectively vary or to amend changes that will lead to cuts in ambulance workers pay by up to 25%.'
Seconding the motion, Eleanor Smith of Unison said: 'Ambulance staff have a dangerous and difficult job.'
She said: 'Our members won't accept these cuts. Our members are prepared to take industrial action to stop this happening.'
Speaking in support, Carolyn Taylor, of Unite, said: 'The attacks on sick pay are only one element of the attacks taking place on ambulance workers at the moment.
'In the Yorkshire Ambulance Trust, my union, Unite, has been derecognised. Why? For raising concerns about patient safety.
'The trust want to de-skill ambulance workers using more Emergency Care Assistants, who only receive six weeks training.'
She added: 'If we do not fend off these attacks when they take place they will continue to spread further across our public services.'
She concluded: 'Unite support this motion. We want all unions to unite together and fight.'