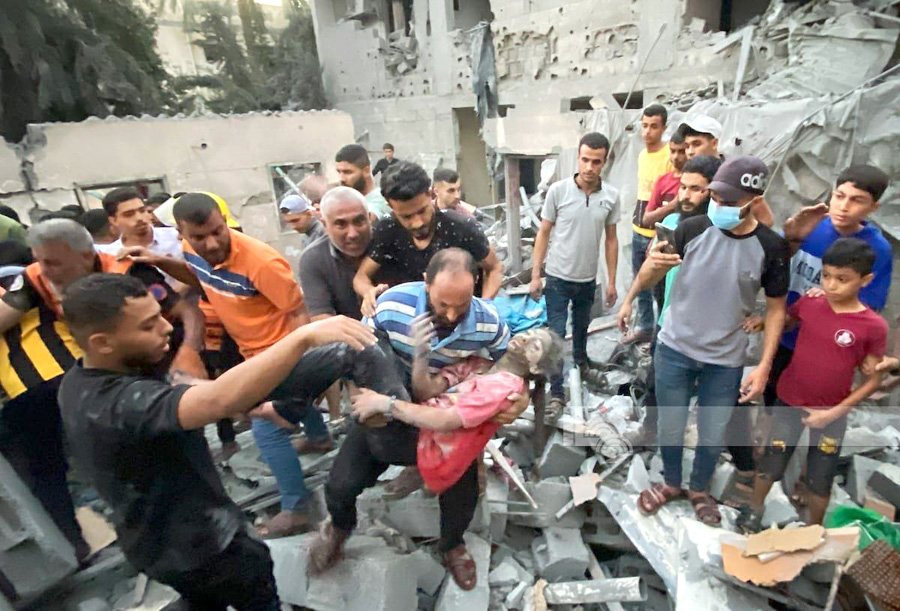 AN unconfirmed number of Palestinian civilians were killed and many more were injured last night in an ongoing Israeli genocide campaign involving airstrikes and artillery bombardment across in the Gaza Strip, according to local and medical sources.
A WAFA correspondent said several Palestinians were killed and others who were wounded were admitted to Al-Shifa Medical Complex in Gaza City following a series of intense airstrikes carried out by Israeli war machinery on the neighbourhoods of Al-Nasr, Sheikh Radwan and Al-Zaytoun in Gaza City.
Several deaths and injuries were also confirmed as a result of Israeli airstrikes on the Bureij and Nuseirat refugee camps and the city of Deir Al-Balah in the central Gaza Strip. They were all transported to Al-Aqsa Martyrs Hospital.
Additionally, a civilian was killed due to Israeli shelling on the town of Abasan to the east of Khan Younis in the southern Gaza Strip.
Meanwhile, several displaced individuals seeking refuge at Al-Quds Hospital in Gaza City were injured as a result of shattered windows due to an Israeli bombardment in the vicinity of the hospital.
In its latest update yesterday, the Ministry of Health had announced that the death toll of the ongoing Israeli aggression on the Gaza Strip and the West Bank has risen to 9,224,with over 24,000 injured, since October 7.
At least 10 Palestinian civilians were killed this morning in an Israeli bombardment of a group of graveyard workers in the cemetery of Beit Lahiya, in the northern Gaza Strip.
Additionally, Israeli artillery intensively shelled areas east of Al-Qarara town in the southern province of Khan Younis, and east of the Al-Wusta province in the central region of the Strip.
The ongoing Israeli aggression in Palestine has brought immense suffering to the Palestinian population, especially in the Gaza Strip, with casualties, particularly among innocent children and healthcare workers, mounting around the clock.
UCU lecturers condemn Israeli war crimes
UCU lecturers at the College of North East London have demanded action from their union leaders to stop the Tory government's support for the Israeli genocide in the Gaza Strip at Thursday's branch meeting.
In response to the call for support from the Palestinian trade unions, they voted 20-1 to demand the UCU call a one-day national protest strike against the Tory government support for the Israeli regime's war of annihilation against Palestinians in the Gaza Strip.
The resolution also demanded that the UCU NEC raise this demand at a recalled TUC general council meeting to do likewise.
The daily slaughter of hundreds and hundreds of children and civilians must be stopped, and ended with an immediate cease-fire.
The motion read:
'This branch is appalled and dismayed by and totally opposed to the ongoing humanitarian catastrophe caused by the ferocious Israeli air force bombing and military ground invasion of the Gaza Strip in occupied Palestine.
Since 7 October the mass murder of 8,306 people, including 3,457 children, and serious injuries to a further 21,000 people, as of 31 October 2023, amounts to 'collective punishment' and a major war crime.
'Major hospitals have been deliberately bombed by Israeli jets killing up to 500 civilians a time.
'Gaza's two universities, the Islamic University and the Al-Azhur University have been bombed and buildings severely damaged.
'The tightening of the 7-year siege imposed by Israel now blocks all imports of water, food, medicines and fuel into the enclave denying Gazans the barest necessities needed for survival – another war crime.
'The Palestinian trade unions have appealed to global trade unions to take action to stop the Israeli war machine.
'The UCU general secretary ended her speech at the massive pro-Palestine demonstration last Saturday with 'Free, Free Palestine'.
'The Branch calls for the UCU NEC to call a one-day national strike against this Tory government's support for the Israeli regime's military onslaught against Gaza and to call for a recall of the TUC general council to do likewise.'
• See editorial