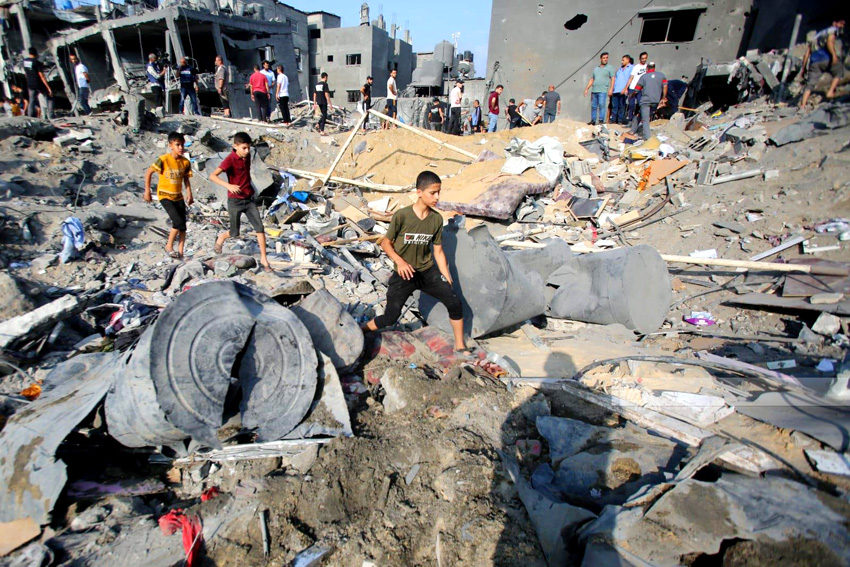 OVER 20,000 wounded Palestinian people are still trapped in the Gaza Strip with 'limited access to healthcare', according to Doctors without Borders (MSF), despite initial evacuations of foreign passport holders and badly injured Palestinians across the border to Egypt.
In a statement on Wednesday, MSF said there are still over 20,000 injured people in Gaza with limited access to healthcare due to the Israeli siege.
The organisation further said its Palestinian staff were still offering care in the territory while its 22 international staff members in Gaza were among those who left the territory via the Rafah border crossing.
Another international team was waiting to enter the territory to replace those who left 'as soon as the situation allows', it added.
The organisation went on to call for a greater number of people to be evacuated, as well as for a ceasefire and for more critical aid to be allowed in.
The head of the UN agency that works to help Palestinian refugees (UNRWA), Philippe Lazzarini, managed to reach the territory on Wednesday via the Rafah crossing, telling journalists there he had 'never ever seen' anything like it.
Meanwhile, according to health officials, the only cancer treatment hospital in the Gaza Strip has gone out of service after it ran out of fuel amid the ongoing Israeli bombardment of the besieged enclave.
Gaza Health Ministry issued an urgent call for intervention from the international community to save the lives of those in the hospitals.
Subhi Skaik, the director of the Turkish-Palestinian Friendship Hospital said during a press briefing on Wednesday that the hospital, which mainly treats cancer patients, had used up its fuel and was now out of service.
'We tell the world don't leave cancer patients to a certain death due to the hospital being out of service,' said Skaik.
Since October 7, Israeli attacks have killed nearly 8,800 Palestinians in the Gaza Strip, including more than 3,600 children.
The Israeli regime has also imposed a complete siege on the territory as well as cutting off fuel, electricity, food, and water to more than two million people living in the densely populated area.
Belgium unions refuse to handle arms for Israel
BELGIAN transport workers' unions on Tuesday called on their members to refuse to handle military equipment being sent to Israel to battle Hamas.
The ACV Puls, BTB, BBTK and ACV-Transcom unions said in a joint statement that airport workers have seen arms shipments.
'While a genocide is under way in Palestine, workers at various airports in Belgium are seeing arms shipments in the direction of the war zone,' the statement said.
A Belgian government spokesperson declined to comment on whether arms were shipped to the region via Belgium.
The unions said that loading or offloading these weapons would mean contributing to supplying organisations that kill innocent people.
'We, several unions active in ground logistics, call on our members not to handle any flights that ship military equipment to Palestine/Israel.'
The unions also called for an immediate ceasefire and asked the Belgian government to not tolerate arms shipments through Belgian airports.
'As unions, we stand with those who campaign for peace,' they said.
Hundreds of thousands of demonstrators rallied in cities in Europe, the Middle East and Asia on Saturday to show support for the Palestinians.