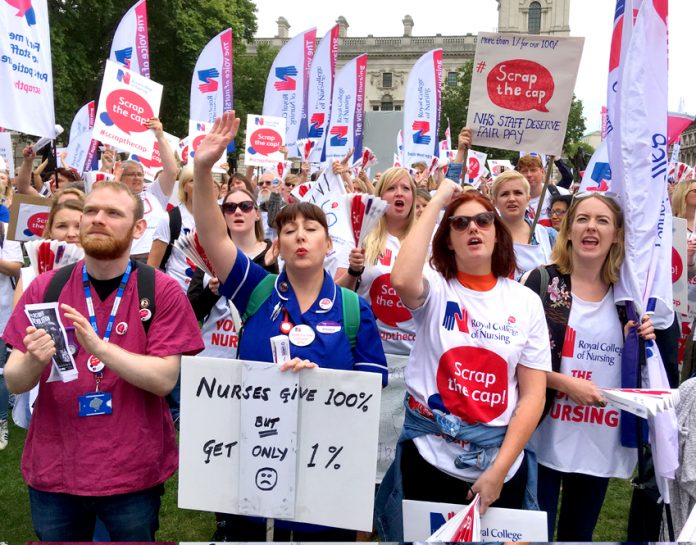 NURSES, midwives, doctors, paramedics and NHS staff are being driven out of the profession because of overwork and low pay… creating a 'severe staff shortage', Health Education England (HEE) warned in a damning new report released yesterday.
If the NHS does not urgently recruit another 190,000 more staff to tackle the chronic understaffing, HEE further warns, patient care will suffer. The NHS is short of 42,000 nurses, midwives and therapists, the report states. Patient care is being put at risk, HEE warns with 8% of vacant shifts going unfilled, thus 'increasing pressure on existing staff and potentially impacting on quality'.
Sara Gorton, head of health at the union Unison said: 'Shortages of this magnitude mean care for patients is suffering and staff are being stretched far too thinly. Unless something major happens quickly, more and more employees will quit, making a bad situation much worse.'
Janet Davies, chief executive and general secretary of the RCN, said: 'Recruiting more nurses is paramount, and we are concerned about the higher cost of apprenticeships – a nursing degree is still the fastest and safest route into nursing. Yet student numbers are not increasing – the government must invest in student funding and take responsibility for building a sustainable domestic supply of nurses.'
The Tory government axed the student nurses and midwives bursaries, which meant that those who began their studies last September had to take out the full student loan, rather than have their fees and some of their living costs paid for through the bursary scheme.
Davies said: 'The future NHS workforce should not be secured through personal debt. Patients deserve a well-trained and innovative workforce.' She added: 'The government must reverse cuts to vital Continuing Professional Development funding to safeguard the future of health services through strong and effective nurse leadership.'
Shortages are now so acute HEE states that:
• The NHS is short of 42,000 nurses, midwives, physiotherapists and occupational therapists.
• A widespread lack of nurses is most severe in London, where 15% of posts are vacant, and lowest at 8% in the north-east.
• There are 1,674 (26%) fewer district nurses and 842 fewer learning disability nurses than in 2012.
• GP numbers have fallen by 1% over the last five years despite a key government pledge to increase the total by 5,000 between 2015 and 2020.
• Almost one in three paramedic jobs are vacant across England.
• The number of nurses leaving the profession rose from 7.1% in 2011-12 to 8.7% last year. However, it was later revealed that just a third of the 1,500 new medical school places will be funded next year, while the Department for Health consults on 'how to make available' the remaining 1,000 places 'from 2019/20'.