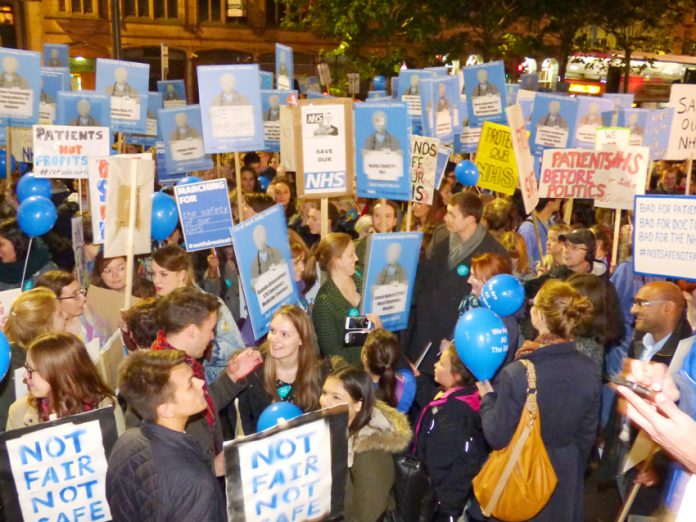 OVER 4,000 junior doctors and their supporters staged a three-hour mass rally outside the City Art Gallery in the centre of Leeds on Wednesday night.
The rally was against the imposition of unsafe new contracts and to demand the defence of the NHS against the Tories. 'Not fair, not safe,' was their insistent condemnation of the government's proposed changes, while health secretary Hunt was denounced as 'the minister against health'.
Ambulances driving past the rally repeatedly sounded their claxons as they proceeded, while principle speaker and retired geneticist Professor Raymond Tallis declared during his speech: 'If I were to die shouting out against Jeremy Hunt I should die content!'
The protest began at around 6:30pm and continued throughout the evening. The vast majority of the swelling crowd consisted of young people. Professor Tallis began: 'We want to explain why we are so passionate about the defence of the NHS. 'I am a doctor who has worked in the health service for 40 years.
'The NHS is now in mortal danger. This attack is just the latest assault on those who deliver heath care. Ultimately it is an attack on patients – that is, an attack on all of us. 'Until now, the NHS has declared for rich and for poor, and for young and old without discrimination. It is no wonder the Tories hate the NHS.'
Meanwhile, the body representing 300,000 junior doctors across Europe has backed the BMA's opposition to government plans to impose a new contract on junior doctors. The EJD (European junior doctors permanent working group) has signed a motion calling for the UK government to halt its current plans for a new contract.
The body, which is made up of junior doctors committees from across 20 European countries, has warned that the terms of the new contract threaten to 'devalue junior doctors' and 'compromise patient safety'.
BMA junior doctors committee chair Johann Malawana welcomed the EJD's backing, saying it further strengthened the scale of opposition to the government's plans. He added: 'The junior doctors committee welcomes the support and solidarity of our European counterparts and the 300,000 junior doctors across Europe that they represent.
'Over the past few weeks, we have seen thousands of junior doctors across England stand up and make their voices heard over the government's imposition of an unfair and unsafe new contract.' The BMA is preparing to ballot its junior doctor members in England for industrial action over the contract.
The Welsh and Scottish governments have confirmed that they will not impose a contract on trainees in their nations. The Northern Ireland government has yet to make a decision.