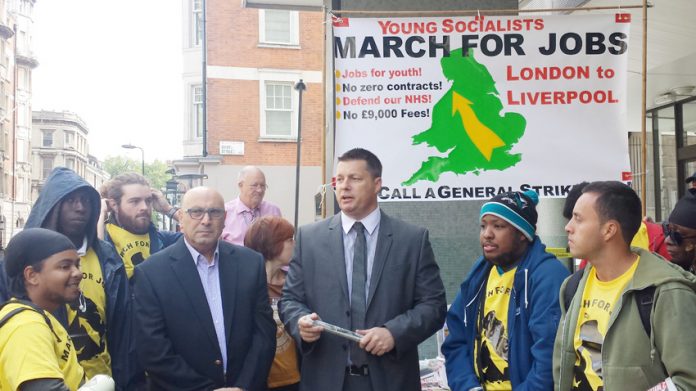 'TUC GET off Your Knees – Call a General Strike!' rang out as the Young Socialists March for Jobs set off from London to Liverpool yesterday morning.
Almost 100 marchers, trade unionists and youth assembled outside TUC Congress House, Great Russell Street in central London for the three-week march, which will arrive in Liverpool to lobby the TUC Congress at 8am on Sunday 7th September.
The main banner read: 'YS March for Jobs London to Liverpool; Jobs for Youth! No Zero Contracts! Defend Our NHS! No £9,000 Fees! TUC Call a General Strike Now!'
As the marchers assembled they were addressed by Joe Simpson, Assistant General Secretary of the Prison Officers Association, who said: 'I am proud to be here to bring greetings from my union and to say we fully support your march for full employment and jobs for all.
'We have tried twice to call for a general strike and the TUC has to call one. Austerity is really hurting working class families and it is time the trade union movement stood up for the working class.
'I look forward to seeing you up in Liverpool. This lot in here have to get up off their arses and call a general strike as soon as we finish the TUC this year.'
Manuel Hassassian, Palestinian Ambassador to London, said: 'I am so pleased and excited to be here with you this morning and proud that you are taking our Palestinian flag with you on the march.
'Your march epitomises your commitment to the deprived and exploited and as a Palestinian, we are in the same struggle.
'The naked aggression and state terrorism against innocent civilians, old women and children shows that Israel only knows one language. But this is the beginning of the end for Israel. It has been a long path to freedom, but it is coming.
'I know your heart bleeds for Palestine and our heart bleeds for you. I as Palestinian ambassador will always be available for you. Justice will prevail one day and it's people like you comrades who are going to make it happen.'
Joshua Ogunleye, Young Socialists National Secretary, said: 'This march is going to move across the country like a storm, pulling together all the young people sick and tired of this system, sick of a future without jobs, who refuse a future of slavery and are in a fight to smash this bankrupt system. The demand for a general strike is a demand for getting rid of this system and smashing capitalism.'
YS editor Paul Lepper said, 'This march has a definite purpose. We say enough is enough. We are taking this banner all across the country for a general strike to bring this government down.'
The march set off on its first leg, to Harrow, then on to Watford, chanting 'Youth demand a Future – Youth demand Jobs! No Zero-Hours Contracts – Youth demand Jobs! From the River to the Sea – Palestine will be Free! No Cuts No Closures – Kick this Government Out!', drawing applause and cheers from the busy London streets.