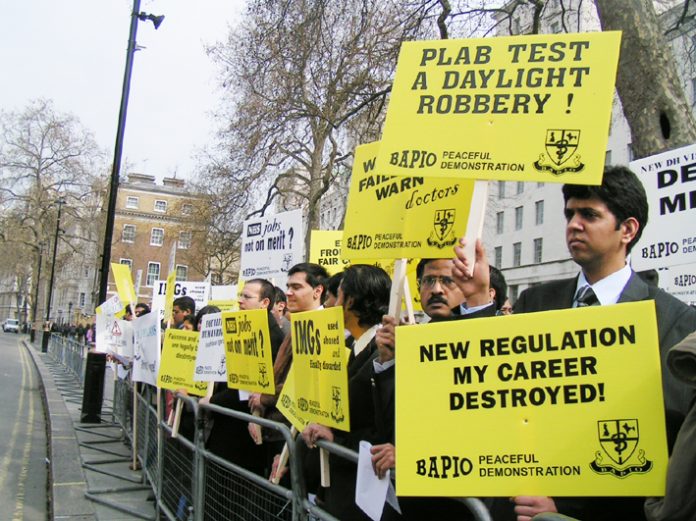 The Royal College of Nursing (RCN) yesterday slammed as 'madness' the destruction of nurses training places.
The RCN was responding to a survey by the Nursing Standard trade magazine which found that one in ten nurses training places are being cut this year.
Half the strategic health authorities in England which responded to the magazine's survey were cutting training posts.
Although the average reduction for England was ten per cent, some units said they were reducing places by as much as 40 per cent.
The magazine sent questionnaires to all 28 strategic health authorities.
Of these 21 responded, with ten saying they planned to cut training numbers by between three per cent and 24 per cent authority wide.
RCN policy adviser Jane Naish said: 'It is madness.
'We have an ageing population and workforce.
'We have already seen a decrease in the number of district nurses, and health visitor numbers are at a standstill.'
She stressed: 'We have to have enough nurses coming through.'
Paul Turner, executive officer of the Council of Deans and Heads of the UK Nursing faculties, said it looked like around one in ten places would be lost.
He warned: 'But in some cases there are more substantial reductions – 30 per cent in one course and possibly up to 40 per cent in another.'
The RCN has already warned that many nurses in training risk not getting jobs because so many health trusts across the country have brought in recruitment freezes and are axing posts.
Among the replies to the Nursing Standard, Shropshire and Staffordshire SHA said: 'The proposed nursing and midwifery commissions in Shropshire and Staffordshire for 2006/2007 is 622.'
It added that since 2001/02 there has been a 24 per cent increase in the number of commissions.
It said: 'However, there is a 9.8 per cent reduction in 2006/07 compared to 2005/06.'
Norfolk, Suffolk and Cambridgeshire SHA said: 'Numbers for 2006/07 reduced by 19 per cent on the previous year to around 630.'
Surrey and Sussex SHA said: 'We are commissioning 945 nurses and midwives this year (2006/07) as opposed to 1012 in 2005/06.'
The Department of Health said nursing training numbers would reduce as the NHS workforce began to 'stabilise'.