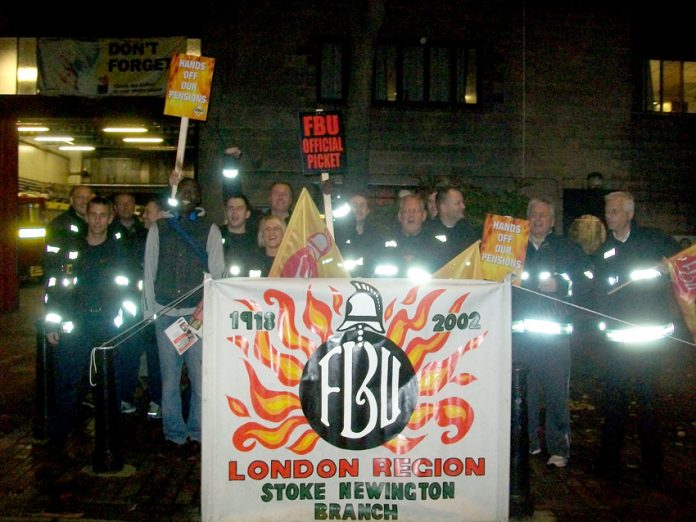 FIREFIGHTERS in England and Wales are on strike from 6am to 8 am today against the vicious government onslaught on their pensions and retirement age.
It is the second strike action in three days.
The first was last Friday evening.
At exactly 18:30pm Friday the shutters opened and FBU fire fighters walked out on strike throughout England and Wales.
Outside Stoke Newington Fire Station passing motorists immediately started bibbing their horns in support and passers-by stopped to talk to the strikers and show their support.
Adam Placey, branch rep for Stoke Newington fire station told News Line: 'We are out because of the attack on our pensions. They want to increase the normal pension age to 60. It is unsafe and unaffordable for fire fighters to work till they're 60.
'As a separate issue, I would like to say that it is disgraceful that they want to close down Kingsland station as well as the nine across London, remove 18 fire appliances and reduce our force by 560.
'These are job opportunities that our kids are not going to have.
'There is another strike Monday morning six till eight am.
'They took 27 fire engines away from us in London as a strike-breaking force and they are getting manned by "volunteers". They have only been trained for up to three weeks and we are opposed to that. In itself it is unsafe.
'I support a general strike which will create maximum disruption. This government is no good to any public sector workers. I am not sure Labour is any better. We need a revolution!'
Mark Woodham, FBU chairman for Hackney added: 'We have had fitness issues. They want to dismiss us on medical grounds, then we will not receive a penny of our pensions. It would be deferred until we are 67, the state pension age.'
At the closure-threatened Kingsland Station, they fired up the brazier and handed out leaflets to the public. Paul, an FBU member on the picket, said: 'Here at Kingsland we are strong. This is serious for everyone young and old. For the younger generation it is going to be harder and harder.
'Unless we fight now. We are standing up for ourselves and the public. I do not see why we should take it. I think that the government ultimately want a privatised fire service.
'Our appliances and equipment have been owned by a private company for a long time. When private companies fail, like what happened with AssetCo, it is the public, the taxpayer, who has to pick up the pieces anyway. So really the public should own it. AssetCo went bankrupt and they were responsible for the fire trucks.
'I want to get rid of this government, but there is not much difference between this lot and Labour. The whole population feels the same way. I think that everything should be nationalised.'
John Davidson an FBU member at Kingsland said: 'Our firestation is threatened with closure. If it goes, it will mean that the response times for people living in this area will be longer and without question people's lives will be put in danger as a result.
'It is disgusting asking firefighters to work until we are 60. They expect us to maintain the same levels of fitness as now and that is impossible.
'We are fighting to keep our pension age the same as what we signed up for. I signed a contract for 30 years of service or retire at 55. As it stands now, I will have to work an extra ten years, put more money into my pension and get less out and that is just criminal!'
At the picket at Shoreditch fire station, Simon Wolohan told News Line: 'They say that we have to retire at the age of 60. There is not a chance in hell that fire fighters can maintain operational fitness at that age.
'People are being put at extra risk. The risks are tenfold as you get closer to retirement. You have spent the majority of your life dedicated to a public service and now they move the goal posts even further apart.'
Nathan Kane, branch rep for Shoreditch said: 'We need co-ordinated strike action. That is the only way to put our point across that everyone is unhappy with being treated unfairly.
'Co-ordinated strike action might get reported in the press if everyone goes out.
'I live up north and commute. I was at the union rally against the Tory Party conference and that was the largest demonstration in the North West and hardly got reported.
'Our march through central London last month wasn't really in the papers or on TV.
'There is no other option but to fight, a line has been drawn in the sand.
'We save people not banks!'
At a lively picket outside Mitcham fire station on Friday night, firefighters told News Line, 'The main issue for us is that we signed up for a contract and we expect the government to honour it.
'If the ministers think our pension is so good, they should sign up to it and pay 13.2% of their salary.'
Cars hooted their horns in support of striking firefighters at the closure-threatened Clerkenwell fire station.
At a lively picket line, FBU North East London Area Chair Neil Walker told News Line: 'This is a national strike over pensions but at this station we're also aggrieved that our station, which is the oldest station in Europe, is due to close in January.
'As firefighters, we're being hit on two fronts. The government are not only attacking our pensions but also the lives of the public in London with the planned closure of ten fire stations.
'This is going to be a long, hard campaign.
'The government are not giving any commitment on no jobs, no pension.
'Firefighters are expected to work till we're 60 with stringent fitness tests which, if failed, will see mass sackings.
'We pay some of the highest contributions in the public sector, yet could be forced out of a job and have to wait till we're 67 to get a fire brigade pension.'
Euston fire station had a blazing brazier and a huge board with a painted slogan 'Closed … due to pension theft'.
Cars also hooted horns and wellwishers delivered pizzas to the picket!
Euston FBU member John Joseph said: 'I'm showing my support for my colleagues and my discontent with the government's proposals.
'I'm concerned and disappointed. I signed up for 30 years service with a promise of a decent pay-out at the end of it and to be able to retire at a nice healthy age.
'I want my pension to be kept the same, I want it left alone.
'The sign or be sacked diktat is just bullying once again by this government.
'We have to stand together and stay strong for what is ours and our rights, and not be penalised in some rich banker's cause.
'All the unions should take action – they should come together and fight this as one.'
Euston FBU rep Dan Giblin said: 'It's our second period of strike action.
'The government have made no attempt to resolve the dispute.
'The employers have now accepted that the government's pension changes mean firefighters will be sacked.
'This has left the fire minister red-faced.
'We're not going to roll over.
'Firefighters are more determined than ever to defend their pensions and the attempted disruption of the fire service by the Tory government.
'We're out again on Monday for two hours in the morning.
'Hopefully, it will show the London fire brigade are resilient.
'There's no progress so we'll have to fight as long and hard as it will take – it's not an issue we can walk away from.'
There was a lively picket at Kentish Town fire station north west London.
Kentish Town FBU branch chair Tony Sgambati told News Line: 'This strike is about the government wanting us to work till we're 60.
'The main thing is if we're not fit between the ages of 55 and 60, we face possible sacking and not picking up our pension until much later.
'They are also expecting us to pay five more years contributions with no extra pay out.
'We signed a contract. We're keeping our end of the bargain but the government are rescinding theirs.
'People are worried and concerned. People are angry and upset.
'You plan your life for your pension and they want to change my plans, which is not on.
'Personally, I feel we have to fight not just this but everything – otherwise the government take, take take.
'All unions should stand up for what is right.'
There was a strong picket gathering around a brazier at North Earlham Fire station in Norwich.
Alan Jaye, crew manager said, 'It's regrettable that we're taking this action. It appears that the government won't listen to reason. All we want is a fair pension.
'We would hope they would sit down and negotiate properly and look at all eight concerns that we have.
'I suspect if this carries on there would be a 24-hour strike. I am in favour of all the unions getting together. My view is we all push as one.'
At Sprowston Fire station, the banner was up and sausage rolls were being passed round a good crowd of men.
Philip Wright said, 'We're disappointed that the government doesn't want to negotiate and they're trying to shoulder the problem to the local employers. In reality they're ignoring professional advice about the fitness of firefighters into their late fifties. They only select the views they agree with.
'Escalation may be needed if the current level doesn't work and we need to intensify and not give up. I do not agree with privatising public services.'
There was also a strong picket at the Trowse fire station.
There was a strong picket at Northolt Fire Station in west London throughout the four-and-a-half-hour strike.
Dave Shek, North West London FBU Secretary, told News Line: Today's action is solid across the Brigade.
'The government's own report found that it is not physically possible to do a firefighter's job after the age of 55.
'So what they are really doing by making us work to 60 is setting us up for the sack through lack of fitness.
'I'm on Harrow Trade Council and also support the fight in Ealing against the hospital closures.
'In all honesty, we need co-ordinated action to defeat all the attacks of this government and we need it now.'
A Northolt Fire Station FBU rep said: 'For us, it is very disappointing to be in this situation.
'When I joined the service in 2000 I signed a contract. That changed in 2002 and we struck again and then again in 2010.
'This is my third period of strike action and this one we've got to win.
'We need joint action across the public sector.'
Firefighters at Crawley fire station held a lively picket and were well supported by passing motorists who honked their horns and donated food.
Francis Bishop, Brigade secretary, West Sussex FBU, said: 'The government have got themselves into a pickle.
'They come up with a pension scheme that doesn't come to fruition until 60 and, only afterwards, commission a report which has proved that the union was right that firefighters will not be able to maintain fitness standards at 60.
'This means that firefighters face the prospect of paying into their pension for their entire career only to have it reduced by actuarial reduction which will leave them in poverty. That is the gist of it.
'All we say is let people go early if they are not fit for the job, and the government are saying that they can't guarantee that.
'We can't sign up to an agreement which according to the government's own report is not workable and not fit for purpose.
'In a nutshell, our occupational pension should kick in when an individual is not able to do their job.
'So we are very determined to win this dispute, to win a fair pension for our members.'
There was a strong FBU picket at the Chelsea fire station on the busy Kings Road.
FBU rep Steve Stephenson told News Line that two fire stations in the area, Westminster and Knightsbridge face closure.
He said, 'Our pension contribution is already the highest in the public sector, yet what is being proposed will increase it significantly more.
'In addition, we will have to work longer, fitness will become an issue and firefighters will be subject to capability dismissal.
'Those firefighters affected will not get their full pension and it may be deferred.
'Unfairly, there are firefighters who joined the same time as me, who did their training with me, who will have to work 10 years longer than me.
'We have had 27 fire engines taken out of circulation in London, one from this station, and they will be used during periods of strike action to provide rudimentary fire cover.'