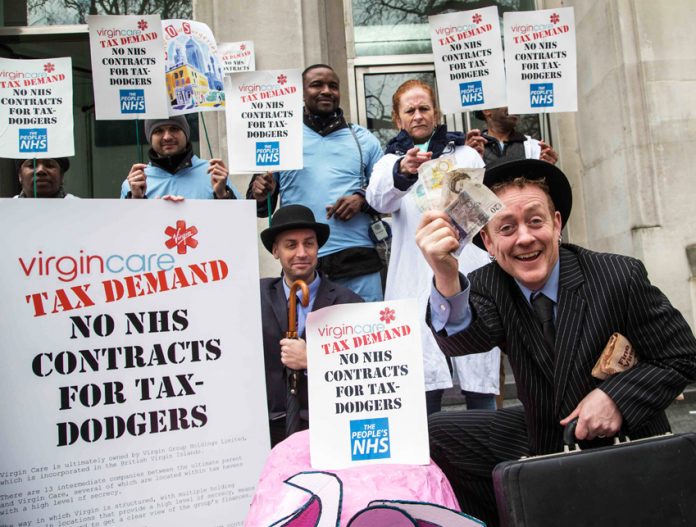 VIRGIN Care has been awarded over £2bn of NHS contracts in the last five years alone, ringing alarm bells over the further privatisation of the NHS. In a single year, Virgin Care won deals worth £1bn to provide services to the NHS.
Virgin, which is usually associated with trains and mobile phones has moved into healthcare at an unprecedented rate. Now, it is not just pay-as-you-go Virgin mobiles on offer but pay-as-you-go Virgin GP services. In January 2018, Virgin Care Private, a new business venture from Virgin Care, opened its first 'health and wellbeing centre' in Birmingham.
This is a purely pay-as-you-go service with no NHS contracts and boasts 'no need for private health insurance'. Virgin now holds at least 400 separate contracts across the public sector – ranging from healthcare in prisons to school immunisation programmes and dementia care for the elderly. It has taken over multiple contracts for children's health as well as end-of-life-care.
And when it does not win the bidding for an NHS contract, Virgin is prepared to sue the NHS, taking it to court and, in some cases, winning vast sums of money – money that should have been spent on doctors, nurses, equipment and services for NHS patients. Sara Gorton, head of health at the trade union Unison, said: 'The company has been so keen to get a foothold in healthcare it's even been prepared to go to court to win contracts, moves that have cost the NHS dearly.
'While the NHS remains dangerously short of funds, taxpayers' money shouldn't be wasted on these dangerous experiments in privatisation.' This aggressive expansion into the public sector means that around a third of the turnover for Virgin's UK companies now appears to be from government contracts.
Virgin's first drive into healthcare was in 2008 when it announced plans for six branded clinics offering a range of services. In January 2016, Virgin won a bid to run adult community services across Dartford, Gravesham, Swanley and the Swale region of North Kent.
In August 2016 Virgin Care was chosen as preferred bidder to take on a seven-year contract, worth around £700 million with an option to extend for three years, to coordinate over 200 health and social care services in Bath and North Somerset. The contract was awarded in November 2016 despite substantial opposition.
In November 2016, Essex County Council awarded a seven-year contract to Virgin Care, in partnership with Barnardo's, to run its Pre-Birth to 19 Health, Wellbeing and Family Support Service across Essex.
In December 2017, Lancashire County Council awarded Virgin Care the five year contract for its 0-19 years healthy child programme. The contract covers school nurses, health visitors and many other services for young people. Justin Madders MP, Labour's Shadow Health Minister, said yesterday: 'The Tories' expansion of the internal market has led to one-third of contracts being awarded to private providers since the Health and Social Care Act.
'Some of these contracts are vast and their failures have wasted millions of pounds of public money.
'After the biggest funding squeeze in NHS history, it is essential that every penny goes to frontline services and to improving patient care rather than padding out private profits. 'This government's privatisation agenda is a huge threat to patient care. Labour will reverse NHS privatisation and return our health service into expert public control.'
Dave Wiltshire, Secretary of the All Trade Union Alliance, said: 'Doctors' union the BMA, nurses' and midwives' unions RCM and RCN and the NHS staff unions GMB, Unite and Unison, along with all other health unions, must come out to take joint strike action together, to drive the privateers out of the NHS.
'Every worker in the country and their families rely on the NHS from the moment they are born to the moment they die. 'The TUC must call the entire working class out on strike to bring this government down and defend the NHS.'