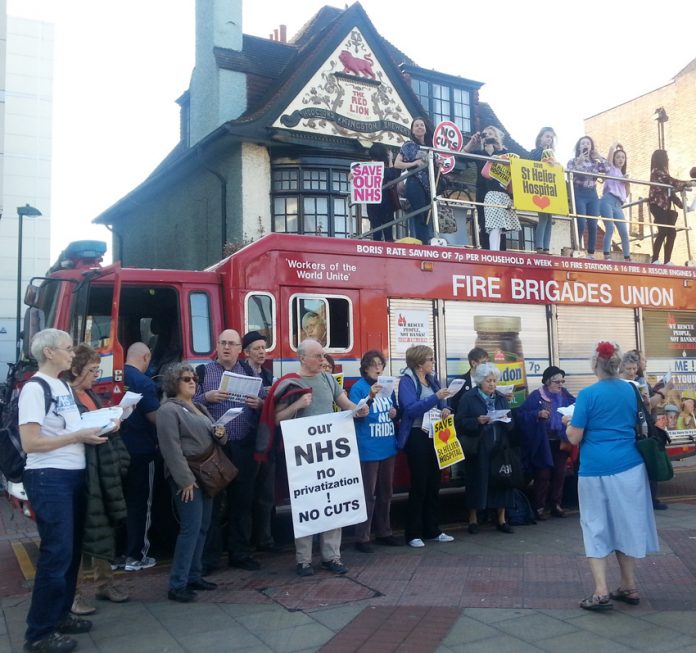 UNITE is demanding that Clause 119 of the Care Bill, which awards Tory Health Secretary Hunt sweeping powers to close down any hospital he chooses with just 40 days notice, is defeated in Parliament today.
Unite is demonstrating outside parliament at 11am this morning, while the Care Bill is being debated, warning: 'Cameron's NHS Wrecking Ball comes to Westminster as MPs vote on the infamous Clause 119 which could see hospitals in England being closed in 40 days without proper consultation'.
Labour is opposed to the clause and the Tory Coalition faces a revolt amongst its own MPs as some have said they will also oppose it.
Sarah Cook, Unite Lead officer for Health for the London region, told News Line yesterday: 'We are holding this demonstration because the government is trying to circumvent the democratic and consultative process.
'In our view, because the campaign to save Lewisham Hospital was so successful in challenging the outcome of the Special Administrator's report and in winning their Judicial Review, the government has tagged Clause 119 on to the end of the Care Bill to try and push it through.
'We want clause 119 dropped from the Care Bill.
'The government are trying to find a way to make quick and fast decisions about health care that do not involve the people who those decisions are affecting.
'I think that hospital specialists are also not given enough consideration.
'For instance, if you take the Lewisham case, the views of those who are in the know, like the clinicians, were not taken into consideration when the decision to make the changes was made.
'These are the people who know best about the services that are needed for the local population.
'Unite will continue to take political action against the bill.
'They are trying to extend the powers of "Special Administrators" to re-organise hospitals that are beyond their remit.
'We are against the privatisation of the NHS, it leads to fragmented services, poor quality of care and low morale for staff.
'We are also against the PFI which is not improving care. They say that improvement is meant to be about community care but if you look at community services, they are a being cut left right and centre.'
Shadow health secretary Andy Burnham said closing financially failing NHS trusts within 40 days of a decision being made is 'dangerous'.
Burnham said: 'Jeremy Hunt is now trying to ram these new rules through Parliament. It's wrong, dangerous and, in my view, will damage public trust in the NHS.'