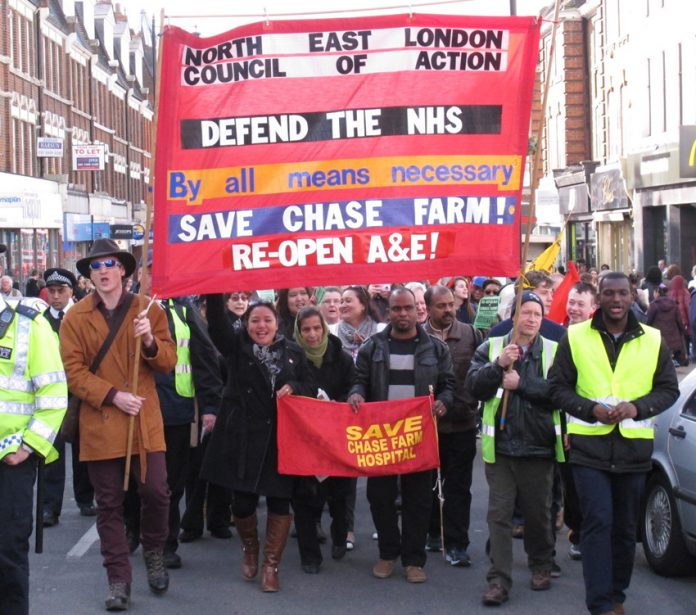 THE government faces a revolt over Clause 119 of the Care Bill today.
This clause would give health secretary Hunt and appointed officials powers to close hospital A&Es and other services within 40 days.
The medical profession, trade unions and campaign groups have warned all MPs that hospitals in their constituencies could be vulnerable to sudden cuts or even closure in the runup to the 2015 general election.
Lib Dem former health minister, Paul Burstow, has tabled amendments to the Care Bill opposing Clause 119, and is likely to be backed by Labour and a number of Tory MPs.
Among them is Tory MP for Enfield North Nick de Bois who fears he will lose his seat over the closure of Chase Farm A&E, Materniety and Paediatrics departments.
Before the 2010 election, Cameron stood outside Chase Farm and pledged it would not close.
De Bois said: 'My constituents have seen first hand the flawed, unrepresentative consultations on the future of Chase Farm Hospital.'
He added: 'I have no intention of voting for a clause that reduces further the voice of patients and residents.'
The closure of the A&E has already caused the death of one very young child!
Derbyshire's Amber Valley Borough Council, at its meeting last Monday, voted unanimously to support a Labour motion requesting that the three Tory MPs, who cover Amber valley, vote against Clause 119 of the Care Bill on Monday.
Cllr Paul Jones, who proposed the motion to the Council warned: 'If this clause is supported then no hospital in Derbyshire is safe. According to the proposal the decision to close a hospital could be made within 40 days regardless of how well it is performing.'
The MPs who cover Amber Valley are Nigel Mills, Pauline Latham and Patrick McLoughlin.
Labour controlled Heanor and Loscoe Town Council have also written to Nigel Mills asking him to support the campaign
The BMA said Clause 119 would allow the Health Secretary to 'force changes through the back door' and the Royal College of Physicians warned 'handing powers to special administrators to make decisions about neighbouring trusts is cause for concern'.
Labour's shadow health secretary Andy Burnham, called it 'an affront to democracy' which 'paves the way for a new round of financially driven hospital closures' and which 'should send a shiver through every community'.
• Hospital trust bosses are saying paramedics should be trained to leave more patients at home despite fears that lives could be put at risk.
A report by the NHS Confederation published today says attempts at 'sticking plaster solutions' to deal with rising pressures on hospitals will not be enough.
It calls for sweeping improvements to care outside hospitals, so patients get help without adding to queues at A&Es.
NHS medical director Bruce Keogh is on record as saying that fewer 999 patients who receive an ambulance should be taken to hospital.
The NHS Confederation's report says paramedics will need far more training to be able to deal with such emergencies on the spot.
It says this is needed that to cope with their fears that they are putting patients' lives at risk by not conveying them to hospital.
It calls for changes in the expectations, behaviours and skills of the workforce so staff feel comfortable treating patients at home.
However, it warns: 'In particular, it must be acknowledged that leaving people at home carries risk. Paramedics need to be confident in their decisions or will continue to transport to hospital to mitigate this risk.'