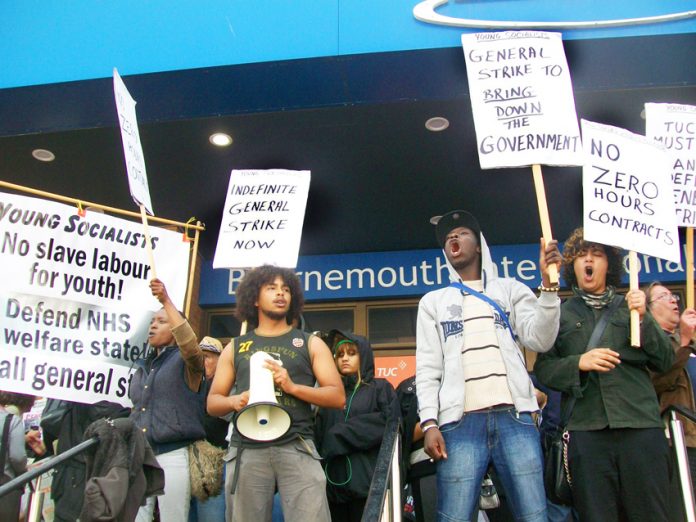 LABOUR Shadow Home Secretary Ed Balls, yesterday made it crystal clear that if elected, Labour would continue Tory policy to to make pensioners, workers, the unemployed and immigrants pay for the economic crisis.
Speaking to the Labour Party Conference in Manchester, Balls claimed the cuts were necessary to 'balance the books' and then spelled out a barrage of attacks including means testing the winter fuel allowance for pensioners, continuing to increase the pension age for workers and a real term cut in child benefits.
He said: 'Conference, fiscal responsibility is in the national interest.
'And we will have to make other decisions which I know will not be popular with everyone.
'At a time when the public services that pensioners rely on are under such pressure, we will stop paying the winter fuel allowance to the richest five per cent of pensioners.
'Over the long-term, as life expectancy rises, we will need to continue to raise the retirement age to keep our pensions system affordable.
'We will cap structural social security spending and keep the benefits cap, but we will make sure it properly reflects local housing costs.
'I want to see child benefit rising again in line with inflation in the next parliament, but we will not spend money we cannot afford. So for the first two years of the next parliament, we will cap the rise in child benefit at one per cent.'
A one per cent cap represents in real terms a cut in child benefit as the cost of living is rising much faster.
Balls continued: 'It will save £400 million in the next Parliament. And all the savings will go towards reducing the deficit.'
On immigration, he made it clear that Labour is not for the free movement of people. He said: 'People will have to work a longer time before they can get unemployment benefit.'
He added the policy was:
• 'Stopping people claiming child benefit and tax credits for families abroad.
• 'Cracking down on employers who exploit migrant workers and undercut wages by avoiding the minimum wage and proper rights at work.
• 'Tough controls, fair rules. That is what we mean by fair movement not free movement (News Line emphasis).'
He went on to pledge: 'We will repeal the NHS Bill and stop the creeping privatisation of the National Health Service.
'And yes, Conference, in our first Budget, the next Labour government will scrap the Bedroom Tax too.'
He also pledged that Labour's 'economic plan' will 'get at least 200,000 new homes a year built by 2020'.
There was no pledge to abolish or even restrain zero-hour contracts.
On Scotland, Balls said: 'They voted to retain the shared prosperity, and security, and solidarity that our union delivers. But the people of Scotland did not vote for the status quo.
'They voted for the opportunity to shape Scotland's future with greater devolution.'
He said: 'And it is our duty to deliver on that promise – and for Wales and for the cities and regions of England too. . .
'And Conference, why should decisions on what skills Manchester needs be made in Whitehall?
'Why should a Transport Minister in Westminster make decisions about all the transport needs of Birmingham, Newcastle or Leeds?
'So our economic plan will devolve power and resources not only to Scotland and Wales but to city and county regions in every part of England.'
On Europe, he said: 'Let us say loud and clear, walking away from Europe would be a disaster for British jobs and investment.'