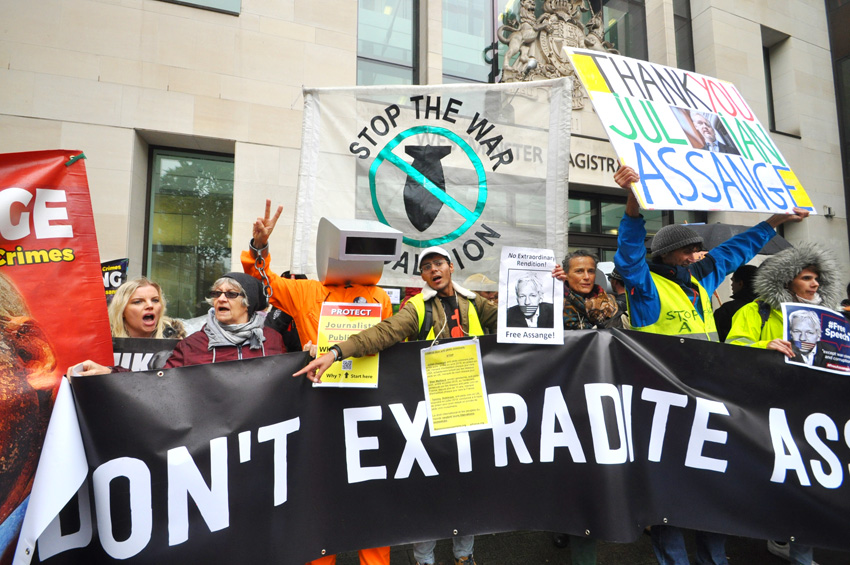 WIKILEAKS founder Julian Assange appeared in court in London yesterday looking very unwell after spending months languishing in Belmarsh Prison where he has been incarcerated since April, banned from using the internet and with very little contact with the outside world.
Outside the court a coachload of French Yellow Vest protesters joined the mass demonstration in support of Assange.
Assange mumbled, paused and stuttered as he confirmed his name and date of birth at the beginning of the start of a case management hearing yesterday morning.
Appearing to fight back tears he said: 'I can't think properly.'
He is in court to fight extradition to the US where he faces US federal conspiracy charges for exposing war crimes carried out by US and UK imperialism in Afghanistan and Iraq.
Asked at the end if he understood what had happened in court, Assange replied: 'not really', and complained that he was battling against a 'superpower' with 'unlimited resources'.
Assange said he has been denied access to a computer behind bars and is 'in fear of my life'. He declared that it is impossible to prepare his case if he has no access to the internet.
Assange's lawyer accused the US of attempting to 'kidnap and harm' the WikiLeaks founder, as he was denied a delay in his extradition.
Mark Summers QC claimed the US had 'intruded' on conversations between Assange and his lawyers while he was taking refuge in the Ecuadorian embassy, and the intrusions included 'hooded men breaking into offices'.
Meanwhile, the hundred-strong protest outside Westminster court yesterday morning was boosted by the arrival of 100 Yellow Vests from France.
Despite police efforts to silence the protest behind barriers, the crowd would not move and continued to chant louder 'Free, Free Julian Assange – There can be only one decision. No extradition.'
Defying police efforts to curb the protest, Maxine Walker from the Julian Assange Defence Committee addressing the crowd to loud cheers, said: 'We are standing here for Julian Assange, we will not be invisible, you will not silence us, you will not push us around, we have been pushed around by governments and their press and we will not be moving.'
A section of the 200-strong demonstration outside Westminster Magistrates Court yesterday morning demanding 'Free Julian Assange'. Over 100 Yellow Vests who had travelled from France overnight were among the protesters.