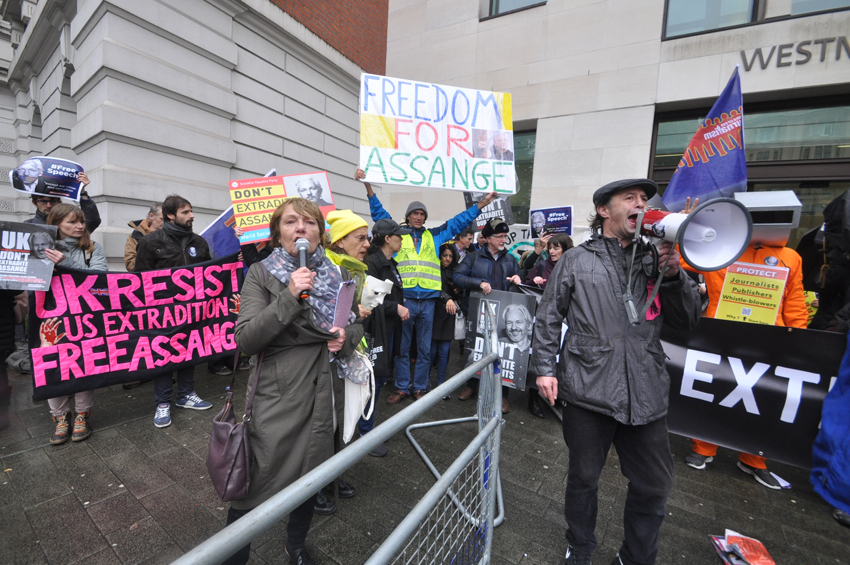 THE EXTRADITION hearing of Julian Assange at Westminster Magistrates Court on Monday morning brought a crowd of over a hundred demonstrators which was doubled by the arrival of 120 Yellow Vests protesters who had travelled overnight from France.
Assange is in court fighting extradition to the US where he faces US federal conspiracy charges for exposing war crimes carried out by US and UK imperialism in Afghanistan and Iraq.
Assange said he has been denied access to a computer behind bars, and is 'in fear of my life'. He declared that it is impossible to prepare his case if he has no access to the internet.
Assange's lawyer accused the US of attempting to 'kidnap and harm' the WikiLeaks founder, as he was denied a delay in his extradition.
Outside the court, former London mayor Ken Livingstone came out of the hearing to address the crowd saying: 'The case has been adjourned until 11.30am. We should just let him go.
'He is the man who exposed all the lies of successive American governments, allowed people to know the truth, he should not be on trial it should be all those corrupt American presidents.'
After the extradition hearing had finished, Emmy Butlin from the Julian Assange Defence Committee made an emotional statement: 'Julian Assange's condition is deteriorating daily, why are they torturing him in front of our eyes?
'We have to make a stand or we may lose him.'
'Never!' said a shout from the crowd, 'Free Julian Assange!'
Emmy continued: 'The hearing has been deferred until February and the judge has said it may be held in a court inside Belmarsh.
'There are only five seats for the public there. It's a disgrace that the public will not be present.'
Yellow Vests leader from Paris, Maxime Nicole, told News Line: 'We have come here on two buses to show our support for Julian Assange because the government is trying to kill his mind and his body.
'In France the Macron government is trying to show the Yellow Vests as fighting ordinary people.
'The police are becoming more aggressive, 25 people have lost eyes, seven have lost their hands, another 800 are seriously injured.
'There have been 10,000 arrested for no reason.'
Yellow Vest Isabelle Lemeunier told News Line: 'This action must be successful, in France it is becoming more and more difficult.
'The press is in Macron's power, the police are becoming more aggressive, new gases are being used and yellow vest wearers are being fined one hundred and fifty euros just for wearing the vest.'
Yellow Vests Sophie and her friend Varene from Nantes said: 'We are here to support Assange and Chelsea Manning because they have published the war crimes of the US army.
'In France now we do not have the right to be on the street, we are arrested before demonstrations if we wear yellow.
'On November 17, one year of Yellow Vests we have a big demonstration and on December 5th students, hospital workers, post, train and truck drivers will be on strike.'
Another Yellow Vest Farida Amiri said: 'It is very, very, very important to fight for the freedom of Julian Assange, he is fighting for workers all over the world.
'He has sacrificed his life for humanity and the people who have arrested him will end up in the dustbin of history.'
Another Yellow Vest, Corinne Henry, said: 'We have come from all over France, Bordeaux, Nancy, Nantes, Dunkirk and Paris.
'We want a free press that speaks the truth.
'Julian Assange's condition is psychological torture, he has done nothing wrong and they want to kill him.
'In France now if you are seen wearing a yellow T-shirt, umbrella or even a badge you can be arrested and are fined 135 euros!
'They can be arrested and are often held for 24 hours so they are unable to attend protests.'
Anna Shaddad from the 'Don't Extradite Assange Campaign' told News Line: 'Julian Assange has exposed war crimes, corruption, insider dealings, all sorts of crimes that the perpetrators want hidden.
'He has humiliated a lot of people and this is what he is being punished for.
'We have organised a "Don't Extradite Assange" concert outside the Home Office where Tamil star M.I.A. and Lowkey will perform and where Assange's father John Shipton will be present, on November 5th.'
From Germany, student Isabelle Pforr told New Line: 'This is the first time Assange has appeared in person so he needs to hear many supporters outside.
'Press freedom in Germany is under threat.
'If no one is allowed to publicise about war crimes it is the first step to fascism.'
UCU (University and College Union) member Deepa Driver from Reading said: 'Trade unions need to recognise that the same attempts to curtail academic freedoms are the same as those attacking workers exposing corruption and criminal practices at work.
'Julian Assange is the world's most important political prisoner.
'For any citizen the revealing of war crimes is a duty not an option.'
Phoenix Johnson from Cheddar said: 'Julian Assange is an innocent man, not a criminal, How he is being treated is criminal.
'The message from this system is tell the truth and we will punish you.'
Oona Hassim from an international artists collective was also outside the court and said: 'As artists we join forces in support of Julian Assange as the UK court considers his extradition to the USA where he faces 175 years in jail.
'Through murals, performances, photography and video we stand in solidarity with whistleblowers, journalists and activists being brutally repressed.
'A mural next to the court was painted overnight depicting Assange as a victim of torture with press freedom in the crosshair of the US Espionage Act.
'This powerful piece conflates the war crimes in Iraq, denounced by WikiLeaks, and the treatment of Assange by the US, the UK, Sweden and Ecuador in blatant violation of international law.'
Also on the demonstration, Cheryl Sanchez said: 'I am here to send a clear message to the UK government to stop attacking journalists for telling the truth.
'Julian Assange is not a criminal, they should stop bowing to US demands and pay him reparation for what he has suffered.'
After the protest Joe Brack from the Julian Assange defence Committee told News Line: 'People have come from all over the world to express their support and condemn the British Justice system for the persecution, prosecution, incarceration, isolation and torture of a journalist and publisher.
'Supporters inside the courtroom said Julian looked unwell, very thin and frail of voice yet press reporters said the opposite and appeared to promote the story that he was fine and thriving in his Belmarsh suite.
'110 Gilets Jaunes (Yellow Vests) came to support and were very vocal and concerned for Julian's welfare and the implications his treatment has on their freedoms and Macron's control of the media and persecution of journalists in France.
'We're taking the protest to the BBC this Saturday to highlight their inaction and bias against Julian and expect a good turn out.'