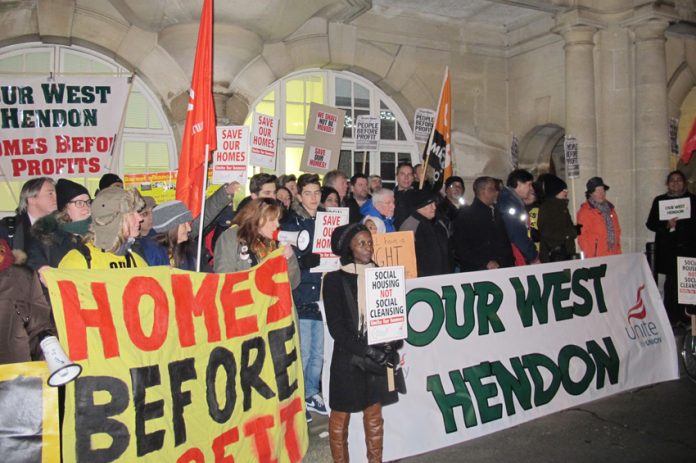 OVER 400 West Hendon tenants, leaseholders and supporters marched on Thursday evening from West Hendon to Hendon Town Hall for a lobby of a public inquiry into the 'regneration' of the north London estate.
Organised by by 'Our West Hendon', marchers chanted 'Whose homes – our homes!', 'Whose community – our community' 'Council housing is a right – here to stay, here to fight!' 'Build a bonfire – put the Tories on the top!'
'What do we want – rent strikes!' 'Whose West Hendon – our West Hendon!'
Labour councillor Elaine Graham-Leigh told a rally outside the town hall: 'The Tories are clearing people out of London. We are not going to stand for this. This is the start of the fightback.'
Kalim Khaleck from West Hendon estate, told the crowd: 'We have to protect social housing. This country has always been about giving people a chance.
'They are depriving future generations of the same chance by taking away social housing. Social housing is the safety net for society. Once you take that away, you are left with people living on the streets.'
Labour MP Andrew Dismore said: 'Regeneration means rebuilding. This is not regeneration, it's destruction. They see people as pawns on the chessboard and pawns are the pieces to be sacrificed.
'We have to stop them.'
Jasmin Stone from Focus E15 mums, said: 'We've been fighting for people for social housing for all. They've been moving people out of London. We have to stand together and keep fighting for social housing.
'We had a political occupation and we won. It shows if you stand together you can win.'
Ben, from Radical Housing Network, told the rally: 'It's good to see a good turnout.
'This really is the front line of the housing crisis. On the 23rd of February there is going to be a budget passed for London.
'They are going to do the same as West Hendon to all parts of London. We have to stop that budget going through and fight this housing crisis.'
Eileen Short from Defend Council Housing, said: 'West Hendon is a lesson in what you do when the bulldozers are coming at you. You unite and organise. Nobody gave us council housing, it had to be fought for.
'We have to build a movement, not just at West Hendon but across London. We have to stop them demolishing council housing and have more built on public land. We will fight every eviction, every demolition, but we need to build a movement across London.'
Local Hendon resident at the lobby, Purvi Vasani told News Line: 'I support what the West Hendon tenants are doing.
'It's unfair what's happening to them – uprooting them to absolutely no place. The unions should take action and support the people in their stand, it's their social responsibility.
'You hear talk of human rights in other countries where people are not treated very well, but what are we doing in our country?'
Arun Mehta said: 'I've been a leaseholder on West Hendon for 28 years. We've been treated so poorly and the council don't listen to us. All their interest is money, nothing else.
'How can they justify that we have £10,500 bills for electrical replacement work they did on the estate?
'Each leaseholder has to pay this and they are going to demolish the building in a year or two years time. I asked them how they could justify this and they advised me to borrow the money.
'We are fighting this. I don't want to move but I need a replacement property. All these years I was never in arrears and now I face losing my home.
'I'm too old to buy a new property. Who is going to give me a mortgage?'
Alex Finney of Our West Hendon told News Line: 'We're demonstrating because they are holding an inquiry into the compulsory purchase orders.
'This is just to show that we are being treated unfairly by Barnet Council. Other groups from across London who are in the same position have turned up to give their support.
'Hopefully, we shall get a result in our favour at the end of the hearing as this is going on all over London.'
Lesley Garrett from New Era estate, Hoxton, east London, said: 'I have come on the march to support the West Hendon tenants because I feel very passionately about the housing crisis.
'So many people supported us to win our struggle to keep our homes that we feel compelled to give that support back. If we stick together we can win. We did it on New Era estate so the West Hendon tenants can do it here.'
Eleanor Firman, Unite Community Waltham Forest, said: 'The West Hendon residents should stay. The worst of this is the uncertainty. And the tripling of rents is abominable!
'Families need security. Children need stability. The unions should take action and the schools should stand up for their pupils.'
Barnet Unison branch secretary John Burgess was there with his union banner. He told News Line: 'Our care workers are having the second day of strike action tomorrow. This is in response to the 9.5% pay cut imposed in April 2014. Seventy workers out of a workforce of about 100 are involved.
'This is the third block of 48-hour action they've taken. It is an outsourced contract that used to be council employees in 2012. We're here tonight in solidarity with the community we belong to. It's outrageous what's happening to these working class families in West Hendon.'
Phil Tsappas was holding a Barnet Housing Action Group placard. He said: 'I've come to support the Our West Hendon campaign. I've been involved in campaigns around housing for three years. I was the victim of a letting agent's scam in Tottenham which threw me into the housing crisis.
'I'm in the boomerang generation, unable to rent because my wage of £14,000 a year won't allow me to afford to rent a flat.'
• See more picures on Photo Gallery