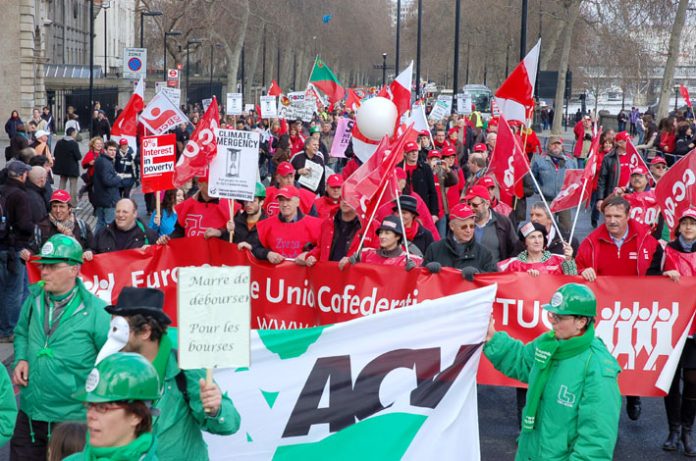 UNISON and other EU public sector unions have formed an 'historic alliance'.
UNISON declared yesterday: 'The fight back has begun. And UNISON is leading the way, together with ver.di and CGIL, its sister unions in Germany and Italy.
'The three super-unions have formed an historic alliance that brings millions of workers together to defend public services and protect jobs and communities at home and abroad.
'They are committed to building a fairer future for everyone, and have pledged to take their demands to the heart of every government across Europe.
Justice must be done, they say, social justice – and that means putting people first.
The general secretaries of the three unions held round-table talks ahead of Saturday's Put People First march and the meeting of world leaders at the G20 summit this week. Trade union leaders from Spain, France, Sweden, Ireland and the Netherlands joined them to agree a Europe-wide plan of action.
'"We have joined forces to bring millions of workers together in a campaign for change," said UNISON general secretary Dave Prentis. "Now is the time to challenge those calling for cuts to pay, pensions and services," he stressed.
'"It is time to reassert the values of fairness, solidarity and democracy that public service workers put into practice every day."
'Laying the foundations for the fight back, union leaders discussed the problems that were common to all their countries. Among them: rising unemployment, falling standards of living, pensioner poverty, wages driven down by the marketisation of public services, attacks on migrants, trade union freedoms and workers' rights, and cuts to the essential services that enable our communities to thrive and help to keep fascism and discrimination at bay.
'Just as those are global problems, all across Europe "public services are a lifeline for communities and a vital safety net during hard times," Prentis said.
'Investing in them and the workers who provide them is essential to help beat the recession and build a better future. "All workers need to be treated with dignity and respect," he said.
'Warning that the recession could lead workers to turn on each other, Prentis said it was vital for trade unions to pull together to show governments the way.
'We need a pan-European political agenda to fight the rise of fascism. It is up to us to demand our governments retain progressive policies and improve upon them. Trade unions must come together to defend a social Europe and make sure that we don't revert to an introspective, right-wing Europe.
'"We must start the fight back."
'His words were echoed by Carlo Podda, general secretary of Funzione Pubblica CGIL, the major Italian union of public service workers, and Frank Bsirske, president of ver.di, Germany's largest union.
'"We are calling for more investment in public services, strengthening social cohesion and people's rights," Mr Podda said.
'"The crisis can be defeated through increasing solidarity, developing a green economy and reforming financial institutions.
'"National governments and European institutions must respond to the claim for justice and solidarity from workers all over Europe."
'Bsirske said: "The financial and economic crisis is growing worse by the day. Almost all industrial sectors in Europe face massive cutbacks, if not a complete breakdown.
'"The speed of the crisis is a clear threat. But what we also see and criticise is the failure of many governments to act decisively to resolve the crisis.
'"There is a real danger that there will be a focus on the national level. But what we need instead is an increase in solidarity amongst the workers of Europe. We need to share experiences. We need to exchange information about what is going on across Europe. And we need to formulate joint strategies to strengthen solidarity and create a social cohesion that is not limited by national borders".
'The G20 march through London yesterday marked the start of the unions' plans for further joint participation across Europe in Prague, Berlin, Brussels and Madrid.'
Last Friday UNISON stated: 'The big 3 European Public Sector unions – UNISON, the Italian union CGIL and German union Ver.di – are forming an historic alliance to lead the fight against European Governments handing over billions of pounds to failed banks and big business, whilst planning cuts in public services.
'The unions are demanding that Governments across Europe put people first and take urgent action to build a fairer society and beat the crisis.
'The 3 unions are committing themselves to take "our peoples' agenda" to the heart of every Government in Europe and looking to others to join the campaign.
'Ahead of joining the G20 march and rally tomorrow (March 28) the General Secretaries of the big 3 – Dave Prentis, UNISON, Frank Bsirske, President of ver.di and Carlo Podda, General Secretary of Funzione Pubblica CGIL – will be signing the agreement at 9.30 AM at the Novotel Hotel, Euston Road, London. The agreement will call on Governments to:
• Protect people's jobs
• To defend public services
• Build a Greener New Deal
• And a Social Europe
'The G20 march through London kicks off plans for further action across Europe in Prague, Berlin, Brussels and Madrid.
'UNISON is the UK's largest public sector trade union, with 1.3 million people working in the National Health Service, local government and in education. The union mobilised an all-out strike of more than 1 million local government workers in July 2008 over pay.
'Ver.di is the biggest trade union in the democratic world with nearly three million members. In 2006 2.4 million of these members went on strike to secure better pay and to defend their working hours.
The union also has members in the private sector. In 2008 hundreds of flights were cancelled through airports when Ver.di members took industrial action against pay cuts.
'CGIL (Italian General Confederation of Labour) is one of the most radical trade unions in the world. In 2002 they organised one of the biggest strikes in history, when 3 million workers marched through the streets of Rome against government plans to give employers an unrestricted right to fire their workers.'