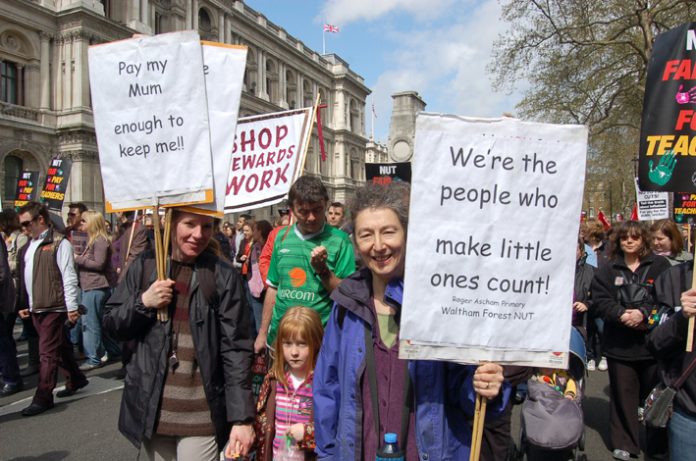 Most trade union leaders welcomed the Brown government's legislative programme announced in Wednesday's Queen's Speech.
However, the Public and Commercial Services Union (PCS) warned that the 'welfare reform' plans will penalise some of the most disadvantaged in society.
The PCS said it and other trade unions, poverty campaigners and academics, have signed up to a statement calling for the government to 're-think its plans' which will see jobcentre work privatised, the abolition of Income Support and a punitive benefits regime introduced, marginalising some of the most disadvantaged in society.
Mark Serwotka, PCS general secretary, said: 'The government's welfare reform proposals signal the break up of the welfare state as we know it, with the removal of the state safety net and the introduction of the free market, where the only motive is profit for the few and not help for the many.
'As the recession deepens, these are the wrong proposals at the wrong time, which will lead to people being bullied into jobs that don't exist.
'The government needs to pay heed to the growing chorus of opposition to their plans for welfare reform and put its faith in the professionalism of jobcentre workers who have consistently outperformed the private sector in getting people back into work.
'We would urge the government to think again about an approach which goes even further than Thatcher would dare in 1980s and which stigmatises and demonises people as work shy.' (See also page 9)
GMB General Secretary Paul Kenny said: 'The government is right in its priorities to help businesses and families in these troubled economic times.
'The emphasis on welfare reform is misplaced and is out of time. There is no point in making a major effort in to putting people in to non-existent jobs, this measure should be dropped.'
Commenting on the education section of the speech Christine Blower, National Union of Teachers' Acting General Secretary condemned 'the continued vilification of and draconian measures that are taken to tackle schools that fall short of whatever changing and inconsistent standards the government decides make a failing school.
'A world class education system cannot be delivered on the cheap.
'I would like the government to keep its promise to match spending per pupil to that in the private sector.
'This will remain an unfulfilled promise unless a date is set for its achievement.
'To enshrine in law the commitment to eradicate child poverty by 2020 is good news. For all children to have the best possible chance in life they need the best possible education.
'So far the Academies programme has been the government's answer to helping children from the lowest socio-economic groups get a good education.
'Yet all the evidence points to Academies excluding pupils from the poorest backgrounds.
'It is obvious that Academies are not the answer.
'The government needs to abandon this costly and unnecessary project.
'What every parent, young person and teacher wants is a good local school for every child.
'A return of education provision to Local Authorities should make this possible.'
Construction union UCATT welcomed several key elements in the Queen's Speech.
Welcoming the Banking Reform Bill, which will introduce large fines on banks who don't lend money responsibly, Alan Ritchie, General Secretary of UCATT, said: 'The unhelpful attitude of some banks has lead to unnecessary redundancies.
'By introducing these sanctions it should help restore confidence in the construction industry and encourage companies to start building again.'
UCATT also welcomed the Education and Skills Bill which will ensure that by 2013 every 'suitably qualified' young person will be given an entitlement to an apprenticeship.
Ritchie, added: 'This measure is long overdue. Many construction companies treat training and apprenticeships with contempt.
'We are now experiencing the twin problems of an ageing workforce and a skills gap.
'It is only through statutory measures that employers will be forced to train the skilled construction workers of tomorrow.'
The University and College Union (UCU) said that further education should be at the heart of tackling the recession as people seek to refresh their skills as they seek employment.
However, the union warned that the government needed to demonstrate clear support for lifelong learning if the sector is to be able to deliver its plans.
UCU general secretary, Sally Hunt, said: "With millions of adults looking to retrain during the economic downturn, it is more vital than ever that there is a broad range of courses in place for them to do so.
'We urge the government to carefully consider the impact current planned cuts to adult education will have and to ensure that proposed changes for adult learning reflect the needs of learners, as well as employers, and provide genuine opportunities for lifelong learning.'
UNISON General Secretary Dave Prentis said: 'This slimmed down Queen's speech is fit for purpose and sets out a serious agenda for serious times.
'It's only right at this time of economic crisis for the government to focus attention on measures to take the pressure off families and business and deal with the scourge of child poverty.
'It is also right that banks are to be called to account for their policies on customer loans.
'We are pleased that the government is pressing ahead with its plans to allow workers the right to request flexible working hours if they have children up to the age of 16.
'Britons work some of the longest hours in Europe and that can have a devastating impact on family life leading to all sorts of social problems.'
He added: 'Giving workers better access to training will help boost the UK's competitive edge, which is much needed in this current financial crisis.
'And of course it is a duty of government to help people get back into work, but this must be done in a fair and open way with protection for genuine claimants.
'It is unfair to target "benefit cheats" while big business and private wealthy individuals get away with not paying their fair share.
'The Equality Bill is a vital piece of legislation and should be used to lay the groundwork for real fairness and equality for the 21st century.
'It will introduce important steps towards a fairer workplace, but it is disappointing that it misses a very real opportunity to make changes to the law that would deliver equal pay and cut out the need for lengthy legal action.'
Prentis concluded: 'The NHS Reform Bill has some positive measures in it, particularly the new NHS constitution.
'However, the potential introduction of personal health budgets could be damaging.
'UNISON wants patients to be fully involved in shaping their own care plans, but this need not involve the use of personal budgets, where major question marks remain about what happens when budgets are exhausted.'
The British Medical Association (BMA) expressed concerns that proposals for an NHS constitution, while welcome in principle, could be used to reinforce the increasing commercialisation of healthcare in England, and will not protect the NHS from being used as a political football.
Dr Hamish Meldrum, Chairman of Council at the BMA, said: 'The BMA agrees that NHS patients deserve a clearer idea of both their rights and responsibilities and we have long been calling for a constitution that helps to achieve this.
'However, we are concerned that the Constitution in its current form will be used to reinforce reforms which are increasing the commercialisation and fragmentation of healthcare.
'The government's proposals miss an opportunity to depoliticise the delivery of healthcare.
'We would like to see a constitution which reduces the role of politicians and gives health professionals, patients and the public a greater say in the day-to-day running of the NHS.
'The BMA is also pleased that there are measures in the Queen's Speech to reform the coroners system through the proposed Coroners and Justice Bill.'
TUC General Secretary Brendan Barber said: 'Today's announcements nearly all hit the right note for these recessionary times.
'They combine measures that will help beat the recession with a determination to press ahead with measures that will make the country fairer.