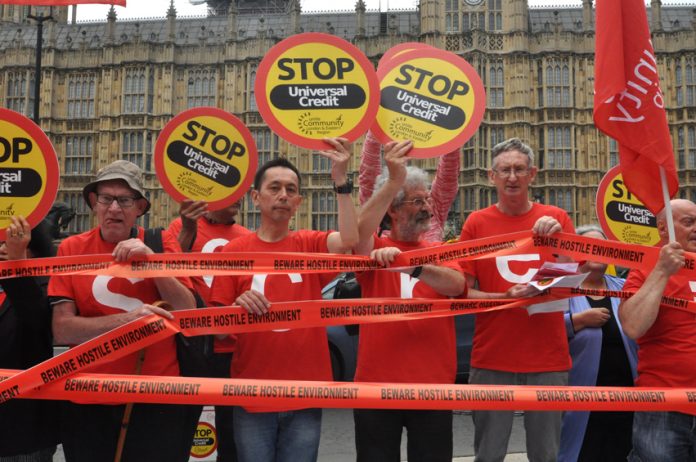 'Nothing Left in the Cupboards: Austerity, Welfare Cuts, and the Right to Food in the UK,' is the title of a devastating 115-page Human Rights Watch report released on Monday.
'The way the UK government has handled its reduction in welfare spending has left parents unable to feed their children in the fifth-largest economy in the world,' said Kartik Raj, Western Europe researcher at Human Rights Watch, launching the report.
'The UK government should ensure everyone's right to food rather than expecting charities to step in and fill the gap.'
Human Rights Watch focused on three areas in England with high deprivation levels in Hull, Cambridgeshire and Oxford and conducted 126 interviews, including with families affected by food poverty, volunteers, and staff in food banks and pantries, and community centre and school staff; analysed official data and statistics; and reviewed information from the UK government and local authorities.
'Often, I have nothing left at the end of the week,' said a 23-year-old mother from Hull with a 4-year-old daughter who was unable to find employment that fitted in with her daughter's school schedule, and relied on a low-cost community pantry which redistributes surplus food from supermarkets.
'When you're a single mum there are very few jobs you can do that let you drop your child to school in the morning, then go to work and be back at 2.30 to pick them up. I skip meals, so my daughter can eat.'
In one group meeting with seven young mothers claiming benefits, four said they were afraid that if they admitted going hungry and openly asked for food aid they could be considered unable to support their children and might lose custody.
The UK government's failure to adequately address the growing hunger problem affecting the poorest parts of the population is a result of concrete policy choices to scale back the welfare state, Human Rights Watch said.
The UK government has a duty under international human rights law to ensure the right to adequate food.
That means making sure people can afford food, and providing food via assistance programmes or a safety net if people are unable to properly feed themselves.
By failing to do this, the government is violating the rights of people in the UK who are going hungry.
Successive UK governments though have failed to treat the right to food as equivalent to other human rights, in particular giving people whose right to food has been violated an effective remedy against the government.
The UK government should recognise the right to food in domestic law, Human Rights Watch said.
It should fully repeal the two-child limit, end delays in accessing payments under Universal Credit, and ensure that benefit payments keep pace with inflation, including the rising cost of food.
The UK government should also develop an anti-hunger strategy, including a legal requirement to measure food insecurity and to report the results to parliament.
'This rise in hunger has the UK government's fingerprints all over it,' Raj said.
'Standing aside and relying on charities to pick up the pieces of its cruel and harmful policies is unacceptable.
'The UK government needs to take urgent and concerted action to ensure that its poorest residents aren't forced to go hungry.'
The UK's largest national food bank charity, the Trussell Trust, has documented a 5,146 per cent increase in emergency food parcels distributed between 2008 and 2018.
In that decade this food bank network went from distributing just under 26,000 parcels a year to handing out more than 1.33 million of them.
A wider network of independent food banks has sprung up across the country over the past decade to meet the needs of more people facing food poverty.
Schoolteachers, professionals working in community projects, children's centres and social workers continue to raise alarm bells about children arriving at school hungry or families relying on schools or childcare settings to ensure children receive one hot meal a day.
The rise in reliance on food aid has surged over a decade, coinciding with a period in which three successive governments have sought to stabilise growing public fiscal deficits through austerity policies emphasising significant reductions to government expenditure.
Since 2010, in significant part responding to the impact of the global financial crisis, successive Chancellors (the cabinet post responsible for finance and the economy) in a Conservative-Liberal Democrat coalition government, and in subsequent Conservative governments, have made the case that financial austerity is an 'unavoidable' choice characterised by 'tough, but fair' decisions.
Each government focused its attention on achieving savings by reducing the overall welfare budget.
Three fiscal policies on the one hand, have exerted a particularly detrimental impact on people on the lowest incomes in the UK. The fiscal policies include caps on benefits, freezing the rate at which benefits increase, and limiting child tax credits to just two children:
Since 2013, the government has introduced an arbitrary financial cap on the amount of welfare benefits a family can receive. The government further lowered the cap in 2016. This cap has negatively affected income levels of families with children under the age of five, and single parents (the overwhelming proportion of whom are women).
For four years, starting from 2016, the government has implemented a freeze on most working-age welfare benefits to 'workless' (unemployed) households, so they did not keep pace with inflation, partly reflecting a belief that the 'positive and dynamic behavioural effects' of reduced welfare payments would incentivise work among poor people claiming welfare benefits.
Data from specialist organisations show that single-parent and two-parent families in the poorest deciles of the population stood to lose between £580-770 and £650-825 respectively per year as a result of these changes.
A third, particularly egregious policy, which began in 2017, is a 'two child limit,' curtailing any child tax credit (a means-tested cash benefit) to families for any child after their first two (with some exceptions, i.e. multiple births, adoption and children born from rape).
This arbitrary limit on a means-tested benefit penalises low- and middle-income families for having more than two children.
The other major change that has been particularly harmful is the transition to the Universal Credit system, the government's signature welfare policy that began in 2012 to replace a complex set of six 'legacy' social security benefits.
Food aid providers, academic researchers and nongovernmental welfare advice providers have established clear links between the restructuring of the welfare system and a marked increase in food poverty among low income families who receive such support.
Joanne, a 47-year-old single mother of four, interviewed at Wisbech Food Bank in Cambridgeshire on May 23, 2018, described the impact of benefit cuts on her ability to ensure her children are fed adequately:
'The only time I come (to the food bank) is if my benefits have been stopped or cut.
'I had a sanction once, so they stopped the payment completely … I've had cuts to my benefits … At least the children get a hot meal at school.
'But they break up for half term on Friday. And until my money gets sorted, it's going to be a long few days.
'As a parent you really feel like you've let your kids down. I'll have to gather my pennies together for a loaf of bread and 50p of butter, so they have some toast.'
Emma Middleton, a welfare adviser with 15 years of experience in Hull explained to Human Rights Watch what has happened since austerity programmes were implemented: 'In the first few years food poverty was not an issue. You never saw families like that.
'What we see now is a constant stream of food poverty. Benefits haven't kept up with inflation, and you can't survive on welfare.
'A few years ago, we used to be able to help people with an answer, direct them somewhere for help, but increasingly there's not much we can do.
'The safety nets to which we used to direct them, which they may not have known about, aren't there anymore.
'One particularly troubling aspect of the overhaul of welfare and tax policy over the past decade has been the way the government ignored growing warnings and evidence from a range of expert sources that these policies are exacerbating poverty.
'It is only recently, after almost a decade of implementing these measures, that it began to acknowledge these problems, including for the first time, in February 2019, admitting a possible link between the rollout of Universal Credit and increased food bank use.
'However, the government has not established a cumulative impact assessment of its welfare and tax changes as recommended by three UN committees (in 2016 and 2017) and repeatedly by its own domestic national human rights institution (since 2015).
'There is no clear policy or department that is responsible for ensuring that no one in the UK suffers from hunger as a result of inadequate or curtailed social security benefits or other government policies, or for monitoring food poverty and developing a national anti-hunger plan.
'In 2016, the government also did away with previously existing child poverty targets and the requirement to develop a child poverty strategy, as part of its broader post-2010 legislative overhaul of the welfare system.'