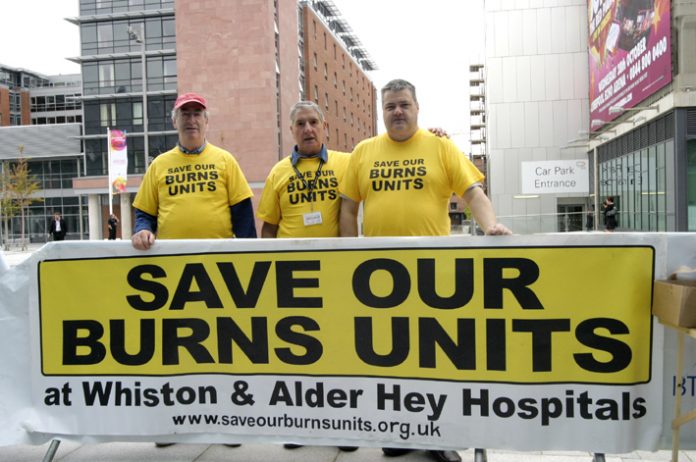 DELEGATES at the TUC Congress in Liverpool on Wednesday voted unanimously for Composite Motion 2: Temporary Agency Workers, to demand that agency workers have full rights in line with all other workers.
Moving the motion, Kevin Flanaghan, of the GMB, said: 'Angry workers have waited long enough for their EU protection.
'We want no half-measures.
'Government says it was worried about the burden for business.
'We've had years of short-changing for agency workers. Well enough is enough.
'We want a broad form of equal treatment including pay, conditions, holiday and sick pay and pension rights.
'We want a broader definition of agency.
'We need to end the bogus self-employment.'
He added: 'They say train-ees should be excluded from legislation. Have you no morals?
'Under the directive, the government has a duty to prevent avoidances. Let's make them do so.
'We want the rights and protections that agency workers deserve.'
He concluded: 'Get this fair legislation onto the statute books. We want it by next spring at the very latest.'
Seconder Tony Burke, Unite, said: 'The prime minister said in his speech the law on agency workers will be on the statute books.
'But the pussy-footing and the allowing of loopholes has to stop.'
He added: 'Replacing permanent, well-paid jobs with temporary workers is what agency working is all about.'
He warned: 'Employers are already employing legal advisers to get round the directive.
'We need to make sure the legislation is water-tight.
'It needs a definition that is all-inclusive.
'It also needs clauses to make it illegal to sack people to get round the legislation.'
He concluded: 'Support fair employment rights for all agency workers.'
CWU speaker Mark Taggart said: 'We've heard Gordon Brown give a full commitment to legislate for agency workers.
'The government has spent the past seven years seeking to opt out of the directive.'
He warned: 'What Gordon didn't tell you about is derogation – that means a get-out clause.
'Derogation allows employers to put workers on a fixed hours contract.
'We've got to stop this.'
Teachers' union ATL delegate Julia Neal said: 'For generations they have employed agency workers as supply teachers who are second-class citizens.
'The ATL sees supply teaching as attractive for teachers with families.
'But local authorities have had to cut back and the supply teachers have to get work through an agency.
'Agencies want a big fee for teachers to be employed in a permanent post.
'Councils can't afford that.
'It's vital the government ensures the robust implementation of this directive.'
UCU speaker Kate Clayton said: 'Thousands of lecturers are on short-term contracts, agency workers on the same pay for years.
'Let's end the inequality and exploitation across all sectors.'
Congress also heard the call for a general strike.
Motion 7: Trade Union Rights and Freedom, Taking Our Rights Back, from the Prison Officers Association, stated: 'Congress recognises that all initiatives and campaigns up to this time have achieved little change to employment rights for working men and women in this country.
'Therefore, Congress calls on all affiliated trade unions and the General Council to organise a series of street demonstrations throughout the United Kingdom and selective days on which trade unions will break the anti-trade union laws by taking a general strike.
'Further, these activities should continue till such time as the government changes its anti-trade union and anti-working class legislation.'
Mover Brian Caton said: 'Last year we called for a general strike. There is anger, frustration and disappointment.
'This year we're not angry, not even disappointed.
'Delegate after delegate has been stating there will be action to fight cuts in public services.
'So there's more sadness than anger.
'There are political differences. Some say there are none, I say there are plenty with this government.
'It's been carrying out privatisation to public services and pensions.
'We are also facing mass redundancies due to massive greed by bankers and employers.'
Seconding the motion, RMT leader Bob Crow said: 'We should hold demonstrations to repeal anti-union laws and if need be, have a general strike.'
The motion was opposed by the General Council.
TUC leader Brendan Barber told conference: 'The General Council cannot support the course of action laid out in motion seven.'
He said workers 'worried about their jobs' would not support a general strike, and 'would not heed such a call'.
He added: 'Affiliates would be faced with sequestration. They wouldn't support it.'
Barber said: 'We want trade union rights. This motion is not the way to win that battle.'
The motion was also opposed by Cheryl Gedling of the PCS.
She said: 'PCS opposes this, not because we don't fully support the POA in taking industrial action when needed, not because we support the Labour government, not because we don't support a general strike.
'We support the principle, but not the tactics.'
She claimed: 'We can only take our members with us on concrete industrial issues, such as pay or pensions.'
Caton replied to Barber: 'I am told there is no appetite for a general strike. Not so.
'The recent actions of workers say so.
'If we don't take action together, and soon, you will lose more rights.
'If you wait until it happens it will be too late.
'We did and we made a mistake. Action is the only way and combined action is the way.'
The motion was heavily defeated, but with the POA, RMT and some of the smaller delegations voting for it.
• Congress voted to support Colombian trade unionists.
Moving Motion 75: Colombia, Sally Hunt of the UCU said: 'I visited Colombia this year on behalf of my union.
'What I saw will stay with me for all of my life.
'We heard first-hand about the horror of extra-judicial executions.
'The military are allowed to escape prosecution.
'Our government continues to supply the Colombian government with military aid.
'Our government claims the purpose is to aid human rights.
'Members of the High Mountain Battalion have killed and tortured trade unionists just like you and me.
'Colombia is still the most dangerous place in the world to be a trade unionist.
'Four thousand have been killed over the past years.
'Our government's failure means we have to take a stand.
'We are right to tell our government to stop rewarding murder with money.'
She said Britain should suspend contacts with Colombia like Norway and Canada had done.
She said: 'There are those who continue to stand up like Juan Romero at the back of the hall, a trade union leader just like you.'
Seconding the motion, Steve Davison of Unite (Amicus) said: 'Colombia is a violent, repressive regime.
'But it's not just about attacks on trade unionists, there's a wider political issue.
'It is a preparing the counter-revolution against progressive regimes like Venezuela and Ecuador.
'We have to keep it isolated.
'The US has seven military bases in Colombia. Why? They would not have them in Ecuador.
'We must give our full support for our brothers and sisters who have been murdered and tortured. We will not tolerate this.
'We must also oppose Colombia, whose role is to stop the spread of the Bolivarian revolution.'
• Among the different protesters outside the TUC Congress were a group campaigning to save the burns units at Alder Hey and Whiston hospitals.
Their hand-out said that the government was out to create what it called 'supra-regional centres'.
The leaflet said: 'The resulting recommendations were that the new supra-units would be based in Wythenshaw, Manchester, and Pinderfield in Yorkshire.
'They insist this will not mean a downgrading of the existing, excellent centres at Alder Hey and Whiston, but an upgrading for the new areas.
'Interestingly, the board which is responsible for the review has several members from the Manchester and Yorkshire areas, two from Scotland and one from East Grinstead. None are from this area.
'We also believe that the statistics on which this proposal was based were seriously flawed.'
The leaflet warned: 'Obviously, if there are new supra-units, the superior expertise that we already have will gravitate to the new units (we know that some of them have already been approached and asked if they would be prepared to move to Manchester).
'Wythenshaw is land-locked on the other side of Manchester.
'It is much easier to access Whiston and Alder Hey from both airports as well as being centrally accessible from the many chemical industries and the petrol refineries in the vicinity.
'The two centres here serve the whole of the north-west, north Wales and the Isle of Man and are widely respected in Europe.
'The reviewers talk of serious (over 70 per cent burns) cases being taken to local hospitals to be stabilised in Accident and Emergency units and then taken by ambulance to be treated in the new supra-units.
'This seems madness when at present all the necessary care is done in the local centre.
'The shock and infection possibilities with burns, particularly with the very young and the elderly, mean that minutes count and unnecessary movement is crazy.'
The leaflet concludes: 'The members' efforts of our "Save the Burns Units Campaign" and our MPs' work have managed to postpone the final decision, but we must keep up the momentum of the pressure.
'Please support us'.