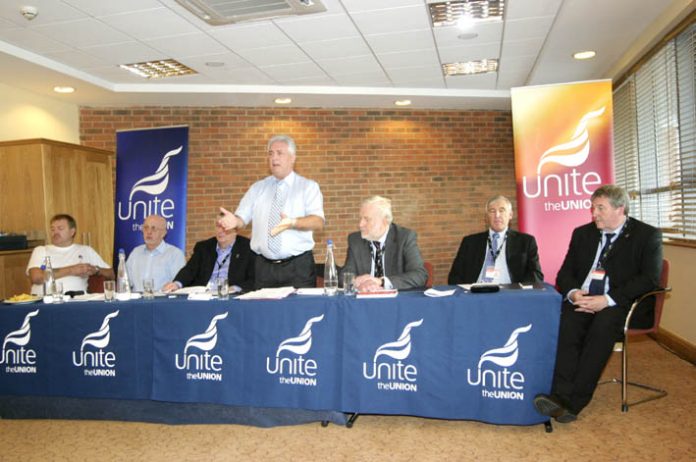 AT A PACKED 'Saving Vauxhall Jobs' TUC Congress fringe meeting on Tuesday evening, Unite leaders Tony Woodley and Derek Simpson attacked the German government and the Magna takeover of General Motors Europe.
The meeting, taking place during the TUC Congress in Liverpool, was opened by Dave Osborne, Unite national officer, who said: 'GM Europe has been sold to Magna. That has brought uncertainty.'
He added: 'In the coming weeks, we have to use our influence not to let an iconic brand go into oblivion.
'This has been more about politics than economics while workers have been kept on hold.'
Andrew Miller, MP for Ellesmere Port, told the meeting: 'The prime minister visited Ellesmere Port today.
'Prior to that meeting, Tony Woodley and myself had a private meeting with Bill Parfitt, boss of Ellesmere Port.
'We are fighting for the future of Ellesmere Port and the future of Luton and the pension funds.'
He said that the Belgian government was taking out a complaint against the Magna deal.
He added: 'We are now in the business of consulting with Magna, saying if you don't want us to lodge a complaint this is our conditions.'
He praised the new Astra as 'fabulous'.
He said: 'It's vitally important we see a successful launch of the new vehicle so we can say to Magna this is the most productive factory in the Vauxhall fleet.'
He added: 'This isn't about the launch of this vehicle, it's about the following vehicle as well.
'There are similar problems at Luton about the tie-up of the van industry when the tie-up with Renault ends.
'We have to ensure that we do our very best to maximise the number of jobs in the UK.'
Next to speak was John Cooper, United deputy-convenor of Ellesmere Port and a Unite EC member.
He said: 'A couple of years ago we made concessions so we could ensure a future.
'There were red line issues: we would not move off pensions and we would stay at our plant.
'The recession hit, but we were told we would build the Astra on three shifts, 40 jobs an hour on the road.
'Our colleagues in Luton are continuing to produce the Vivaro.
'That was GM's recovery plan.
'But we are now stuck with Magna.
'Magna is a parts maker, not a car manufacturer.
'Magna's viability plan means that out of 2,000 people, 830 won't be there when Magna takes over.
'Part of that viability plan is to do away with my deferred pay. That's the defined benefit pensions.
'We're not having that.'
He went on to say: 'The German government is going to support German jobs at the expense of everywhere else.
'Imagine if Ellesmere Port closed. Thousands more jobs would go.
'If Luton closed, imagine that. When Vauxhall closed, it left the airport and IBC.'
Derek Simpson, Unite joint general secretary, declared: 'The German government has put money in to save German jobs.
'We were quickly into the arena when GM was talking about selling.
'We have to defend your jobs in Ellesmere Port and Luton.
'This is symptomatic for trade unions trying to fight for members' jobs and workers where one union is pitted against another.
'The problem with Magna is we are still faced with GM.
'I spoke to the IG Metall leader. He was speaking to Magna.
'We need to get in a position where trade unions work together, not against each other.
'But as GM, Vauxhalls or anyone else, we have to fight for the jobs of all workers.
'Our government is going to stump up money but it may not matter.
'Who can blame the German unions, the German government, when we are tackling one company.
'You have to back the stewards.
'If you don't stick together, you are lost,' he told the audience.
'You have to win the confidence of your members.'
He warned: 'It's an uphill struggle, but if you don't stick together you are lost.
'Desperate crises should not lead to depression, it should lead us to solidarity and we will win,' he concluded.
Unite-sponsored MP Lindsay Hoyle said: 'I will show my solidarity and I want to see our government show solidarity.
'It's not just about over-capacity. In the UK it's about under-capacity. We need to stand together.'
He said: 'Vauxhall was closed in 2000 because it's cheaper to sack British workers.
'Enough is enough: we can't see another closure.
'Let's see our ministers riding around in British-built cars. That would be a start.
'You don't see the German ministers not riding around in German cars.
'Let's see our government show solidarity.
'It's not just about saving car production, it's about saving the components sector.
'Let's extend the car scrappage scheme. Manufacturing matters. Have we not learnt anything from this recession.'
He concluded: 'It's about rallying together. It's about the Labour government supporting us.'
Gary Reay, the Unite IBC convenor at Luton, welcomed 'The growth of solidarity between the Luton and Ellesmere Port plants.'
He added: 'Magna's plan is a no-no.
'You will see a plant closure by 2013.
'We need to see there are no plant closures whatsoever.
'We want Lord Mandelson making sure that the support is there for the future.
'Our plant is built on a joint venture between GM and Renault.
'We don't want Magna upsetting that agreement.
'If Luton plant closes, what will be left is Luton airport.
'That would lead to the closure of Luton General Hospital.
'We need all your support to save both plants, in Luton and Ellesmere Port,' he concluded.
Unite joint general secretary, Tony Woodley, declared: 'I'm gutted because of the seriousness of the situation.
'This isn't about Ellesmere Port, it's about Luton as well as Ellesmere Port.
'It's about all those families going back to 2000, with the disgraceful closure of Vauxhall, and we were unable to fight back.
'If we don't win now – and we are going to win – if we don't win this battle, in the years to come there will be no Vauxhall Motors in Britain.'
He said: 'Last Wednesday, we believed Magna was not going to buy the company.
'We believed we'd done enough in convincing the GM board not to sell GM Europe.
'Who would have thought the largest company in the world would have gone into bankruptcy.
'A week ago we believed, with GM coming out of bankruptcy and a good bundle of money coming from the American government, GM Europe would not be sold.
'But due to a massive reaction by the German government, the German workers – who would do anything, including harikkari to defend their jobs – everything changed. It's heavy.
'I did criticise Peter Mandelson, saying he should get over to Germany.
'But he's never stopped working since.
'Maybe my criticism had some effect.'
He added: 'At the moment we have a real agreement with Magna, but after 2013 there is no future.
'I had a private meeting with the prime minister when he finished his speech today.
'He told me he had no intention of letting anyone down here.'
Woodley pledged: 'We won't stop until we've got a promise for a future.
'I told Gordon Brown we need a face to face meeting at prime ministerial level and Magna executive level.
'When they closed Rover, the politics were different.
'Magna wants £600 million to develop the plants here.
'It's heavy biscuits. Toddington looks relatively safe, apart from a few voluntary job losses.'
'The position at Luton is we have a joint venture . . .
'At the moment, we have an agreement in principle. You've got no new contract, you've got an agreement in principle.
'If it goes forward, you have a problem with Renault.
'We want a replacement model at Luton.
'At Ellesmere Port it happens to be lucky, they are the lead plant for Astra. It helps them.
'But it doesn't help for 150,000 units. That's just one and a half shifts.
'They want our money, but they want to squeeze your wages and conditions and tell you you've got a future.
'Well we won't be kidded. We want a proper agreement.'
He warned that 1500 Spanish jobs will be going to Germany, adding that 'four German plants will be closed eventually'.
He declared: 'It's not about business, it's not about the car industry, it's about politics with a capital P.
'The Russian deal is about Gaz.
'It's about these shysters that shut the LDV plant.
'We've a market place here. The hiccup is the German government have put more money in.
'They can do all they want to do. They can do without our £500 million.
'But 600 million euros are heading out of Germany and into Russia.
'Merkel will have a lot of explaining how she will carry the can and not do a fair deal for three countries.
'What we are looking at is a situation that is unique.
'We have to make sure we are not buying into a short-term future.'
He concluded: 'We will do our very best.'
Dave Osborne, closing the meeting, said: 'Our demands will be to secure the future of Ellesmere Port.
'Secondly, Magna's plan for Luton is to cease production in 2013 when the new van is due to launch.
'We told Magna that our support for their bid was we weren't prepared to accept any cuts to our members' terms and conditions of employment.'
He called on everyone to sign a petition on the Unite website and to write to their MPs to demand the Brown government intervene with financial support.
Osborne then declared the meeting closed and refused to take any questions.
There were shop stewards, convenors and some car workers' families present. at the meeting
Altogether about 150 people attended.