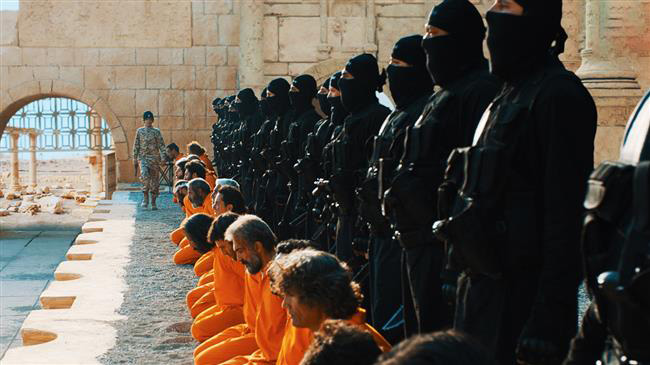 SYRIAN feature film 'The Father' has collected the Best Screenplay Award at the ending ceremony of the International Resistance Film Festival in Tehran. The Friday ceremony honoured the film's director Bassel al-Khatib, who co-authored the screenplay along with his brother Waddah al-Khatib.
The prize was given to Syria's Director-General of the General Establishment for Cinema Murad Shahin, who was present at the ceremony. The film narrates the struggles of 'Ibrahim Abdallah,' a Syrian father who tries to evacuate his family along with other fleeing Syrians from their threatened city, only to be captured by terrorists. The story is said to depict 'the resilience of the Syrian people in safe-guarding their country and beliefs.'
Shahin, who was also honoured for Syria's cinematic attempts at 'portraying Syria's resistance,' spoke at the event and expressed his desire for a similar festival to be also held annually in his country. 'I see your tradition of (honouring resistance) as a sign of Iran's greatness, strength and civilisation. Your attitude and respect shows how Iran is a cultured nation with a long history that can not be subdued.'
The Syrian cinema official also noted that Iran's 'Damascus Time' war movie about Iranian forces in Syria, which won Iran's highest cinematic award in the annual Fajr Film Festival in February, was co-produced by Syria and stands as a good example of bilateral cooperation. Prominent Syrian actress Salama al-Masri was also honoured for her role in the Syrian film 'The Remnant.'
Among other honoured foreign figures were Kim Druzhinin and Andrey Shalopaf for the Russian 2016 war film 'Panfilov's 28 Men,' Dan Cohen and Max Blumenthal for their 2018 documentary 'Killing Gaza' and Jeremy Williams for the 2017 documentary 'On a Knife Edge' depicting the struggles of Native Americans in the United States.
Fatimah Mughniyeh, daughter of late Hezbollah commander Imad Mughniyah, along with Iraq's Popular Mobilisation Committee leader Abu Mahdi al-Muhandis were also invited to the ceremony.
• Russia has reportedly completed an advanced anti-access/area denial network in Syria, posing a challenge to US military presence in the Arab country and the Eastern Mediterranean Sea. The Washington-based Institute for the Study of War (ISW) said in new report that in 2015, Russia began to establish a partial independent air defence network in Syria to protect its military assets at the Hmeimim Airbase and Tartus Naval Facility on the Mediterranean Coast.
Since then, the report said, Moscow has deployed S-300 and S-400 missile defence systems as well as four unique electronic warfare systems to Syria. It also stationed at least one advanced 1L122-1E targeting radar and Barnaul-T mobile command-and-control system for short-range air defence systems in the war-torn state, the report added.
The report further noted that Russia opted to expand its air defence network in Syria following the April 14 western missile strike on Syria and the September 17 accidental downing of an Il-20 reconnaissance aircraft in the country.
'Russia has finished an advanced anti-access/area denial (A2AD) network in Syria that combines its own air defence and electronic warfare systems with modernised equipment formerly commanded by Syria.
'Russia can use these capabilities to mount a long-term strategic challenge the US and NATO in the Eastern Mediterranean Sea and the Middle East,' the ISW report said. A Russian military official statement says 'three battalion sets of S-300PM systems of eight launchers each' have been delivered to Syria for free amid a dispute with Israel.
It also stressed that recent deployments to Syria 'significantly widen the geographic reach of Russia's air defence network' there.
Russian jets have been targeting positions held by terror outfits inside Syria at the Damascus government's request since September 2015. The airstrikes have helped Syrian forces advance against the militants, who have been wreaking havoc in the Arab country since 2011.
Elsewhere, the report said that Russia's expanded presence in Syria is meant to force American troops' pullout while disrupting a bombing campaign by the US and its allies against alleged Daesh positions inside the country. 'Russia is currently positioned to disrupt US' anti-ISIS Coalition and constrain future military options for the US in Syria,' it said.
'Russia ultimately aims to use its technical capabilities as part of its wider campaign to force the withdrawal of the US anti-ISIS (Daesh) coalition from Syria. Russia can use these systems to decrease the overall freedom of manoeuvre – and increase the overall risk – faced by the US in Syria.'
The report further said that Russia's air defence network in Syria would increase the cost of future airstrikes by Israel on the Syrian soil. 'The US and Israel both must be prepared to suppress a larger number of air defence systems and use more expensive stealth aircraft such as the F-35 in Syria.
'Russia stands to gain a long-term strategic advantage over NATO through its new capabilities in Syria. The US and NATO must now account for the risk of a dangerous escalation in the Middle East amidst any confrontation with Russia in Eastern Europe,' it added.
• The Israel police have recommended indicting Prime Minister Binyamin Netanyahu and his wife Sara for bribery and other corruption charges in an investigation dubbed Case 4000. In a statement released on Sunday, the police said that Netanyahu was suspected of taking bribes and of conduct involving 'a conflict of interest' when he made decisions that benefited Shaul Elovitch, who controlled Israel's largest telecommunications firm, Bezeq.
The case involved suspicions that Netanyahu intervened with regulators to help Bezeq and in exchange Elovitch ordered the Walla News website to provide favourable coverage of the Israeli premier and his wife.
The police said they had found evidence that 'Netanyahu and those close to him blatantly intervened, sometimes on a daily basis, in the content published on the Walla news website, and sought to influence the appointment of senior employees (editors and reporters), while using their ties to Shaul and (his wife) Iris Elovitch.'
Investigators said Netanyahu should stand trial on charges of accepting bribes, fraud and breach of trust and fraudulently accepting benefits. They also recommended to charge Sara Netanyahu with bribery, fraud and breach of trust, and for 'disruption of investigative and judicial proceedings.'
The questioning is to be about a corruption case involving Israel's largest telecoms firm. This is the third such police recommendation against Netanyahu in recent months. Now, the Israeli attorney general should decide whether to bring indictments in the case.
The Israeli prime minister, however, dismissed the accusations against himself and his wife. 'These recommendations were determined and leaked even before the investigations began,' he claimed in a statement. 'I'm sure that in this case the relevant authorities, after examining the issue, will reach the same conclusion: that there was nothing because there is nothing.'
The Israeli police have already recommended charging Netanyahu for bribery and breach of trust in Case 1000 and Case 2000. Netanyahu is suspected of having received luxury gifts from businessmen overseas in Case 1000.
He is also suspected of negotiating favourable press coverage with Yedioth Ahronoth publisher, Arnon Mozes, in Case 2000. The Israelis have been holding protests to demand the prime minister's resignation over the corruption scandals, but Netanyahu has described the events as part of efforts meant to topple him 'at any cost.'