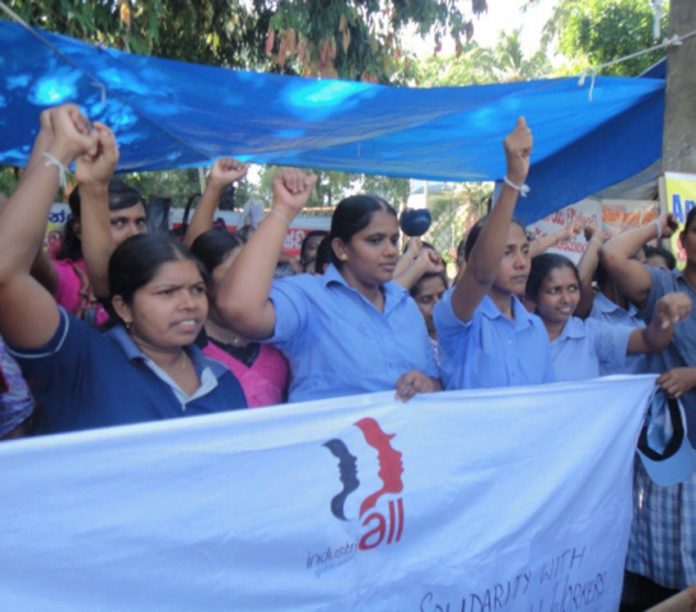 Australian-based manufacturer of medical gloves and condoms, Ansell, is attacking workers in its supply chain, suspending 800 striking trade union members in Sri Lanka and replacing them with contracted scabs.
IndustriALL Global Union is mobilising solidarity behind its Sri Lankan affiliate, the Free Trade Zones & General Services Employees Union (FTZGSEU).
The FTZGSEU has organised and defended the workers at the Ansell Lanka Ltd factory in the Biyagama Export Promotion Zone for 20 years.
Ansell has an ugly history of union busting at the factory ever since 1994, when management refused to recognise FTZGSEU as the legitimate bargaining partner which led to demonstrations in which one worker was shot dead by police.
The Ansell management is trying to bust the union.
The branch union president and other officers have been sacked; the branch union president was assaulted, Sri Lankan authorities have been ignored, and IndustriALL's offer for mediation was turned down.
Ansell's union busting in Sri Lanka and Malaysia has been widely condemned and last week IndustriALL lodged an official OECD (Organisation for Economic Co-operation and Development) complaint against the multinational latex rubber producer.
The complaint, lodged with the Australian National Contact Point for the OECD, sets out breaches of the OECD Guidelines for Multinational Enterprises by Ansell in its operations in Sri Lanka and Malaysia, in relation to human rights, trade union rights, and occupational health and safety.
Responding to an automated reply to the protest messages sent to Ansell, IndustriALL general secretary Jyrki Raina said: 'We were surprised to read the company's claim that it was striving to resolve the matter in accordance with national laws.
'Ansell has treated every request and attempted intervention from the Commissioner of Labour in Sri Lanka with contempt and refusal to comply.
'Large portions of Ansell Lanka's products are exported to the US and Australia.
'Major purchasers of Ansell products include governments, military, healthcare institutions, "correctional institutions", security agencies and companies, safety equipment supply houses, laboratory supply houses, and retailers.
'Since 2011 the FTZGSEU and IndustriALL have repeatedly expressed their desire to convene an effective joint investigation into a number of suspicious health issues, including reproductive effects and cancer and leukaemia cases at Ansell's Sri Lanka facility.
'Ansell refuses to recognise the FTGSEU, refuses to respect collective bargaining, forces workers to urinate at their work stations to maintain fast production and then blames and victimises the union for the ensuing employee unrest.
'The workforce is paid poverty wages and undermined by an increasing number of contract agency workers.
'Almost all branch union officers have been summarily dismissed.
'IndustriALL Global Union will continue to stand behind its Sri Lankan and Malaysian affiliate against this intransigent multinational employer.
'The OECD complaint is just one aspect of the ongoing and evolving campaign for trade union rights at the company.'
Last week representatives of IndustriALL Global Union's Sri Lanka affiliates, along with IndustriALL's Regional Secretary Sudhershan Rao Sarde and project coordinator, Shahnaz Rafique, addressed the striking Ansell workers outside the Sri Lankan factory's gates.
Anton Marcus, president of the FTZGSEU and member of IndustriALL's Executive Committee, reiterated the demands of the union to immediately reinstate eleven branch union officers and the withdrawal of all fabricated charges against them.
Sudhershan Rao Sarde, the regional secretary delivered a solidarity message stating that IndustriALL supports the just and legitimate struggle of the Ansell Lanka Workers union.
Shahnaz Rafique said the the many women at the forefront of the struggle was impressive, and she appealed to them to sustain the strike.
IndustriALL strongly supports the strike and has, among other initiatives, created a strike fund.
The strike will be on the agenda at the meeting of IndustriALL's Executive Committee in Geneva today and tomorrow – 4th-5th December.
Jyrki Raina, general secretary of IndustriALL, said: 'Our 50 million members stand behind the struggle of the Ansell Lanka workers.
'We want to see them succeed; management at Ansell needs to resolve this issue immediately.'
The company's refusal to recognise the FTZGSEU was the primary reason for the 800-worker strike that began on 11 October.
The strike is the longest ever in a Sri Lankan free trade zone.
Management's retaliation against the strike constitutes a clear strategy to completely crush the union.
The union president was summarily sacked on 11 November, without any disciplinary inquiry.
The only reason given for the sacking was that he had insinuated to police that management was involved when two men on a motorbike assaulted him.
Since that first sacking, a further 10 summary sackings have been made, including other key branch union officials.
Contract agency workers, following a long-term strategy to weaken the union by outsourcing the factory's workforce, replace all suspended and sacked workers.
Ansell has shown equal arrogance in face of the Sri Lankan authorities, ignoring recommendations as well as meeting invites.
IndustriALL has exhausted all avenues of mediation with Ansell, after a number of letters sent over a period of more than a year, to which the company only flatly denied any accusation of anti-union activity in Sri Lanka and never accepted repeated offers of a meeting.
IndustriALL and its affiliates in North America, Australia and Europe are informing hospitals and other customers of Ansell of the 'dirt on the surgical gloves they buy'.