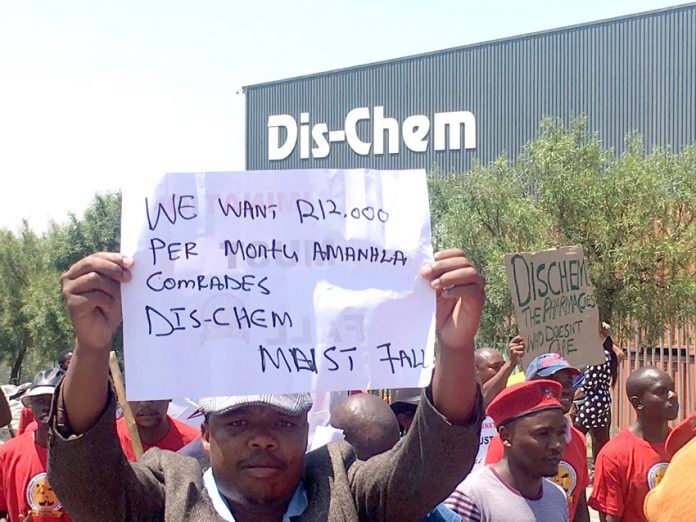 MEMBERS of the national education, health and allied workers' Union (Nehawu) embarked on a strike last Friday in protest against working conditions. The employees of the Health Professional Council of South Africa (HPCSA) downed tools and doors to offices were locked, apparently by management and no one could work, even those who were not part of the strike.
Workers were protesting against management, corruption, automation, lack of transparency by management and working conditions. The protesters have been picketing outside their office in the Pretoria Central Business District since last Tuesday during their lunch hours in preparation for the strike.
Nehawu's Nkululeko Ntloko said staff would not go back to work until management discussed a way forward. Protesters said they felt like their jobs were not secured due to the introduction of automation. 'We don't want the South African Broadcasting Corporation (SABC) saga to happen here, so we are dealing with the matter before it gets out of hand,' said one protester. Ntloko said workers have raised their grievances several times with management but it felt like it just fell on deaf ears.
Workers submitted a memorandum to management containing some of their grievances including being against: – Staff allocation and placements to a new division without being consulted; – Failure to address issue of cramped working space – Unclear job descriptions; – Poor risk management; and – Issue of reporting lines as ombudsman/acting Chief Operating officer – Dr Munyadziwa Kwinda, decided two months ago no longer to lead the unit.
• The CWU, says it will fight against the impending staff retrenchments at the SABC to the bitter end. The Communication Workers' Union in KwaZulu-Natal says the SABC should withdraw its intention to retrench workers or face a total shutdown.
The public broadcaster has confirmed that it intends to retrench close to a thousand permanent staff and not renew the contracts of around 1200 freelancers in a bid to cut costs. CWU general-secretary Aubrey Tshabalala has called for the SABC Board to step down for what he calls its failure to save jobs.
He adds: 'We are not going to rely on the elite that are beefed up in Parliament that have nothing to do with the interest of the workers but their own well being and families. 'When we are toyi toying its not an aerobics exercise – we are sitting under serious pain as workers are unsure, you understand the pain of the working class because yourself – they sent you here but the main culprits are sitting in Auckland Park. 'The chairperson of the board is in the forefront of destroying the jobs of South Africans.'
• Gauteng police used rubber bullets last Friday to disperse about 2,000 workers belonging to the National Union of Public Service and Allied Workers (Nupsaw), who were protesting outside Dis-Chem's offices in Midrand, Johannesburg. The workers are demanding a salary increase of up to R12,000 and annual bonuses equal to basic salaries.
Police spokesperson Captain Mavela Masondo said the situation was calm and that police were monitoring the situation. 'It turned violent and we had to use rubber bullets to disperse the crowd,' Masondo said.
Masondo added that no one has been arrested and no cases have been opened. Union chairperson Solly Malema said the strike was a national one and that employees from Mpumalanga, the Western Cape and Gauteng were participating. 'We are still checking with other provinces on how far they are,' he added.
He said the employer was not prepared to negotiate with the union, saying they were not in the majority. We tabled the wage demands in June before the employer. The employer is not fighting financial constraints but is simply saying because we are not in majority or more than 30%, we cannot enter into negotiations,' Malema said.
He added that according to their records, they were more than the 30% and were therefore in a position to negotiate with the employer. 'What the employer is doing is that when we send membership forms, they do not load them on their payroll system and are doing so deliberately to make sure we do not reach that 30%,' Malema alleged.
However, Dis-Chem spokesperson Caryn Barker maintained that Nupsaw was not representative in the organisation. 'They have less than 14% representativity and based on that, we can't negotiate with them and we can't recognise them,' she said.
She said they were not in formal negotiations with the union. In a statement, the company made it clear that the workers' wage demands were 'unreasonable given the current economic climate and that they would severely impact the company's future operations'. 'Increases are awarded annually in March and are not given at random times of the year.
'Although bonuses are impossible to guarantee and are therefore at the discretion of Dis-Chem's management, the company has endeavoured to pay these when company performance and circumstances allowed for it,' it said.
The company added that the no work, no pay, no benefit policy would apply during the strike. 'The company is not in a position to meet Nupsaw's wage demands, which are totally unreasonable. Sadly, the dispute will hurt striking workers, who will enter the festive season with diminished earnings,' Barker said.
She said there were contingency plans in place to ensure Dis-Chem stores were operating as normal, with minimal disruptions. Malema said the workers were only willing to return to work if the employer expressed a willingness to negotiate with them.
He said they stood in solidarity with the South African Federation of Trade Unions (Saftu). 'The strike will continue until the employer responds positively to our demands. The mandate from workers is that if the employer opens up wage negotiation and allow us to have a discussion, we can postpone the strike and enter into negotiations,' said Male.
• Workers at the embattled West Rand District Municipality say they will not budge until all their demands have been met. Last Wednesday the workers embarked on a march and handed over a memorandum to the office of Gauteng Premier David Makhura calling on him to deal with their grievances.
According to South African Municipal Workers' Union spokesperson Bongani Mgcina, education MEC (Member of the Executive Council) Panyaza Lesufi, who is acting premier while Makhura is believed to be out of the country, received the memorandum.  'MEC Lesufi accepted our memorandum and made a commitment that within seven days he will respond to all our demands,' Mgcina said. 
However, Mgcina was adamant that they would continue with their shutdown until all their demands, including that their third-party funds (e.g medical aid, pension and provident fund contributions) are paid to them. 'While the acting premier (Lesufi) is contemplating answers to our memorandum, we will not be rendering our services,' Mgcina said.
Mgcina said their memorandum also called for the municipality to be placed under administration under section 139 of the Constitution.  He added that Lesufi had also told them that there was a forensic report that would allow for the government to put the municipality under administration. 
'If this section 139 is to be implemented, at least the current SMT (senior management team) should also be released from its responsibilities because it has failed to meet its financial obligations, that's what we are saying,' said Mgcina. 
'We also want buildings to be safety compliant because they are not safe.
'We have learnt a sad lesson from what happened to municipal officers in Johannesburg. We don't want to be a repeat of that ugly picture,' he said.
The municipality has been struggling to pay salaries after it landed in financial trouble following its investment of over R70m in the now liquidated VBS Mutual Bank. Workers are demanding a permanent solution to keep the municipality running. The situation has been worsened by concerns that more than 300 workers will not be paid again this month.