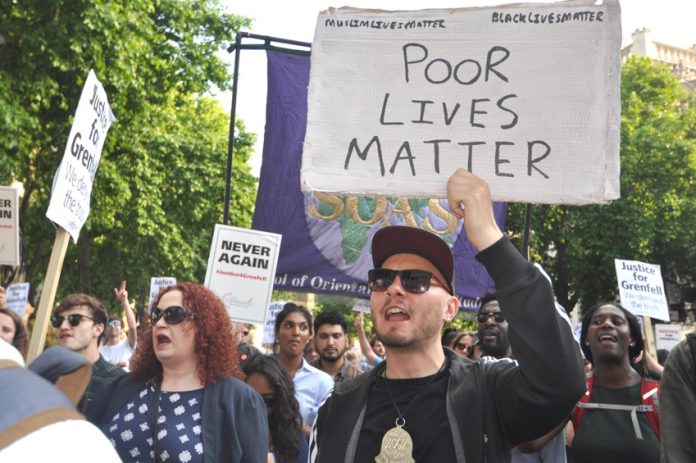 AHEAD of tonight's Silent March to mark the six-month anniversary of the Grenfell Tower inferno, the Fire Brigades Union (FBU) has condemned the inclusion of a leading supporter and organiser of fire service cuts as an 'expert witness' to the Grenfell Tower Inquiry (GTI).
The march starts at 6.30pm tonight from Notting Hill Methodist Church, as it has on the 14th of each month since the fire which killed at least 71 Kensington & Chelsea Council tenants in the flammable cladding-covered tower block on 14th June this year.
On Tuesday, bereaved relatives handed in a 16,000-strong petition to 10 Downing Street demanding that an 'impartial and independent decision-making panel' must be brought in to sit alongside the Tory government-appointed inquiry chair, High Court judge Sir Martin Moore-Bick, in the inquiry.
The inquiry sat for two days this week, on Monday and Tuesday, to determine its terms of reference on how it will take evidence from witnesses and participants. On Monday, the FBU condemned the inclusion of GTI expert witness panel member, former Chief Fire Officer (CFO) Steve McGuirk.
The FBU said McGuirk, former CFO for both Greater Manchester and Cheshire and a well known 'moderniser', was a key player within the service when it was taken apart, with service fragmentation leading to the abolition of the structures that protected its high standards. As a result, it is less able to provide a fast, fully crewed, professional response to fires and other incidents.
McGuirk was also a member of the then Chief Fire Officers' Association's Presidential team, which advised central government on safety issues that are now being put under scrutiny. Both he and fellow panel member Joyce Redfearn, a retired Clerk to the Greater Manchester Fire and Rescue Authority, were also Deputy Lieutenants for Greater Manchester – these links were not disclosed when the GTI panel was announced.
Matt Wrack, General Secretary for the FBU, said on Monday: 'It is alarming that someone who has basically supported cuts to the fire and rescue service, who thinks for example that sprinklers are a replacement for a fully funded service, is going to be on the Grenfell Tower Inquiry panel as an expert witness.
'We need someone who supports much-needed investment into the diminishing fire and rescue service. Instead we have a former CFO who has effectively agreed that cutting jobs and fire engines, and closing down fire stations, is justified – he has said as much.
'To place him on the panel of an inquiry into the worst fire since WWII, during which the availability of fire service resources will inevitably be explored, is irresponsible to say the least.' The FBU has complained about the appointment of McGuirk, and the inquiry has promised the union the opportunity to robustly challenge his evidence.
The FBU has also sought permission to instruct an operational firefighter expert to provide additional evidence, and to give an independent peer review of McGuirk's evidence. The FBU is seeking assurances from the GTI team that all of the appointed assessors and experts have been asked to declare any involvement in or association with companies that may have installed cladding or insulation windows to high rise residential blocks.
The union has in addition requested the opportunity to make submissions to help firefighters and control operators to give their best evidence during Phase 2 of the Inquiry. It has also asked that Phase 1 proceeds without further delay, and that it happens in tandem with the police investigation, instead of awaiting its outcome.
The FBU also asks that a venue for the inquiry is found as close as possible to Grenfell Tower so that as many survivors and witnesses can attend as is possible. Percy Seaward, a barrister representing the FBU, told the inquiry Steven McGuirk would be 'conflicted' and 'compromised' in giving evidence.
The FBU, he said, believed the emergency response to the Grenfell blaze was affected by previous cuts to the fire service in London. McGuirk, Seaward said, had always been at the 'opposite end of the table' from the FBU whenever there had been negotiations over staffing levels for the fire service.
'The FBU wants this inquiry to consider the effect of deregulation, closures and cuts to the response on 14 June (at Grenfell Tower),' he said. That's part of the big question of how this happened in London. We say that Mr McGuirk is conflicted in advising on this team. He has also been the principal adviser to local authorities on fire safety guidance.'
McGuirk would be unable to help on several issues, Seaward said. 'For example, he was in charge of Greater Manchester when recommendations were made from the Lakanal fire (in London) and one question would be whether those recommendations were carried out.'
He said McGuirk would be compromised in his duty to be impartial and independent. He should be replaced by a senior officer from Scotland, Seaward suggested. Firefighters were also victims of the Grenfell Tower fire, Seaward also told the inquiry. 'Those who attended and those who took the harrowing calls are victims who were exposed to trauma,' Seaward said.
'They were exposed to trauma again and again when they went back in. Nearly all the firefighters were traumatised and some were injured by the traumas. Late-onset PTSD, as in the military, is becoming a recognised condition.'
On Tuesday, speaking alongside the rest of the team handing in the petition in Downing Street, bereaved relative Sandra Ruiz said: 'Sir Martin Moore-Bick is an experienced High Court judge, who we feel is suited to the Grenfell Tower Inquiry.
'However, we are worried that he may not have an understanding of the wider issues that are beyond his experience and expertise. Nor is it right that the truth surrounding the deaths of 71 victims be dependent on a single person's judgement.
'Neither ourselves nor any of our legal representatives have advocated that we or the local community sit in judgement alongside the chair. What we seek is that an impartial and independent decision-making panel, with a range of experiences, to assist the chair. Two, three or four heads are better than one.'
Speaking on Monday, Michael Mansfield QC, representing some of the 71 victims, also called for a diverse panel to sit alongside Moore-Bick. He said there is a 'distinct feeling today that those people most affected have not been included'.
He told Moore-Bick: 'You yourself cannot be expected to reflect the diversity … no one person could do that.' Speaking at the start of procedural hearings at Holborn Bars in London, Mansfield said a broader panel would help the victims' families to 'respond and engage' with the inquiry.
Sam Stein, another lawyer representing some victims said: 'The gaining of trust from survivors of a tragedy of this magnitude, whose lives have been broken and ruined by the very state that appointed you, is not easy and it will take time.'
The Metropolitan Police is investigating offences including manslaughter, corporate manslaughter, misconduct in public office and breaches of fire safety regulations in relation to the fire, the inquiry heard. Ahead of the start of the hearings, it emerged that six months on from the fire, only 42 of the 208 families who need rehousing after the fire have so far been moved to permanent homes.
Mohammed Rasoul, whose family, including two young children and his 86-year-old father, are still living in a hotel room, said on Monday: 'You feel like you're a prisoner living in here.' Speaking about the inquiry, he said: 'I personally have lost confidence in our justice system. I hope they can prove me wrong but it doesn't look like people are going to be held accountable.'
Pete Weatherby, who represents 73 individuals, said: 'Our clients are all different, they are young and old, men and women, they are of diverse heritage. Most of my clients are Muslim, they need an inquiry that understands their experience as much as possible.'
He also raised concerns that companies involved may 'not act with candour' and may become 'defensive', and said this was delaying the release of documents to survivors and families. Barrister Leslie Thomas QC, who is representing 17 core participants in the inquiry, said: 'One of the things that will not be lost on you, or anybody else that sits on this inquiry … you can see most of the victim core participants … because they're sitting right at the back. You couldn't get a more diverse group of people. 
'Now look at the lawyers. Look at the lawyers who represent predominantly the corporate core participants. And even to an extent, look at those of us that represent the victim core participants. A fairly homogenised group, wouldn't you agree, apart from the odd exception here and there?
'What must they be thinking in terms of "are we going to get justice? Do they understand us?"'
Thomas went on: 'This isn't just saying, "I want someone who looks like me, for the sake of someone looking like me". No, it's much more than that. Does this inquiry pass the smell test? What is the smell test on an inquiry such as this?
'I've already said, look at the suits. I've already said look at the victim core participants. I've asked you to take a long hard look at your panel, your assessors, your team. Ask yourself does it pass the smell test? Because that relates to perception … public perception … do they understand us, do they speak our language? Do they know anything about social housing?
'How many have lived in a tower block, or a council estate, or in social housing? That affects confidence. Confidence – or lack of it – affects participation. And a lack of participation from the people that matter will affect justice. And a lack of justice is injustice.'
ends