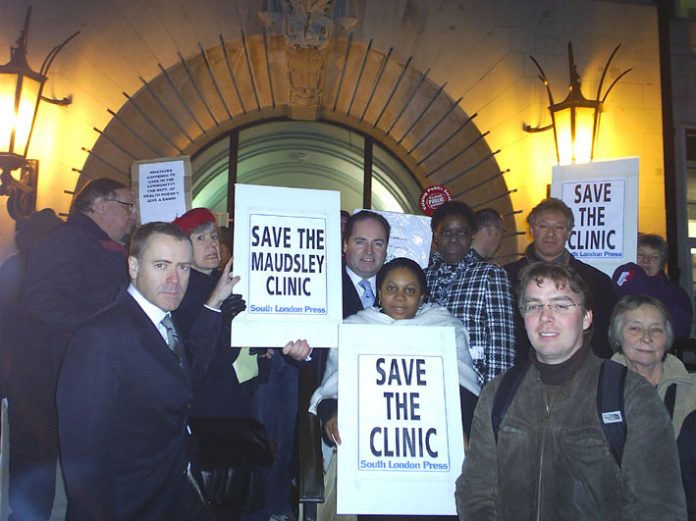 OVER 200 local residents, hospital workers, pensioners, community workers, trade unionists and others opposed to the closure of the Maudsley Hospital Emergency Clinic staged a demonstration to keep it open outside Southwark Council on Wednesday night.
The demonstration took place ahead of a meeting of the council.
Some protesters even tried to block the road to show how angry they are at the government's closure plans, before coming back to join the rally outside Peckham Town Hall – where a minute's silence was also held to remember mentally ill people who have committed suicide.
Speakers at the rally warned that more people could die if the closure is allowed to go ahead.
'We're against the Maudsley cuts!', the demonstrators shouted.
Addressing the council and passers-by, speakers said closure of the well-known mental health hospital's emergency facilities would be 'a massive blow to our community.'
'It could be your children, your parents – Save the Maudsley! Save the Emergency Clinic at Maudsley Hospital!' they demanded.
Teresa Richards, of Mind, told the rally: 'We care, and all these people here tonight are showing how much they care about the Maudsley Hospital.'
Tony Farsky, of Southwark Pensioners Action Group, said: 'It's an absolute scandal we have to be here tonight.
'We need more emergency clinics.
'The whole thing is driven by spin: when they talk about "care in the community'', they actually mean lack of care in the community, and I urge you all to come out and demonstrate on every occasion against cuts in mental health services.
'We've really got to keep on fighting.'
Another speaker, from Southwark Keep Our NHS Public, said: 'There's going to be cuts in jobs at Guy's and St Thomas', so we need to stop that happening.'
Another speaker added: 'The Cawley Centre for Lambeth and Southwark for mental health problems has gone over to referrals only. Where will it end?'
'We're here to save lives in our local community, that's the threat if the emergency clinic closes,' Teresa Friend also said.
Many local people spoke to News Line.
John Richards, from Peckham, said: 'I am a local resident and I will do anything I can to support keeping Maudsley open.
'Basically, I think Blair is wasting money on bureaucracy and not caring enough about the patients.
'Basically, the government have no consideration for the public or the taxpayer who pay for the NHS out of their hard-earned taxes. It's an absolute disgrace!'
Geoff Martin, from London Health Emergency, said: 'I'm here to support the campaign to stop the closure of the Maudsley Emergency Clinic and the Felix Post Unit at the Maudsley. Closure would be dire.
'They are emergency facilities for people who are going through acute psychiatric crisis.
'The purpose of today's lobby is to keep the pressure on.
'We have a demonstration at the Town Hall by people who are concerned at what the consequences will be of these cuts.'
Dave Eastham, treasurer of Amicus south-east London medical branch, said: 'I'm here to support our members at Maudsley who are under threat from these cuts, which are based on a false premise and an artificial deficit.
'The quoted deficit is 0.7 per cent of the health service budget. Any commercial organisation would die for that!
'To then turn round to destroy the very community services that they claim they're trying to promote is absolutely disgraceful and crass nonsense.'
Vicky Lawson, a local resident from Camberwell, said: 'It is ridiculous that they're going to close it.
'And saying that people can go to the usual A&E departments is very short-sighted – and they've obviously never been to a usual A&E with a psychiatric problem.'
Sarah Tonin, from Creative Routes, said: 'We're here today to try and find (the Secretary of State for Health) Patricia Hewitt, who's very obviously sick and needs to be detained under the Mental Health Act to protect other persons!
'Any public sightings, please go to www.proudtobemad.co.uk. Reward for finding her will be the Maudsley Emergency Clinic will remain open!'
She added: 'I think hospitals should be occupied to keep them open.
'There's a lot of medical staff against the closure of the emergency clinic, but they've been bullied and one person has lost their job.'
Teresa Priest, from Southwark Mind, said: 'All the local councillors have been very supportive of the campaign and the council meeting tonight is just an opportunity for them to debate the Secretary of State's decision to close Maudsley clinic and for the local community to show the strength of our opposition.'
She continued: 'The council have powers to refer closures or cuts to the Secretary of State if they think it's not in the interests of the health of the local population, which they did.
'But the Secretary of State said it must close.
'No date has been set for the closure, but we expect it before the end of the financial year – this April.
'The Secretary of State needs to revise her decision and take account of the facts.
'We only found out about her decision last week.'
Clive Niall, a member of the NUT teachers' union, who works in child mental health at Guy's Hospital, said: 'It's really important that the Maudsley is open to everyone, but including young people and other people who don't know where to turn.'
He described the closure-threatened emergency facilities as 'a vital opportunity for people to get help when they need it, not at some future date.
'It needs to be fought and people need to make their opinions known by whatever means,' he added.
Martin Saunders, from the Patients' Forum, said: 'I have been a service user in the past and I have also been a carer in the past.'
He described the Maudsley Emergency Clinic and other closure-threatened facilities as 'essential for the well-being of not only those with mental health problems and their carers, but the public in general, who will have somewhere to go in time of trouble.'
He added: 'There was one thing that drove the setting up of the NHS, and that's been lost by all this monetarism coming in – they need a compassion implant!
'The people in charge don't have the compassion which drove the setting up of the NHS.
'It's a false economy.'
Denise Nicholls, from Southwark Pensioners Action Group, said: 'We think there should be an occupation of the Maudsley to keep it open. We'll be there.'
Chris Taras, a local resident from east Dulwich, said: 'I have been a user of the Maudsley.
'A&E clinics will be inundated if Maudsley Emergency Clinic closes,' he warned.
He added: 'You need a lot of sensitivity to deal with people with mental illnesses, and if the closure goes ahead the suicide rate can go up.'
Janet Harris said: 'I think action should be taken to keep the clinic open.
'It needs to be occupied by the people who need it. It's an essential service.'