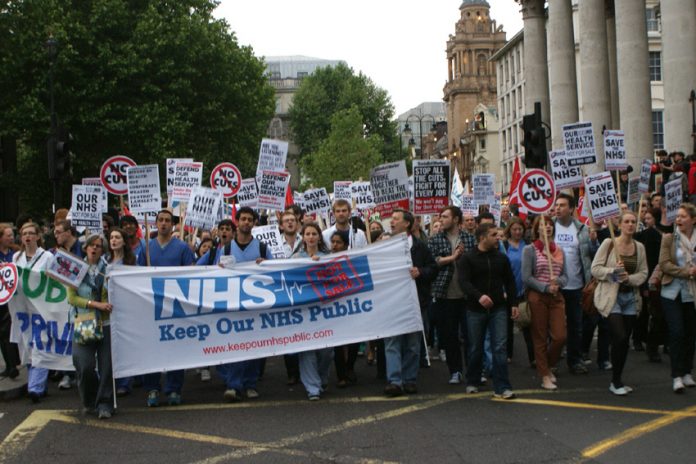 THE South East London Cluster combines the PCTs of Lambeth, Southwark, Lewisham, Greenwich, Bexley and Bromley.
Kings College Hospital NHS Foundation trust is a large teaching hospital.
Guy's and St Thomas' NHS Foundation trusts hospital are reducing spending by £53m. The 4% 'efficiency target' demands a cut of £27.9m ( £30m is going into capital investment.)
Guys and St Thomas is part of Kings Health Partners, an Academic Health Science Centre.
The hospital has privatised its pathology laboratory in a joint venture with Serco called GSTS Pathology (Guy's and St Thomas' Serco Pathology). Kings College Hospital FT became part of the joint venture to form the UK's largest single provider of pathology services.
Serco anticipates an incremental revenue to Serco of £110m over the term of the 10 year Kings contract. The CE of Serco said it positioned the group well for further growth in a growing market worth £2.5bn in the UK.
St Thomas is tendering out an urgent care centre, A&E reception and its pharmacy to private companies.
University Hospital of Lewisham has a £60m PFI surgical block completed in 2006.
It had 'financially challenged' trust status in 2009.
It will be integrated with Lewisham Community Health Services to form Lewisham Healthcare NHS Trust.
There will be a new urgent care centre in front of the A&E which is being refurbished, a new main entrance and reception, and refurbished outpatients. It is applying to become a FT.
South London Hospital Trust (SLHT )was set up in in 2009, with a debt of £200m, as a merger of Queen Elizabeth (QEH) Woolwich, Bromley Hospitals NHS Trust and Queen Mary's Sidcup (QMH).
The latter is being dismembered to pay for the debts of the former, which both have large and expensive PFI builds. The trust ended 2009-10 with a 'deficit' of £42m and forecasts a deficit of '£36m' for 2010/11. It aims to become a FT in 2014 and seeks to save £50m over two years. SLHT is listed by the SHA list as a financially challenged trust.
The Care Quality Commission found in January that SLHT was in breach of six standards of care including staffing levels.
Queen Elizabeth Hospital (QEH) was rebuilt as a PFI in 2002 for £93m, but will cost £798m by 2030. In 2006, it was heading for a £100m debt by 2008-9, so huge cost-cutting measures were taken. It was thereafter merged into SLHT.
A Consultant Urologist, Mr Niekrash, whistleblew on serious clinical failings, as a result of cuts from 2005 onwards. He was suspended and eventually re-instated only after consultants threatened a vote of no confidence in the trust.
Bromley Hospitals Trust built as a PFI for £118m will cost £788m. It essentially went bankrupt in 2008 with a debt of £100m deficit, and was then merged into SLHT.
Queen Mary's Hospital (QMH) Sidcup
SLHT is closing QMH as a DGH. The A&E department and maternity units have been closed and there are plans to remove the 284 acute beds and replace them with an elective surgery unit, urgent care centre, diagnostics, mental health and community services.
Management consultants McKinsey are proposing massive land sales at the QMH site and the complete closure of the remains of Orpington Hospital, to help pay off the debts of the other hospitals in the merged trust, much to the anger of local people.
London Ambulance Service
On 12th April, London Ambulance Service (LAS) announced the loss of 890 jobs over the next five years in order to save £53m.
LAS employs 500 people. 560 frontline posts would go.
This announcement immediately exposes the false promises made to the public at Independent Reconfiguration Panels and consultations over hospital reconfigurations.
They were repeatedly told that LAS would be so efficient that they would be able to take emergency patient from Enfield to Barnet, or from Ilford to Romford, or from Bexley to Woolwich within safe journey times.
Campaigners never believed that at the time and now they can see that the ambulances will not be there. Clearly with fewer A&Es, more ambulances would be needed, not less.
This is a particularly sore issue in Bexley. QMH patients now find themselves transported to QEH for outpatient appointments by a private company Savoy Ventures Ltd.
The terms and conditions of employees of this company are inferior to those of LAS, which previously provided the service. Elderly patients are having to be transported there for warfarin clinics, and the transport is so slow it can take all day, with patients being left waiting for hours.
Bexley is now the only London borough without an A&E. Residents say that it takes 40 minutes to get to QE five miles away and that on arrival patients sometimes wait one hour in the ambulance before being disembarked.
They claim the extra space that was promised at the A&E at QEH has not been provided.
Otherwise, patients could travel 12 miles to the Bromley hospital or 14 miles to Darent Valley, with even less chance of survival in an emergency.
Conclusions
The rapid, huge scale of cuts and privatisation that is taking place in London is representative of what is happening throughout England.
The commissioning clusters are having their funding cut by the Department of Health and NHS London and are decommissioning services from the acute hospital trusts in their areas. These acute hospital trusts are told they must stick to the reduced budgets otherwise they cannot become Foundation Trusts (FTs).
Out of London's 29 acute trusts (some with multiple hospitals), 9 have become FTs; Chelsea and Westminster, Guy's and St Thomas', Homerton, Kings College, Moorfields Eye Hospital, Royal Brompton & Harefield, Royal Marsden, University College and Hillingdon.
Some are aspiring to become FTs like Whittington, Lewisham, and Croydon. They are using the acquisition of the community services in their areas to become 'integrated care organisations', to assist this goal.
Kingston, St George's, North Middlesex, Royal National Orthopaedic Hospital. (RNOH ), and South London Healthcare Trusts (SLHT ) also aim for FT status.
Barking, Havering and Redbridge University Hospitals NHS trust (BHRT), Royal Free, and Imperial, have financial problems and seem to have put their FT aspirations on hold.
Some trusts have been saddled with 'deficits' and have clearly been instructed by the commissioners to take the route of merger, like Whipps Cross, Newham, Ealing, West Middlesex and Epsom & St Helier.
Other trusts have been systematically underfunded and run down by the commissioners for a long period, preparing them for complete closure as DGHs. Replacement of the asset-stripped sites with a collection of private units is planned; elective surgery, walk-in centre, outpatients, rehab, primary care and diagnostics.
This is at an advanced stage for QMH Sidcup, and Central Middlesex and is the plan for KGH Ilford and CFH Enfield. In every case, merger preceded the closure plans.
Central Middlesex in Harlesden is an example of how a traditional hospital site in an area of great clinical need, was asset stripped of land to finance a modern PFI building, then subjected to the gradual removal of first maternity, and now parts of paediatrics and emergency surgery. It seems to be undergoing piece meal privatisation of its clinical services, starting with the front door urgent care centre.
Privately owned urgent care centres are also springing up at the front of A&E departments at, St Thomas', Hillingdon, Whipps Cross, North Middlesex and others and seems to represent an effort by the private sector to take control of triage, i.e. hospital admissions.
These plans by the coalition are a rehash of the Darzi Healthcare for London plan of the last Labour government, executed by another route. Secretary of State for health Lansley's photoshoot performances outside threatened hospitals last Spring, was nothing more than mendacious electioneering.
The clinical implications of these cuts and reconfigurations is being hidden. The damning reports of the Care Quality Commission into the maternity units at BHRT, Kingston and SLHT lifts the lid on the dangerous consequences of constant cost cutting and understaffing. BHRT was running unsafe services, short of 50 midwives.
This untold tale is yet to come into the open. Mid Staffordshire type disasters are being created.
It is clear that the coalition government is going about decimating the provision of acute hospital care in London, through a combination of Foundation trustification on the one hand or merger as a prelude to DGH closure on the other.
Both ways lead to private sector involvment and asset stripping of land and infrastructure. RNOH is considering handing over its entire running to a private company.
The rapacious profit making by the PFI construction companies such as in Barnet where 67% profits have been made by investors, is driving the cuts and closure programme. These companies could take ownership of the hospitals at the end of their contracts.
Amalgamation of acute hospitals with community services is being used to create giant 'integrated care organisation' FTs, which control hospital and out-of-hospital care in their areas.
The Health and Social Care bill would give these FTs new powers to behave like commercial organisations, with freedoms to borrow from banks, and treat unlimited private patients and become social enterprises.
In essence they would be self-governing trusts and own their own assets, no longer being state-owned. They could end up being bought and sold on the market. The corporatisation of NHS hospitals and community care is taking place under our eyes.
Were the coalition to get away with the corporatisation of GPs by forcing them all to join cash-limited GP commissioning consortiums (GPCCs ), the infrastructure for a completely corporately run NHS would be in place. This is the meaning of the Health and Social Care Bill.
The whole of the NHS would become one giant public private partnership, with the NHS providing the funding and all the delivery coming from private corporations. With profit as their main aim and a truncated budget, hospital charges would be on the agenda. Already, the new CE of Whittington hospital has said that the hospital would charge for non-elective care, so as to become a FT.
Commissioning itself is being more and more decided by leading figures from the financial world that sit on the Boards of the Commissioning clusters and trusts and who, under the health bill, would populate the new NHS commissioning board and GPCCs.
The way forward
Thousands of clinical posts are being lost in this destruction. Many excellent local hospital services are being dismantled. Patient care is being taken away.
The unions must organise industrial action to defend our publicly owned and provided NHS, and keep it in public hands. They should organise united industrial action to prevent cuts, closures and redundancies.
Councils of Action need to be built in every area, with staff, patients, residents, campaign groups and local trade union branches, to organise occupations to keep hospitals open.
The Health and Social Care Bill must be defeated and this government brought down by a general strike, and a workers' government, not a Labour government, brought in that will carry out socialist policies.
What is urgently needed is a new revolutionary leadership in the unions to fight for these policies.
We need a Workers government and Socialism to protect all the public services. Come to the conference of the All Trades Unions Alliance Conference on 19th June, where all of these issues will be fully discussed.
• Concluded.