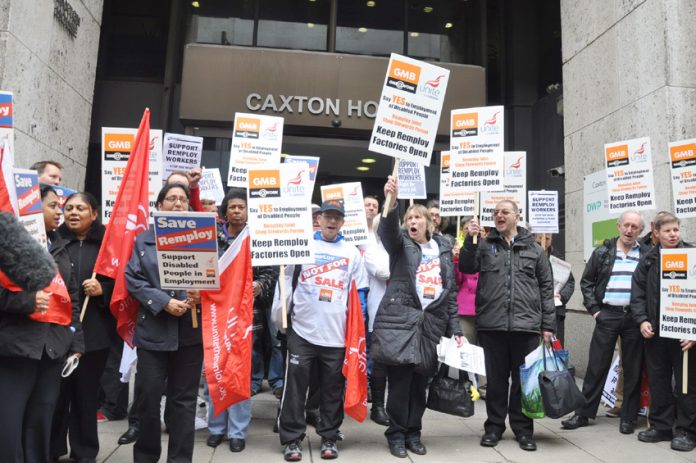 Hundreds of disabled workers demonstrated yesterday against the closure of Remploy factories outside the DWP (Department of Work and Pensions) offices in London and Sheffield, and also outside Parliament.
The Remploy workers are angry at the coalition government's decision to shut 36 of the 54 Remploy sites this summer with compulsory redundancies for 1,752 people, of these 1,518 are disabled. The remaining 18 sites are envisaged to close soon after.
This decision was made on March 7th, 2012, just days after the government announced the Welfare Bill aimed at cutting benefits.
Gail Cartmail, Unite assistant general secretary, said ahead of the rally: 'Our members feel outrage that the government could take jobs from disabled people in this current climate.
'How are they expected to find work when there are 2.65 million people in the queue in front of them?
'The government say that disabled people should be in mainstream employment, but the jobs just aren't there for them.
'And very often when disabled workers are in mainstream employment they suffer excessive levels of bullying and harassment.
'This decision to sack disabled workers demonstrates how intent this government is on hitting the most vulnerable in society hardest.'
Phil Davies, GMB national officer for Remploy staff, said: 'We must show the strength of feeling that taking jobs from disabled people should not be tolerated in a civilised society.
'It will not improve the country's financial situation – it may well make it worse. Join us in the fight to save Remploy.'
Unite and GMB members assembled at midday outside the Department of Work and Pensions offices on Tothill Street, SW1 at midday for a short march to Parliament, where there was a rally with speeches in Old Palace Yard.
Speakers included Gail Cartmail, Unite assistant general secretary, Phil Davies, GMB national officer for Remploy staff, Les Woodward, GMB national convenor of Remploy, Peter Purton, disability officer for the TUC, Jerry Nelson, GMB national official, and Remploy workers.
As the London demonstration was taking place, union members assembled outside the Department of Work and Pensions office in Sheffield (Steel City House) at the junction of West Street, Church Street and Tripit Lane for a rally and march to the Town Hall.
• Over three hundred Remploy workers and supporters from Sheffield, Staffordshire and other parts of northern England staged a morning picket and march from the DWP offices at Steel City House to Sheffield Town Hall against the 36 threatened site closures.
Amongst the marchers were Remploy workers from Chesterfield, who held an all-out strike last January when managers claimed that the takeover of the workforce by a private company employer would help ensure the plant stayed open.
But now Chesterfield is on the phase one list of 36 site closures currently under 'consultation', alongside others which include Leeds, Huddersfield, Pontefract and Stoke.
GMB Yorkshire officer, Tony Gledhill told News Line: 'We know that they've already made the decision, the consultation is just a sham.
'The private company has been in and running in Chesterfield and at other sites.
'After phase one there will be phase two, which we think will mean Sheffield closes six months later.'
James Stribley, also from Yorkshire GMB, told the rally in the town hall after the march, that to date 18 Remploy sites around the country had been put forward for privatisation.
'We are an excellent workforce doing an excellent job', he said to loud applause.
'So why put workers out of work?
'We're living in a democratic society, not a dictatorship. We need a rethink.
'We will fight for every job.'