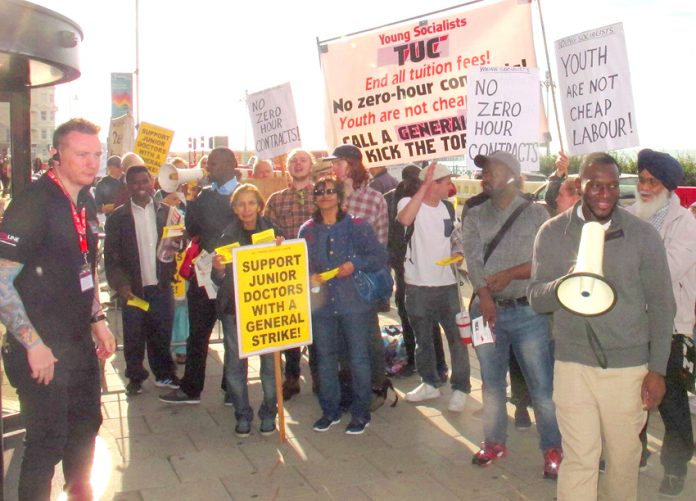 THE TUC Congress in Brighton on Monday made a show of defending the steel industry and steel jobs.
Steel workers were guests of honour in the conference hall and were welcomed for a 'Save Our Steel' photocall on the conference stage. However, 'Composite Motion 4 Steel' did not propose industrial action by the trade unions – neither occupation nor renationalisation.
The motion calls on the TUC General Council to:
• continue to support and raise the profile of the Save Our Steel campaign.
• lobby the government to develop, with trade union involvement, an industrial strategy for steel involving a long-term focus on investment, skills and research and development.
• campaign to ensure a long-term sustainable future for the UK steel industry with an active role for UK government . . . and a commitment to use UK steel for all major infrastructure projects including rail . . . and which supports the wider steel industry supply chain . . .
Moving the motion, Roy Rickhuss from Community union, bemoaned the 'tragedy' of SSI Steel going into liquidation which 'must never happen again.' He said: 'We've had marches in Scunthorpe, Port Talbot and even Brussels.
'We even got the government to take some action on Chinese dumping but we will not rest until we get a level playing field. Tata need to guarantee a future for UK steel making.'
Seconder Mark Turner, from Unite, spoke in a similar vein attacking the Chinese and calling for 'support for infrastructure and the infrastructure industry.' GMB steel worker Ian Kemp said that if it means shareholders and workers getting together through nationalisation, 'so be it' and warned: 'If the steel industry goes down, towns like Rotherham and Port Talbot are going to become ghost towns.'
Congress was split over motion 11 'After Paris: climate change, just transition and climate jobs'. This welcomed the 'COP21 Paris Agreement of 1.5 degrees' rise as a safe limit and the role of fossil fuels in climate change, but regrets its failure to deliver the binding legal commitments necessary . . .'
Mover Fliss Pemru, from TSSA, warned: 'We must stop extracting fossil fuel.' Speaking against the airports' expansion, she called for 'an affordable publicly owned railway across Europe.' The motion was narrowly defeated following the opposition of the TUC General Council and Unite, BALPA, GMB and Prospect, who said it amounted to an attack on workers' jobs and their unions.
It was supported by the PCS, Unison and the FBU. Delegates supported 'Motion 12 Food Poverty in the UK' moved by Annette Mansell-Green of the British Diabetic Association. She told Congress: 'In one of the richest countries of the world it's a scandal that families don't have enough to feed their children.
'Rickets and malnutrition are back – Charles Dickens would have a field day. Benefit delays and changes remain the biggest cause of food bank use. A rising number of children are starting their first year at primary school underweight. Pregnant mothers are too thin. This is a human tragedy we must end.'
Ngaire McCann from teachers union NASUWT seconded the motion, saying: 'Our latest survey found 78 per cent of teachers have pupils in their class coming to school hungry. It has a huge impact on children's ability to engage and study. The cost of meals in some schools is pricing some parents from giving their children enough to eat.
'Some parents can't even afford a packed lunch. These policies have to end. We must make sure our children do not go hungry when they come into school.'
Delegates went on to pass 'Motion 33 Funding Crisis' from the National Union of Teachers which condemned savage government cuts, academisation and stated: 'Congress agrees that the TUC should bring together affiliated unions with the aim of jointly declaring their opposition to and intention to campaign against the government's policies for schools, and declares its support for affiliates taking strike action to oppose government policy.'
Moving the motion, NUT general secretary Kevin Courtney also condemned cutting music and drama from the curriculum. Speaking in support, John Hall NASUWT declared his union 'has been taking continuous industrial action since 2011 against the impact of the government's austerity policies on the pay, conditions and pensions of teachers. NASUWT has also taken strike action in numerous schools against redundancies since 2011. NASUWT industrial action has saved many jobs, not just of teachers but also of support staff, as it has often resulted in all planned redundancies being withdrawn.'
Congress went on to pass 'Composite 09 School Assessment and Examination System' which condemned 'teaching to test' and schools becoming 'exam factories'. Delegates also passed 'Motion 38 Early Years Education' from Scottish teachers union EIS.
Scottish delegates expressed concern about a lack of qualified teachers in Early Years Education warning it makes a difference for children from poor families who need quality early years education.
• More than fifty YS campaigners and a number of TUC delegates attended the Young Socialists meeting in Brighton on Monday lunchtime, which demanded that the TUC: 'Support the Junior Doctors with a General Strike Now!'
The meeting in the Community Base in Central Brighton also demanded that the TUC fights to end all zero hour contracts, end tuition fees, restore grants, and kick this hated government out!
Chairing the meeting Worker's Revolutionary Party General Secretary Frank Sweeney said: 'The working class is up in arms over what is happening to the NHS. The working class saw the EU referendum as a chance to kick this government and this system. What we must understand is, that the only rights and freedoms that the working class has ever won were won in struggle.
'After the referendum Cameron went straight away, and the capitalist state and its Tory Party leadership dictatorially imposed May. She has got to be kicked out.' The first speaker at the meeting was Sam Cachere, a student at BIM University Brighton, working for his BA in Musicianship. He said: 'Thank you for welcoming us here today.
We joined the Young Socialists because we feel passionately about defending working class people, and working class rights. Fees are terrible and they have got to go. Students are becoming hugely indebted, just in order to get an education. This government is privatising education.
'We are already suffering terribly. This generation is up to its neck in debts. But just think what it will be like if it carries on like this, and the amount of debt our children will be in when they go to university. We have got to get rid of this government.'
Eddie Toomer, also a student at BIM University, studying for a BA in Songwriting, said: 'My mum is a teacher and she rants day after day about the terrible things that are happening to education. She is against privatisation, and all the changes they are bringing in.
'What's happening today is the development of a really oppressive capitalist state.
'My mum told me the other day, how it was free for her to go to university. I knew it already but she explained how important it is and I completely agree. We have to remind young people that education must be defended and fees must be abolished.'
Bill Rogers, Chingford ASLEF Member and Secretary of the North East London Council of Action, said: 'We were campaigning in Brighton last week and we visited the Southern Trains picket lines. They are on strike against the imposition of Driver Only Operations (DOO). These trains they want to run, are twelve coaches long, with fifteen hundred passengers or more.
Southern Rail insists on going ahead with DOO. This outfit are causing loads of strikes.
'What they are trying to do is a union busting operation. We are not just for renationalisation, we are for wholesale renationalisation with no compensation, and the placing of the railway industry under workers control.
'Now I want to speak about the NHS. We've fought for years against privatisation, closures are being forced through. The Tories are busting the NHS. When they closed the A&E at Chase Farm Hospital there was massive overcrowding as a result at the two nearest hospitals.
'When our paper, the News Line, phones up the TUC and says what is your position on the Junior Doctors, they reply, "No Comment" because they say the BMA is not a member of the TUC. But the NHS belongs to the working class and the TUC must be made to defend it and support the Junior Doctors with strike action.'
Joshua Ogunleye, National Secretary of the Young Socialists, said: 'The position of the Young Socialists and our lobby was clear. Victory to the Junior Doctors, Defend all Public Services, Call a General Strike. We are seeing hospitals shut down. At Ealing Hospital Residences are being demolished and luxury apartments are being built on the grounds.
'This government is trying to criminalise the youth, and the youth are in struggle for their rights. Students are fighting side by side with their lecturers. Youth are being forced into unrepayable debt through fees, while their lecturers are struggling, many of them on zero hour contracts.
'The way to oppose all of this is by urgently building a movement to lead the fight for free education. In Spain, youth unemployment is over 50%. A General Strike in the UK will be a tremendous blow of strength across the world. It is time to build our forces and fight for a socialist future'.