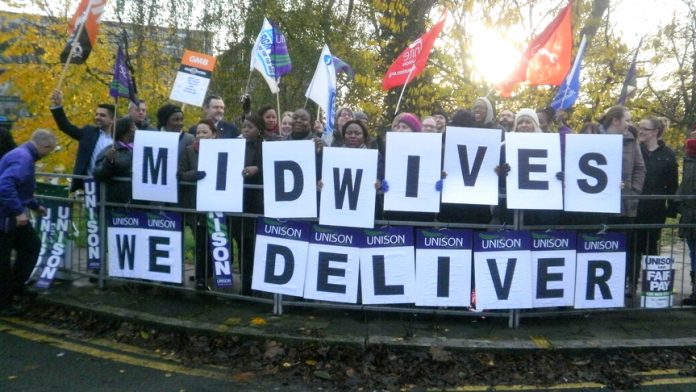 NHS workers are striking again in a row over pay.
Unison members working in the NHS in England will walkout for 12 hours between 9am–9pm on Thursday 29th January.
They will then work to rule between Friday 30th January and Tuesday 24th February which means they will be working their contracted hours and will take their breaks and not do unpaid overtime.
This will be followed by a 24-hour strike on Wednesday 25th February.
In a campaign update, Unison said: 'Unison Cymru/Wales reached an agreement with the Welsh Government and NHS Wales employers regarding NHS pay at the end of November.
'The agreement reached includes a one-off non-consolidated payment of £187 pro rata, a 1% pay uplift from April 2015, and the implementation of the living wage for all Agenda for Change staff across all health boards in Wales.
'Unison branches in Wales were consulted on the offer and an overwhelming majority accepted it.
'Unison has been campaigning since the government's decision was made. Members have participated in a day of protest, lobbied MPs, filled in surveys and taken part in other campaigning activities.
'Unison wants the NHS to be properly funded so that it can have enough staff who are well motivated and fairly paid.
'Our campaign is for:
• immediate payment of the 1% consolidated sum to everyone, as recommended by the NHS Pay Review Body;
• the living wage of £7.65 an hour for low-paid staff;
• an above-inflation pay rise for 2015-16;
• a commitment to future pay rises that will restore the value of NHS pay.'
Unite said: 'Two days of strike action on 29th January and 25th February 2015 will see tens of thousands of NHS staff, members of the country's leading health unions, walk out for 12 hours and 24 hours respectively over the government's continued refusal to award a one per cent pay rise to all NHS staff as recommended by the NHS pay review body (PRB).
'The unions will also be escalating the action short of a strike with members working to rule and taking their full breaks for a longer period.
'The action marks a significant escalation in the ongoing pay dispute which has seen NHS staff in England and Northern Ireland take part in two four-hour strikes last October and November.
'Unite, which has 100,000 members in the health service, has warned the government that it is alienating huge swathes of the 1.4 million strong NHS workforce by a continued refusal to negotiate on pay.'
Rachael Maskell, Unite head of health, said: 'Patient safety is our members' number one priority which is why they didn't take action over the Christmas and new year period.
'But the government's continued refusal to negotiate on pay has left NHS staff with no option but to step up their fight with more strike action in this year.
'The nation's 1.4 million NHS staff have seen their incomes shrink by 15 per cent since the coalition came to power in 2010. The government has stretched the goodwill of NHS staff to breaking point.
'Four and a half years of the government's squeeze on NHS wages led staff to walk out for the first time in more than 30 years over pay in October and again in November last year.
'Both actions were strongly supported by the public and we believe that support will continue in the months ahead.
'The way that this government has attacked NHS pay, cut and privatised the service and is now denying NHS staff a miserly one per cent pay rise shows utter contempt for hardworking NHS staff.
'Unless Jeremy Hunt urgently establishes proper pay talks for the nation's nurses, therapists, scientists and support staff, they'll be forced to escalate their industrial action until the general election.'
The GMB is holding meetings to assess emergency cover during an ambulance planned for 29th and 30th January.
Both lay and full time officers are currently assessing the emergency cover that will be provided during the stoppage for the nearly two thirds of calls to the 999 service that are not classified as Red said the GMB.
The GMB commented on new weekly figures which show that A&E departments failed to hit targets in week ending 4th Jan 2015.
It said: 'Last month GMB announced that members in the ambulance service in England and Northern Ireland are considering a 48 hour continuous strike at the end of January as part of an escalation of strike action with other health unions in the pay dispute in the NHS.
'The two-day stoppage by GMB members in the ambulance service, should it go ahead, will commence at 12 noon on January 29th and will continue until 12 noon on 31st January.
'The joint health unions have announced further strike action for Thursday 29th January 2015. This will be a 12-hour stoppage from 9am–9pm in NHS (Hospitals). This will be followed in February with a 24-hour stoppage on Wednesday 25th February 2015, time to be confirmed.
'The GMB will issue the necessary formal notices to all NHS employers including ambulance services in the coming weeks.
'GMB members took part in the strike action in the NHS across England & Northern Ireland on 13th October and 24th November to demand that the Secretary of State for Health stops burying his head in Whitehall and meet with GMB and all health unions to resolve the dispute.
'The four-hour stoppages were followed by action short of a strike with an overtime ban in the ambulance service and other NHS employees working to their contracted hours.
'The GMB conducted an official ballot of members in the NHS in England and Northern Ireland. There was overwhelming support for industrial action to secure a better offer.
'The pay offer for NHS staff in England and Northern Ireland is an unconsolidated 1% pay award in 2014, restricted to staff not eligible for incremental progression and the same approach in 2015.
This goes against the recommendation of the independent NHS Pay Review Body for a 1% consolidated pay rise for all staff.'
GMB National Officer Rehana Azam said: 'The situation is getting worse and our members in A&E departments and the ambulance service are doing a sterling job coping with the almost impossible demands being placed on them.
'Jeremy Hunt has praised staff for their efforts but he should put his money where his mouth is and honour their recommended pay award. That is what staff deserve.
'It is essential he does this very soon to avert further strike action later this month including a 48-hour walkout in the ambulance service on the 29th and 30th January.
'GMB officials dealing with the ambulance service are currently assessing the emergency cover that will be provided during the stoppage for the nearly two thirds of calls to the 999 service that are not classified as Red.'