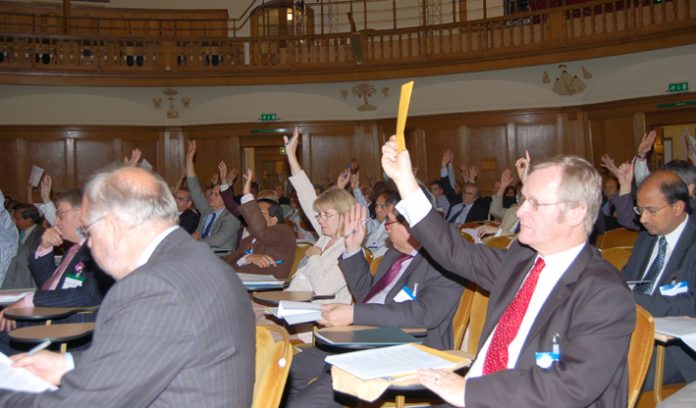 ANGER over the junior doctors training debacle saw hospital consultants on Wednesday demand the 'immediate resignation' of NHS Chief Medical Officer (CMO) Liam Donaldson.
The British Medical Association Consultants Conference in London voted overwhelmingly for supplementary motion S1, from South West Regional Consultants and Specialists Committee (RCSC).
The motion stated: 'That this conference has no confidence in a CMO for England that will not listen to the voice of its own profession and calls for his immediate resignation.'
Mover Ian Hartopp, from Oxford, said: 'MTAS (the government's online application service for doctors' training posts) is not a simple mistake, it's incompetence.
'A disaster could occur if this policy is followed through.'
He added: 'The people involved in this should stand up and account for themselves, and that includes the Secretary of State.'
Opposing S1, John Osborne of North Wales appealed for 'no more blood-letting.'
Replying, Hartopp said: 'I don't regard it as a vendetta, I regard it as being honourable and taking responsibility for what you have done.'
Motion S1 was passed overwhelmingly.
Earlier, representatives voted overwhelmingly for Motion 13 from the conference agenda committee, calling for a 'fundamental review of the principles of MMC (Modernising Medical Careers)'.
But on the request of mover Gordon Matthews of Oxford, and the chair of the CSC (Consultants and Specialists Committee) Dr Jonathan Fielden, representatives voted against clause (ii), which states:
'MMC should be opposed as its purpose is to provide a post-CCT (Certificate of Consultant Training) sub-consultant grade for a marketised healthcare system.'
Conference also voted overwhelmingly for Motion 20 that 'demands a replacement system' for MTAS 'designed and led by the profession'.
Moving Motion 55, in the section on Service Reconfiguration, Anna Athow, North-East London RCSC, said: 'It's government policy to dismember District General Hospitals.
'Consultant-led work is being handed to GP specialists.'
She added: 'We should insist work stays in NHS hospitals and not be contracted out.'
CSC chairman Fielden said 'What the government is doing is wrong', but appealed for the motion to be referenced, rather than voted on.
Conference insisted on a vote and overwhelmingly backed the motion, which states: 'That this conference believes that under the smokescreen of "care closer to home'', PCTs (Primary Care Trusts) are tasked with moving hospital services into commercial facilities such as ISTCs (Independent Sector Treatment Centres) and ICATS (Independent Assessment and Treatment Services).
'This meeting calls on CCSC (the Conference of Consultants and Specialists Committees) to adopt a policy of keeping NHS services in NHS hospitals.'
Motion 72, moved by John Carvell, from the orthopaedics sub-committee, expressed concern over Clinical Assessment and Treatment Services (CATS).
He drew special attention to the motion's statement that CATS 'have the potential to delay patient access to vital secondary care and treatment, leading to poorer outcomes and quality of life.'
Carvell spoke of a catalogue of problems with the scheme in the North West, involving plans for CATS in Cumbria and Manchester.
The motion was almost unanimously supported.
Conference was divided in a debate over the BMA's document 'NHS reform: a rational way forward'.
North-East London RCSC proposed Supplementary Motion 3 (S3), which said the BMA document 'accepts the market model of healthcare in England' and was in conflict with last year's ARM (Annual Representative Meeting of the BMA) policy of 'no further involvement of the commercial private sector in providing NHS care.'
The 2006 motion added: 'The BMA will campaign to restore an integrated, publicly-provided health service in England.'
S3 called on conference 'to reject this report and seek re-writing in line with ARM 2006 policy.'
Mover Anna Athow, North-East London RCSC, said: 'The BMA report accepts reconfiguration and Payment by Results.'
She added that the BMA report also accepts rationing, saying: 'The division of "core'' and "non-core'' patient services is rationing and opens the door to charges.'
CSC member Paul Miller, speaking against the motion, said: 'It's not true it accepts the market model of healthcare', adding that: 'We are in a process of discussion.'
Supplementary motion S3 was rejected by a majority of 3-1.
Conference voted overwhelmingly for Motion 80, which recommended the BMA report and called for 'an independent body' to run the NHS.
This was despite a warning to delegates by Anna Athow that recently-resigned BMA chairman, James Johnson, had suggested 'a venture capitalist from Texas' could sit on such a board, although that was not likely.
CSC member Paul Miller confirmed that Johnson had said this, but said he had only made a suggestion.
CSC chairman Fielden said an independent body would do better than the politicians.
The conference heard a call in the afternoon for trade union action to defend the NHS from cuts and privatisation.
Moving Motion 138 from North-East London RCSC, Athow said: 'This government has gone to war on the NHS and on our District General Hospitals.'
Athow added: 'They have railroaded through the most draconian cuts, axing scores of community hospitals, closing wards and theatres, getting rid of thousands of nurses and NHS staff.
She insisted: 'The BMA has to stop going along with the government's reforms and reconfiguration programme and start to actively oppose these measures.'
She added: 'We need action. We should start with an official day of action.
'We should call other health unions to come out with us through NHS Together and for all TUC-affiliated unions to take industrial action on that day.'
Opposing the motion, Francis Lascombe, from the South West, claimed that 'trade union action would marginalise the BMA in the corridors of power' and called for 'constructive dialogue' with the government.
He said: 'We don't want to create an image like Longbridge in the 1970s.'
Speaking for the motion, Clive Peedell said: 'The NHS is facing its greatest crisis.
'I got to speak at the Remedy UK march in front of 12,000 people. On that day, I saw a load of people coming together. I felt the power of solidarity.'
Calling for leadership from the BMA, he said: 'We want the BMA to be strong and powerful. We want to stop a lot of these ridiculous health care policies.'
Trevor Pickersgill of Cardiff opposed the motion, warning: 'What we do not need is a policy to take the BMA into the High Court for calling illegal trade union action.'
Consultants Committee chairman Fielden said that 'we are trying to act' but added 'we have to use our power effectively'.
Athow in her reply stated: 'The government is smashing up the NHS and the future of a generation of doctors – we have to have official action.'
The motion was lost with a substantial minority voting for action.