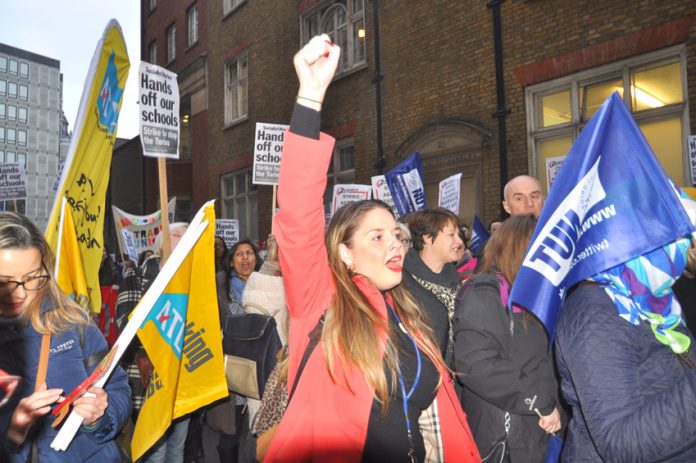 DOES the PM really want to return to labelling children failures at the age of 11, the ATL asked yesterday.
Answering the question the Association of Teachers and Lecturers' general secretary, Dr Mary Bousted, said: 'The blight caused by academic selection at age 11 affects children's self-worth, ambition and confidence and can last a lifetime.
'If she chooses to pursue this course of action Theresa May will break her promise to make "Britain a country that works for everyone, not just the privileged few". Pupil selection has been tried and tested, the debate has already happened and the evidence could not be clearer, grammar schools entrench inequality leaving the poorest and most vulnerable behind.
'In nearly all of the 164 grammar schools fewer than 10% of pupils are eligible for free school meals, in 98 it is fewer than 3% and in 21 fewer than 1%. This entrenched disadvantage continues through life. The average hourly wage difference between the richest 10% and the poorest 10% of earners in grammar school areas is over £4 more than in non-selective areas.
'And does the PM seriously think that wealthier parents won't pay to have their children extensively coached to get into grammar schools? Theresa May must be living in an alternate reality. Our education system is currently facing unprecedented strain, reeling under a barrage of crises.
'We have children without school places; classrooms without teachers; schools and colleges struggling to operate in a financial strait jacket; assessment, curriculum and qualification reforms disintegrating; and more children and young people than ever before suffering from mental health problems.
'In this context, and in the face of universal opposition from teachers, academics, Ofsted's Chief Inspector and many of her own MPs, Theresa May plans to reintroduce unnecessary and potentially damaging selection policies.'
Increasing the number of grammar schools in the UK would plunge us back in time to an education system dangerously divided by wealth says GMB. GMB, the union for school support staff, has commented on a raft of education reforms unveiled today by Prime Minister Theresa May. Among the announced proposals was an end to the 1998 ban on new grammar schools and a move to allow faith schools to choose a higher proportion of their students based on their religion.
Karen Leonard, GMB schools organiser, said 'Theresa May is presiding over an education system in crisis and the last thing Britain needs post Brexit is another Tory vanity project. We have unprecedented numbers of staff leaving education with stress levels at an all time high.
'A responsible government should be working towards retaining staff and funding education properly to drive up all standards so all children benefit. Increasing the number of grammar schools in the UK would plunge us back in time to an education system dangerously divided by wealth.
'All evidence suggests that the existence of grammar schools not only does nothing for social mobility but actively impedes it on a grand scale. At a time when the divide between rich and poor is growing, we cannot afford to put up further barriers to stop those without privilege getting the education they need to reach their full potential. GMB is vehemently opposed to an expansion of the grammar school system and will do everything it can to fight against turning the clock back to the 1950s during the consultation period in the months to come.'
Commenting on the speech today by the Prime Minister, Kevin Courtney, General Secretary of the National Union of Teachers, said: 'Today's announcement from Theresa May represents a return to the class-ridden Britain of the 1950s. Comprehensive state education, has for decades, provided a high quality education and to all children regardless of class, family income, religion or race.
'The Prime Minister's plans to create new grammar schools and open up the possibility of introducing selection in currently non selective schools will not open up opportunities for all nor will it end selection by postcode. This will be a devastating blow to those families' children who won't get a place in these elite selective schools – and as we know that these will be largely working class children since less than 3% of entrants to grammar schools are entitled to free school meals.
'For every new grammar school created, three or four neighbouring schools are effectively turned into secondary modern schools. For every child selected, three or four are rejected. This clearly will set back social cohesion and social mobility for future generations.
'The government's so-called 'choice' agenda for schools has already proved to be a waste of time and money. To genuinely create Theresa May's vision of schools working together for the benefit for all children the PM need look no further than the London Challenge recognised by Sir Michael Wilshaw as a driver of excellence. London has few grammar schools but is widely recognised as a world-class education system.
'These proposals are a distraction from the very real issues facing our schools – funding cuts, increasing class sizes and a loss of opportunities as arts, dance and drama are cut. This policy was not in the Conservative party manifesto. With many Conservatives opposed to grammar schools this is not an argument that has been won. The NUT will be working with parents, politicians and other unions to oppose these plans which are simply not suited for the 21st century.'
• With student fees set to rise to £9250, and with the NUS and the UCU calling a national demonstration on November 19th an NUS inquiry shows that almost half of the first set of university graduates who paid £9,000 tuition fees have moved back in with their parents to save money.
The NUS Double Jeopardy report, released on August 17th has revealed 47 per cent of graduates from 2015 have moved back in with their parents or guardians. Those living in their family home were more likely to be unemployed or working part-time, but 43 per cent of graduates with full-time work were also living back with their parents.
The research also revealed:
• 52 per cent of graduates from 2015 thought their degree was not worth the fees they paid
• 71 per cent were concerned about their level of student debt
• 60 per cent still had non-student consumer debt left over from their degree, the average amount being £2,600
• 46 per cent had accumulated further debt since finishing their studies
• 76 per cent were worried the government might change the terms of student loans to make them pay back more
• Three times as many full-time working men than women graduates were earning over £30,000
• Double the number of women than men were earning less than £15,000.
These figures come just a week after Jo Johnson, the Minister for Universities, wrote an open letter to students claiming their investment would reap great rewards.
Our research shows for many this is no longer true, and his reforms will only make the situation worse.
Sorana Vieru, NUS Vice President (Higher Education), said the research highlights that 'many graduates are without work, badly paid or in precarious and casualised employment, especially women,' adding: 'The majority are in debt, not just with student loan repayments, but they also owe money to banks, credit card companies and loan sharks.'
Vieru also said: 'The graduates face a double jeopardy: they enter the world of work having paid far more for their education, with the debts hanging over them. Yet they receive far less benefit from this education in the labour market compared to previous generations, while living costs keep rising and the welfare safety net is shrinking.
'Instead of waiting to fully assess the impact of the 2012 reforms, the government has already sped into a new stage of marketisation with the higher education and research bill, and is forcing students to foot the bill through even higher tuition fees.'
Double Jeopardy is the second part of NUS' research into the attitudes and experiences of the first £9000 fee-paying graduates. Our first report, Debt in the First Degree, was published in August 2015.