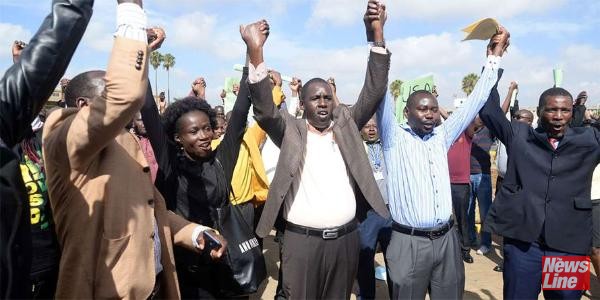 STRIKING Kenyan airport workers have declared that they will not return to work until their union leaders are released from jail.
On Friday morning, the workers marched to the court where their detained leaders appeared.
The Jomo Kenyatta International Airport (JKIA) in Kenya's capital Nairobi is in a state of total chaos, as planes have been grounded and passengers stranded after airport workers have taken strike action since the middle of last week.
More than 5,000 Kenyan airport workers, members of the Kenya Aviation Workers Union went on strike last Wednesday, bringing Jomo Kenyatta International Airport to a grinding halt.
Their peaceful demonstration was attacked by Kenyan state armed forces, and the workers union leaders arrested.
Workers organised a mass, lively demonstration outside the front of the airport which was attacked by security personnel and police.
Police charged the crowds, swinging their batons and fired volleys of tear gas to attempt to disperse the demonstration.
More than six workers were injured as anti-riot police attacked the crowds.
General Service Unit officers in full combat gear descended on the workers who were chanting and waving placards.
The officers allegedly kicked the protesters and clubbed them.
The union said it is striking because of corruption of  top managers, discrepancies in salaries, and objections to a proposed merger between Kenya Airways, the national carrier, and the Airports Authority, the body responsible for providing and managing all airports in the country.
The merger would allow Kenya Airways to run Jomo Kenyatta International Airport. But the Kenya Aviation Workers Union fears the agreement would lead to massive sackings.
It was Kawu Secretary-General Moses Ndiema, together with other union leaders who were  arrested.
The union resolved last Thursday – after the Central Organisation of Trade Unions (Cotu) Secretary-General Francis Atwoli  agreed – that all workers stay out until their leaders are released.
He said that the world over, workers have always had the right to industrial action if dissatisfied with the way their genuine grievances are addressed.
'The strike that the workers staged was a legal one, planned to the letter and the authorities were informed about it. Why should the Transport CS, at the last minute, make a turnaround, pronounce it illegal and arrest the union leaders?' said Atwoli.
Before his arrest Union Secretary-General Moses Ndiema addressed the striking workers: 'Today we have commenced a strike action to protest against mismanagement within the aviation industry, to protest against open and blatant corruption within the aviation industry.
'We stand here to demand that those who are looting KQ airlines, those who want to muzzle KAA, we are sending the message that the workers of aviation are fed up with you.'
James Macharia, Kenya's Transport Cabinet secretary, called the strike illegal and then went on to call the striking workers criminals.
Spitting poison he said: 'Nobody has given you a threat that your job will be at risk and yet you go on strike. You have been given assurances that the numbers are going up in terms of employment and you still go on strike. That is called malice. It is called economic sabotage. It is something that cannot be tolerated. It is criminal activity.'
Meanwhile, the government declared that all nurses in Kenya from now on will be hired on a contractual  basis prompting fury from the nurses unions who have now threatened further strike action.
On Friday, the Central Organisation of Trade Unions (COTU) and the Kenya National Union of Nurses (KNUN) dismissed the proposal by the Council of Governors to employ health workers on a contractual basis.
The two associations termed the plan as 'illegal and unconstitutional' warning Governors that they faced the 'mother of all battles' if they implemented the plan.
COTU Secretary General Francis Atwoli said that they were opposed to casualisation of labour.
Speaking in Naivasha, Atwoli termed the proposal as 'laughable' adding that it 'would not be implemented as it was against the constitution'.
'We have heard about the plans to employ health workers by counties on contract and we shall definitely oppose this ill-advised plan,' he said.
The union leader said: 'This government is taking this issue casually and we shall stand up and resist any plans to casualisation of labour as this standard is not recognised globally.'
On his part, KNUN Secretary General Seith Panyako said that health workers across the country were ready to react if the proposal was endorsed.
He accused the County Governments Coordinating Summit of discriminating health workers noting that just like other workers they were entitled to good remuneration and working conditions.
'From the start, we were opposed to the move to devolve health and this is now evident with some governors planning to oppress health workers and we shall not allow this,' he said.
Panyako pointed an accusing finger at Governors Wycliffe Oparanya (Kakamega) and Mwangi Wa Iria (Murang'a) for the proposal to employ the workers on contract.
'We are aware of plans by the two governors who have formed a company to hire and lease out nurses to counties and other institutions and their plans will fail,' he said.
The controversial move was agreed upon during the seventh National and County Governments Coordinating Summit that was held place at the Sagana State Lodge at the beginning of last week.
The announcement was made by Health Cabinet Secretary Sicily Kariuki and the Council of Governors chairperson Wycliffe Oparanya.
The two arms of government have also said that disciplinary proceeding will still be instituted against nurses who failed to return to work on February 15th after the last strike.
The nurses attached to all the 47 county governments had gone on strike starting from February 4th demanding better salaries as well as improved uniform and service allowances and promotions.
The strike was suspended for 60 days by the court and President Uhuru Kenyatta ordered the nurses to resume work or face the sack.
Some nurses defied the threat and stayed out.
Nurses have now threatened to call a nationwide strike to counter what they have said is arm-twisting from the national and county governments.
This is after the Salaries and Remuneration Commission chairperson Lyn Meng'ich declared that the government would not be able to meet nurses' pay demands.
Kenya's National Union of Nurses secretary general Seth Panyako said: 'We are ready to fight through all available means to have what is rightfully ours. We do not care where they will get the money but the nurses will not go back to work until they are paid their allowances.'
He said nurses are being taken for a ride in the country.
'In 2017, we were tricked by the CoG who were purporting to be signing the agreement then they later changed after going back to work that they are not our employers. This time around we will not be cowed by anybody. We are going to call for a national strike,' he said.
Senators are now asking the governors to sit down with the nurses and thrash out a workable agreement so that services can resume in hospitals.
'We are calling upon governors who are affected to talk to the nurses and agree on when they will pay them. It is not that they do not have the money. Where do they get money to budget for millions for entertainment if they cannot pay little monies to nurses?' Chairperson of the Senate Labour committee Johnston Sakaja, posed.
Kenya and Somalia agreed last week 'to work towards peace' in a spat over an oil and gas-rich region of the Indian Ocean, said the office of Ethiopia's Prime Minister, who mediated in talks between the neighbours.
Somalian President Abdullahi Mohamed Farmajo and his Kenyan counterpart Uhuru Kenyatta met in Nairobi to try and resolve a bitter maritime border dispute, with Ethiopia's Abiy Ahmed there to moderate.
This came after Kenya accused Somalia of selling oil and gas blocks at a London auction last month, despite a pending delineation case before the International Court of Justice (ICJ).
The pair discussed the matter 'extensively', Ahmed's office said on Twitter.
'As an outcome, both agreed to work towards peace and to take measures in addressing particular issues that escalated the tensions,' it added.