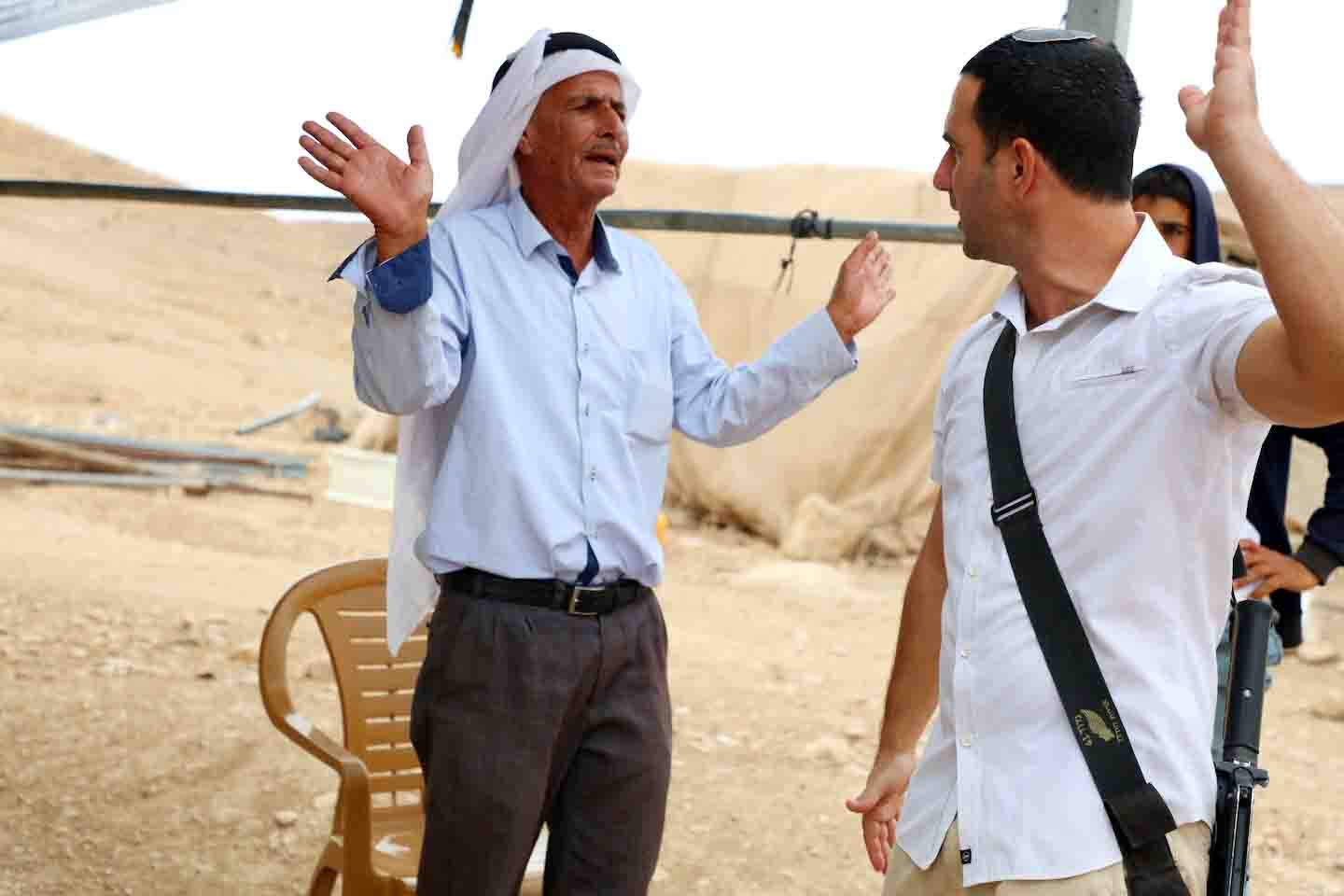 Israeli settlers attacked a Palestinian family with stones as they were picking olives on their own land near the village of Rujib, to the east of Nablus City in the occupied West Bank on Sunday.
Witnesses said that settlers from the nearby illegal settlement of Itamar hurled a barrage of stones at the family while they were harvesting their olives.
There were no reports of injuries though.
And near Bethlehem, fanatic Israeli settlers also chopped down 25 olive trees belonging to Palestinian farmers in the village of Nahalin.
Over the past four weeks, the West Bank has witnessed a wave of settler attacks as Palestinian farmers began the year's olive harvest.
Attacks were mainly in the vicinity of the illegal Israeli settlements in the West Bank districts of Nablus, Salfit and Bethlehem.
On Saturday night illegal Jewish settlers flooded sewage into olive groves belonging to Palestinian farmers near the village of Deir al-Hatab, to the east of Nablus in the occupied West Bank.
Ghassan Daghlas, who monitors settlement activities in the area, reported that farmers from Deir al-Hatab who turned up at first light to start the harvest were shocked to find that their groves had been flooded and poisoned with sewage by settlers from the nearby illegal settlement of Elon More.
This settlement is notorious for its hardline Jewish settler community, who in the past years have carried out numerous acts of vandalism against Palestinian property.
Settler violence against Palestinians and their property is a routine occurrence in the occupied West Bank, but most such acts go unpunished by the Israeli occupation forces.
On Sunday, Israeli settlers (from the same illegal settlement of Itamar who stoned the Palestinian family in Rujib) stole the entire olive harvest near the village of Awarta, to the southeast of Nablus City in the occupied West Bank.
Saad Awwad, head of Awarta village council, told Palestinian news agency WAFA that the farmers arrived at their olive groves – which are surrounded by fences – but were completely shocked to find that the Itamar Israeli settlers had stolen their entire harvest and chopped down some of the trees.
Palestinians look forward to the annual olive harvest season, which is the major source of income source for thousands of Palestinian families in the West Bank.
In addition to stealing the olive harvest, many areas planted with olive trees are closed to Palestinian farmers due to their proximity to Jewish settlements, or because they have been cut off by the Israeli apartheid wall.
On Sunday Israeli occupation forces stopped Palestinian farmers from getting to their own groves which are located on the other side of the Israeli segregation barrier near the West Bank town of Salfit.
Ibrahim Hamad, director of the Salfit Directorate of Agriculture, said that Israeli soldiers manning one of the barrier's gates denied the farmers access to their own lands for the annual olive harvest, although the farmers had proper Israeli permits allowing them to cross through the gate.
And Israeli soldiers denied Palestinian farmers access to their lands – also behind the segregation barrier – near the village of Mas'ha, west of Salfit.
Meanwhile on Sunday, Israeli forces detained 12 Palestinian workers near the Barta'a village gate, to the west of Jenin in the occupied West Bank as they were attempting to enter Israel to reach their workplaces.
A large number of Palestinians, especially construction workers, have to pass through Barta'a checkpoint every day in order to reach their workplace, facing extreme overcrowding and often waiting for hours in line due to inspection procedures as every person must pass through metal detectors one-at-a-time.
Israel severely restricts Palestinians' freedom of movement through a complex combination of approximately 100 fixed checkpoints, flying checkpoints, settler-only roads, and various other physical obstructions.
Palestinian prisoner Tareq Qaadan, who has been on hunger strike for 89 days in protest against his open-ended detention without charge or trial in Israeli jails, ended his strike on Sunday after winning his demands.
The Detainees and Ex-Detainees Commission said Qaadan's decision to end his hunger strike came after he reached an agreement with the Israeli authorities they would not renew his four-months administrative detention.
Qaadan was recently moved to hospital after a severe deterioration in his health. He has lost about 30kg of weight since he started his hunger strike.
Several Palestinians also held under this administrative detention without charge or trial for long periods of time have had no choice but to go on hunger strike to demand an end to their illegal incarceration.
News about Israeli police suppression of a rally in Jerusalem in support of these hunger-striking Palestinian prisoners made headlines on the front pages of the three Arabic Palestinian dailies on Sunday.
Al-Hayat al-Jadida, al-Quds and al-Ayyam said that last Saturday evening Israeli police attacked Palestinians demonstrating at Salaheddin Street in occupied Jerusalem with teargas canisters and stun grenades in an attempt to disperse them.
A youth was detained after being brutally attacked by the police.
The three dailies said Israeli forces also attacked a nonviolent protest which was called by the Anti-Wall and Settlement Committee and Fatah movement in the city of Tubas, northeast of the West Bank, to protest against the continued settlement expansion and the establishment of a new settler outpost in the northern Jordan Valley area.
Al-Ayyam reported a statement by Minister of Foreign Affairs and Expatriates, Riyad Al-Malki.
He said during the ongoing 18th Summit of the Non-Aligned Movement in Baku, Azerbaijan, that it was time for the international community to recognise that 'the Israeli regime of control and oppression in the occupied territory of the State of Palestine is an illegal occupation'.
Al-Malki was also quoted by Al-Ayyam as saying, 'There must be no compromise or excuses for the agenda of colonisation and annexation, and the countries of the Non-Aligned Movement must remain at the forefront of rejecting such illegal behaviour and defending the law that protects us all.'
Al-Hayat al-Jadida and al-Quds said Palestinian Prime Minister Mohammad Shtayyeh is expected to hold an urgent meeting to discuss the economic crisis that hospitals in Jerusalem are currently going through.