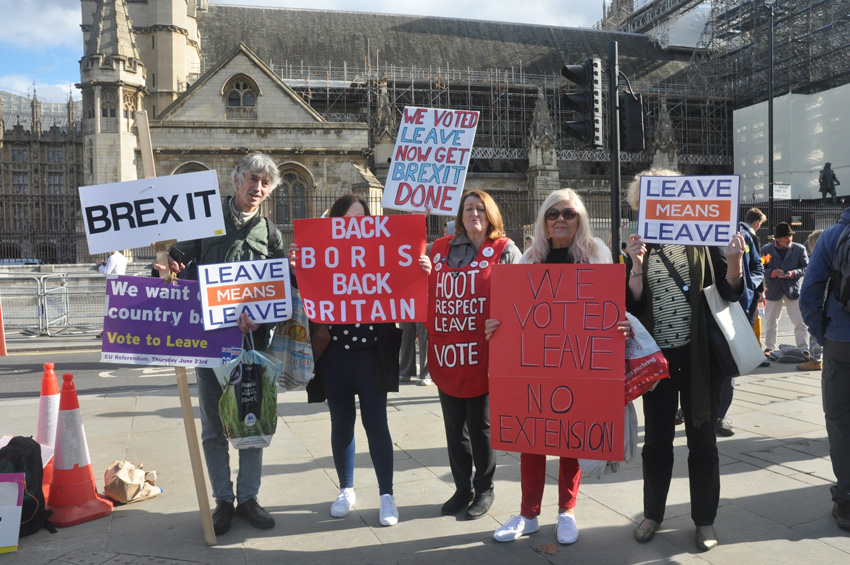 LABOUR, the LibDems, the SNP and pro-Remain Tories are set to vote against the government holding a 12th December General Election in the House of Commons today.
Tory prime minister Boris Johnson is to table a motion calling for an election on that date this afternoon, and then tomorrow the EU is expected to announce the length of an extension to the Withdrawal Agreement that it will grant to the UK, following Johnson's letter to request an extension that he sent earlier this month.
Shadow Home Secretary Diane Abbott told the BBC's Andrew Marr Show: 'We're waiting to hear what the EU says, but make no mistake, Labour Party members, over half a million of them, and the Labour Party are up for an election.'
Marr said: 'If you're up for an election, back the bill. There's no getting around it.'
Abbott responded: 'No, no. Because the danger would be that we come out of the EU without a deal … We need to know what sort of extension the EU is granting, because everything turns on that …
'First and foremost, we've said it over and over again. We need to know what sort of extension the EU is granting. When we know that, we'll consider Boris's proposals.'
Marr asked: 'What would the prime minister have to do to get the Labour Party to support an election?'
Abbott replied: 'Well he could come to parliament and tell parliament categorically that he is not going to come out without a deal.'
Marr commented: 'So we could be in a very, very difficult and strange position here, which is the EU is waiting to determine the length of the extension by looking at what parliament is going to do and parliament is looking at the EU and wondering what it is going to do. And between the two, nothing happens. And that is why people are getting really, really frustrated.'
Abbott responded: 'Yes, well, that's how it is reasonable for parliament to wait for the EU to make a decision about the election.'
Also appearing on the Marr Show, LibDem leader Jo Swinson said: 'We've put a motion setting the date for the next election on 9th December. But crucially it would be conditional on there being an extension to Article 50, which would mean No Deal being taken off the table.'
She went on: 'We've sent our proposals over to the Labour Party. It will be good to see whether they support this. Jeremy Corbyn has said quite reasonably, that he didn't want to support an election while there's the danger of crashing out without a deal and of course this removes that threat. So they should be able to support this proposal.'
Next on the Marr Show, Tory Party Chairman James Cleverly said of the LibDem/SNP bill: 'It's clearly a gimmick. Their bill moves the election date by three days, takes the withdrawal agreement completely off the table.'
He went on: 'What we're not going to do is, we're not going to listen to two parties who have explicitly said they want to stop Brexit from happening. We're not going to be complicit in them stopping Brexit from happening.'
Culture Secretary Nicky Morgan, described the LibDem/SNP joint move, which would amend the Fixed Term Parliament Act by removing the two-thirds majority requirement for the calling of parliamentary elections, as a 'stunt'.
Appearing on Sky's Sophy Ridge on Sunday, Morgan said: 'What is different about the offer, or the stunt I might say, by the SNP and the LibDems, is that they have made it clear they have no intention of wanting Brexit to be done, no intention of wanting the Withdrawal Bill, which did get approved by Parliament, they're saying go for an election.
'It may well be that an election is going to happen and they have a chance to vote for one as quickly as tomorrow when the government motion is voted on. We'll see if they're in our lobby or not.'