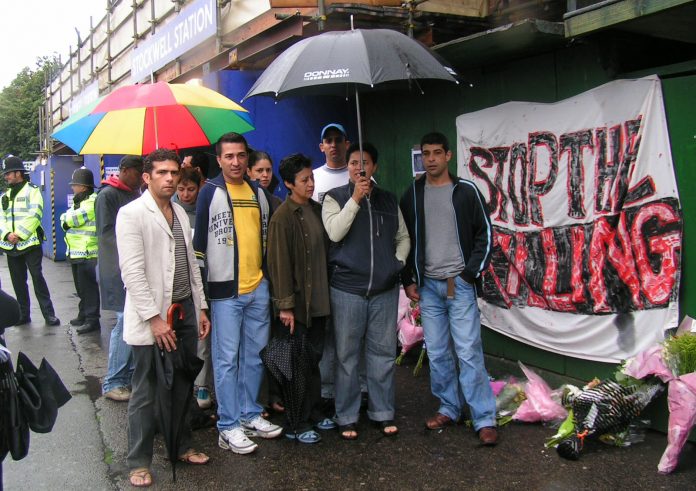 'The Health and Safety Commission says it is seeking "the right balance of enforcement and advice", in line with the "enforcement-lite" approach sought by the government and the Hampton report,' says the TUC Hazards magazine.
'Launching its latest annual report, HSC chair Bill Callaghan said: "The endorsement of the Commission's strategy by the Hampton review was particularly welcome, as was the support for higher penalties.
"We must continue to seek and maintain the right balance of enforcement and advice."
'Speaking on the publication of the Hampton report in May, Chancellor Gordon Brown said there would now be a risk-based approach "where there is no inspection without justification, no form filling without justification, and no information requirements without justification.
"Not just a light touch but a limited touch".
'The comments prompted anger and concern from unions, with TUC declaring the chancellor's attack on red tape a "red herring."
'HSC says in order to implement its strategy and help deliver occupational health and safety targets, "HSE realigned its work into two key strategic delivery programmes as the main agent for delivery, supported by four enabling programmes: business involvement; worker involvement; local authorities and HSE working together; and enforcement."
'Bill Callaghan said: "We will continue to make the case for sensible risk control measures that are sensibly applied, a process key to securing compliance with health and safety regulations."
Just a few days previous to this development, the Health and Safety Executive launched an online debate "on the causes of risk aversion in health and safety".
Hazards magazine commented this was 'a move which is certain to highlight divisions about what some see as a "business-friendly" shift in the safety watchdog's approach.'
Launching the initiative, health and safety minister Lord Hunt, of Kings Heath said: 'We must concentrate our efforts on the big issues that cause real harm and suffering and remember that excessive risk aversion does damage too.
'It hits organisational efficiency, competitiveness, restricts personal freedoms and damages the cause of protecting people from real harm.
'We know that something is seriously wrong when we read stories of schools asking children to wear goggles to play conkers in the playground.'
The majority of early contributions to HSE's online debate have been highly critical of comments from the minister and HSE.
TUC head of safety Hugh Robertson said the emphasis on risk aversion when over a million employees are injured every year 'is almost surreal'.
He added: 'It does surprise me when people talk about risk aversion.
'Companies may be averse to taking some financial risks, but they do not seem to be averse to taking risks with other people's health.'
Hilda Palmer of Greater Manchester Hazards Centre said: 'If the issue is more about children crossing the road, playing conkers and hanging baskets, then let the Ministry for hanging baskets, conkers and road crossing deal with it.
'But to have the HSE – the workplace enforcement agency, in charge of failing to achieve Revitalising Health and Safety targets – host this debate now is an enormous insult to workers and their families.'
An example of the prevention enforcement work by the HSE which is in danger from Chancellor Brown's 'limited touch' drive is contained in a recent Shrewsbury court case.
A Welsh firm has been ordered to pay a mere £60,000 fine after a 14-year-old worker was killed when a quad bike he was riding overturned.
Gareth Pugh was on work experience at the Kempton Estate, Craven Arms, Shropshire, when the incident happened in November 2001.
Shrewsbury Crown Court heard Pugh had not been given safety instruction about the all-terrain vehicle.
The company, G&A Leisure of Bettws, near Newtown, which runs a pheasant shoot on the estate, admitted failing to ensure he knew the risks of the bike.
The firm was fined £35,000, with £25,000 costs.
The court heard Pugh, who was from Clunton, near Craven Arms, had been using the bike to distribute bird food.
Health and Safety Executive Hilary Lidbury commented: 'All terrain vehicles (ATVs) are very useful, but also very dangerous.
'The Health and Safety Executive knows of many accidents both serious and fatal involving ATVs and is aware that many accidents go unreported.'
She added: 'Commercial operators need to appreciate the dangers associated with ATVs and should insist on training for all staff using these vehicles.
'The lesson to be learnt from this case is to ensure that an adult that has been trained in the use of ATVs and remains in control of the vehicle at all times.'
Although the court imposed a lenient fine, the case might never have been brought if the HSE did not carry out its inspection and enforcement role.
l Meanwhile, asbestos campaigners have warned UK multinational Cape plc not to railroad through a proposed asbestos fund to cap its asbestos disease liabilities.
The English Asbestos Victims Support Groups' Forum says the proposed fund, which will be overseen by a Cape subsidiary, would receive £40 million to compensate Cape's UK asbestos victims for about the next 12 years.
Under the proposal, the amount in the fund would be reviewed on a three-yearly basis and topped up only if Cape has sufficient funds.
The scheme, which would need to be approved by the courts, would protect Cape from asbestos litigation within the UK and remove the threat of insolvency should asbestos claims increase dramatically.
Tony Whitston, spokesperson for the Forum, said the group was not convinced by supposed safeguards on the fund, and said he 'believes that the scheme as currently proposed is unacceptable to Cape's asbestos victims'.
He added: 'If claims were to increase, there is no guarantee that Cape will top up the fund and asbestos victims would be left high and dry.'
Many mesothelioma settlements are in six figures, and at least two have broken the £1m mark, the largest being £4.37m in 2003.
He said that all previous schemes to cap companies' asbestos disease liabilities have disadvantaged asbestos victims.
'Much more will be needed to be done by Cape to reassure Cape's asbestos victims that this scheme is any different,' he said.
The need for proper compensation was highlighted by the case of a teacher who died of the asbestos cancer mesothelioma.
Alan Anthony died aged 72 on 27 May of this year.
His wife Carol is determined to draw attention to the risks posed by mesothelioma, which will affect thousands more people in the years to come.
A former head of English, she and Alan, who was head of modern languages, worked at a comprehensive school in southern England for many years.
Carol Anthony said: 'I can't be absolutely certain but, when you look back over the years, you can pinpoint a time when exposure to asbestos probably occurred.
'Alan worked in a particular part of the school in the 70s where work was taking place.
'Asbestos was disturbed. The case made national news. It is when the particles get into the air that dangers arise.'
Liz Darlison, consultant nurse with Mesothelioma UK, commented: 'It is known that 85 to 90 per cent of mesothelioma cases are caused by exposure to asbestos.
'It is likely that the other 10 per cent of cases were caused by asbestos too but it is not known when the exposure occurred.'
Teacher June Whitwam died of the same cancer, caused by asbestos exposure in the classroom.