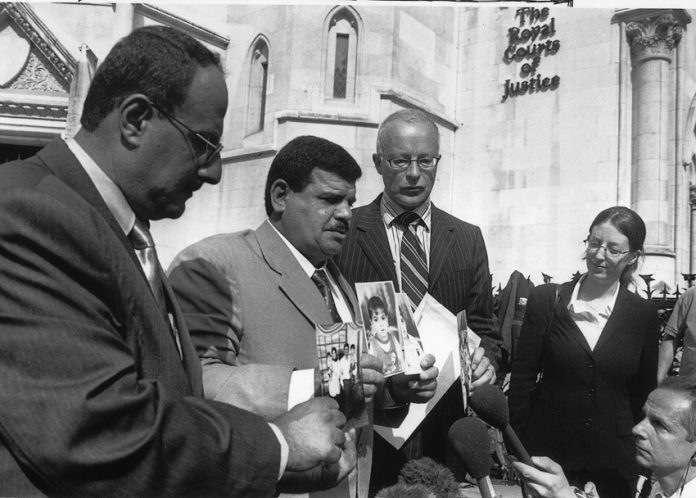 ON WEDNESDAY, Public Interest Lawyers won an important decision when the Supreme Court brought to an end a six-year legal battle by Mr Al Jedda to have his British citizenship restored.
In a unanimous decision, the Supreme Court confirmed that the Home Secretary acted unlawfully when she deprived Al Jedda, of his British citizenship on 14 December 2007 because she rendered him stateless.
Al Jedda was born in Iraq in 1957. He came to the United Kingdom in 1992 and claimed asylum. In June 2000 he was granted British citizenship and due to a prohibition on dual nationality in Iraqi law he automatically lost his Iraqi citizenship.
In September 2004, he travelled to Iraq with his family. On 10 October 2004, he was arrested at his sister's house and taken to a British detention facility in Basra.
During his arrest and subsequent detention he alleges that he was seriously tortured and abused by British forces. The British authorities maintain that his detention was necessary for imperative reasons of security and allege that he was involved in terrorism.
Al Jedda vehemently denies those allegations and no criminal charges have ever been brought against him. He remained in British custody in Iraq for over three years without charge.
In July 2011 in separate proceedings, the Grand Chamber of the European Court of Human Rights held that his three-year internment had breached his right to liberty protected by Article 5(1) of the European Convention.
On 14 December 2007, the Home Secretary signed an order depriving Al Jedda of his British citizenship and on 30 December 2007 Al Jedda was released from custody. On his release Al Jedda travelled to Turkey where he remains today.
In January 2008, PIL on behalf of Al Jedda, initiated a legal challenge to the deprivation of his citizenship. They always argued the order was unlawful because it rendered Al Jedda stateless. Under s40(4) of the British Nationality Act 1981, a Secretary of State may not make a deprivation of citizenship order where satisfied that an order would render a person stateless.
The case has a long complex procedural history but in March 2012 the Court of Appeal unanimously declared that the Home Secretary's deprivation of citizenship order should be quashed as it rendered Al Jedda stateless.
The Home Secretary appealed the judgment and was granted permission to appeal at the Supreme Court on one issue: whether, assuming at the date the deprivation order was made Al Jedda could have obtained Iraqi citizenship by application, the Home Secretary could be satisfied that it was not her order that made Al Jedda stateless but his own failure to make an application!
The Supreme Court in a unanimous judgment found that:
i. the assumption on which the Secretary of State rested her case, namely, that had Al Jedda made an application for Iraqi citizenship it would have been bound to succeed, was unsound given the findings of the court below; and
ii. even allowing the assumption, the Home Secretary's argument that she could look to other potential causes of statelessness, like a person's failure to apply for another citizenship, was plainly wrong and contrary to common sense.
The law requires the Secretary of State when making a deprivation of citizenship order to carry out a straightforward inquiry as to whether the person against whom she is making an order has another citizenship or not.
If the person does not have another citizenship then to deprive a person of their British citizenship will be unlawful as it will render them stateless.
Phil Shiner, a solicitor at Public Interest Lawyers, stated: 'We are delighted with today's ruling which quashes the order that unlawfully deprived our client of his British citizenship and clarifies the law relating to statelessness.
The appeal before the Supreme Court, which has cost the public purse dearly, should never have been brought by the Home Secretary as it was both ill-founded and fallacious.
'Our client was unlawfully interned by the British authorities for three years without charge and then, days before his release, unlawfully stripped of his British citizenship.
'We hope the Home Secretary will now leave Al Jedda to get on with his life as a British citizen in peace.'
l Meanwhile, the Reprieve Charity has issued a statement that 'Pharmacies in the US are demanding that executioners in Texas not use their drugs to carry out lethal injections, claiming that the state "misrepresented" their plans for the drugs, or that they were completely unaware of the intended use.'
Texas is one of a number of states – including Pennsylvania, Colorado and South Dakota – which has attempted to secure the execution drug pentobarbital from compounding pharmacies, after major pharmaceutical companies took steps to block the use of their products in capital punishment.
However, it has emerged that both of the pharmacies from which Texas procured supplies of 'compounded' (i.e. made-to-order) pentobarbital have either blocked the order or are demanding the return of the drugs.
One of the suppliers, Pharmacy Innovations, which is headquartered in Jamestown, NY, was according to court documents, 'completely unaware that the drugs … were purchased with the intent to use them for lethal injections,' and once informed, 'cancelled the order before it had been filled'.
The Texas Department of Criminal Justice (TDCJ) had attempted to purchase under the cover name of the Huntsville Unit Hospital – even though the hospital has not existed since 1983.
The owner of the other supplier, the Woodlands Compounding Pharmacy, wrote this weekend to the TDCJ to 'demand that TDCJ immediately return the vials of compounded pentobarbital,' complaining that 'the State of Texas misrepresented this fact (that the purchase would remain private) because my name and the name of my pharmacy are posted all over the internet.'
Commenting, Maya Foa, Director of legal charity Reprieve's Death Penalty team said: 'This shows that responsible pharmacies, like responsible drugs companies, do not want to be part of the death penalty system.
Texas' underhand behaviour – trying to order the drugs through a non-existent hospital to mask their intended use – should come as a warning to pharmacies everywhere to be on their guard. Pharmacists are in the business of healing, not killing – it is high time all those US states desperately seeking new sources of execution drugs realised that.'