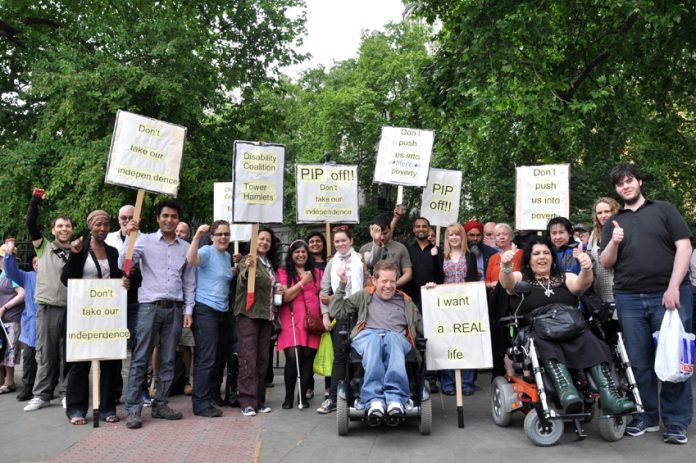 'Cuts Kill – Kill the Cuts!' shouted an over 5,000-strong march of disabled people, their carers and friends as they approached parliament on Wednesday.
The march was part of the 'Hardest Hit' campaign to demand that the government stops its benefit cuts to the disabled.
A statement from the campaign said: 'Disabled and ill people and their families are being hit hard by cuts to the benefits and services they rely on.
'Many are living in fear of huge cuts to essential benefits including Disability Living Allowance (cut by £2.17 billion) and Employment and Support Allowance (cut by £2 billion). The total cuts will mean an estimated £9 billion loss to families' incomes over the next four years, on top of cuts to many local care and support services.
'This affects people and families across the UK living with conditions like cancer, dementia, arthritis, Parkinson's and Multiple Sclerosis, sensory impairments, learning disabilities, mental health conditions and physical disabilities. Their everyday lives depend on support that is under threat.
'The government's plans to cut billions from support for disabled people and their families. Their proposals include:
• Cutting 20% from the budget for Disability Living Allowance (DLA). Disability Alliance estimates that over 700,000 disabled people could see their benefits reduced or removed. DLA helps disabled people with the extra costs of disability and without it more disabled people would be pushed into poverty. The cuts could have a knock-on impact on Carer's Allowance, leaving thousands of families even worse off.
• Taking mobility payments away from disabled people living in residential care and children going to residential schools. Cutting these payments would trap many in their own homes.
• Cutting off payments of contributory Employment and Support Allowance after a year to people struggling to get back into work due to disability or serious illness.'
A report from the Disability Benefits Consortium surveyed 6,000 disabled people and found that:
• 43% of those who had been for a medical assessment for ESA said it made their condition worse because of the stress and anxiety caused;
• Nearly seven out of 10 believed the assessment failed to take account of how their condition fluctuates; and:
• Of those not in work, more than half have been unable to find work for over two years.
Government plans of particular concern include:
• Over 400,000 disabled people to lose all out of work support through time-limiting Employment and Support Allowance to one year. Only 13% of disabled people supported by Pathways to Work entered work within a year – leaving nine in ten disabled people at risk of losing all support.
• 80,000 disabled care home residents to lose mobility support. The government has publically announced a 'review' of this policy but the Welfare Reform Bill will prevent disabled people living in care homes accessing support under government changes and the DWP has confirmed there will be no public or parliamentary scrutiny of the review.
• Government cuts to council funds are causing restricted access to basic care service support at local level. Over 80% of councils in England will only support disabled people with critical or substantial needs by the end of this financial year – and others are already doubling fees for essential support
News Line spoke to marchers as they assembled on Victoria Embankment.
Anna Galliford from 'Elizabeth Fitzroy Support' for people with learning difficulties explained 'people in residential care who have a disability are being threatened with the abolition of their DLA (Disability Living Allowance).
'Particularly, the cut to the mobility component will make a lot of people prisoners in their own homes.
'They need transport to access the big society.'
Laura Weir from the MS Society condemned the introduction of the new Work Capability Assessment test for the new Employment and support Allowance (ESA).
'These tests will affect the 1.6 million people currently on Incapacity Allowance and are flawed.
'Two of the main symptoms of MS are fatigue and neuralgic pain and the new test does not account for these, it is just a tick-box exercise.
'Therefore many are being judged fit for work when they are not.
'Council budgets are also being squeezed and that is affecting access to adult social care.'
Catherine Capaldi was part of a lively group from Young People For Inclusion (YPFI).
She said 'We are here because we feel strongly against cuts to the disabled.
'We need better facilities on public transport not cuts.'
Rob Danson, also from YPFI, said 'the changes to the Welfare Reform Bill will greatly affect the lives of the young people we work with.'
Amy Greenwood was with a large group from the Disability Coalition of Tower Hamlets and from Disability Information Training Opportunity (DITO).
Amy said 'The benefit system should not be abandoned under the auspices of the universal credit.
'What the government is doing is amalgamating about four or five different benefits into a single one but they are changing the rules.
'The assessment process will no longer involve the claimant's own GP but to a GP employed directly by the government'.
Marcher Tina Walker from Parkinson UK, said: 'I am here to lobby the government against cutting benefits by 20 per cent – they must listen to us.'
Wheelchair user Kevin Caulfield, from the Hammersmith and Fulham Coalition against Community Care Cuts, condemned the coalition's cuts.
'This is a concerted effort to marginalise the disabled.
'Independent Living Allowance, which tops up the benefits of those with severe levels of impairment, is due to be abolished in 2015.'
At a rally on the Embankment before the march, Jane Asher announced: 'This is the largest rally of disabled people in living memory.
'These cuts are bearing down disproportionately on the disabled and are cruel and misguided.'
Sixteen-year-old Gerry Hart from Darlington Association on Disability, accused the 'fraudulent coalition' of telling 'blatant lies' about the economic deficit.
'This deficit is part of a global economic meltdown also made worse by the tax avoidance of the rich.
'Cuts like these have not occurred since the Poor Law was repealed.
'I am losing my EMA which I am dependent on.
'The government is also scrapping the statementing of children and giving the money directly to the schools, which denies the pupils and their parents a say.
'I relied on that statement and because of it I now have 11 GCSE's.
'To withdraw it disgusts me.
'This year is like 1848 and 1989 as a year of mass unrest.
'I for one will not stand by as our benefits are being destroyed.'
Addressing the rally Kirsten Hearn, Chair of Inclusion London, condemned the government threat to cut £81 billion from public spending: 'People are so desperate they can be suicidal – but we are OK because benefit staff are getting guidance on suicide.'
Mark Harrison, from the Norfolk Coalition of Disabled People, said: 'This government is trying to turn the clock back.
'We are not going to lose our hard-won rights.
'They are making disabled people pay for the crisis.
'We should follow the lead of the nurses who gave a 95 per cent vote of no confidence in Health Secretary Andrew Lansley'.
Liam Byrne, Shadow Secretary for Work and Pensions, and Ann Begg, Chair of the Work and Pensions Select Committee, also addressed the rally.
Tory Minister for disabled people, Maria Miller, declined an invitation to address the rally.