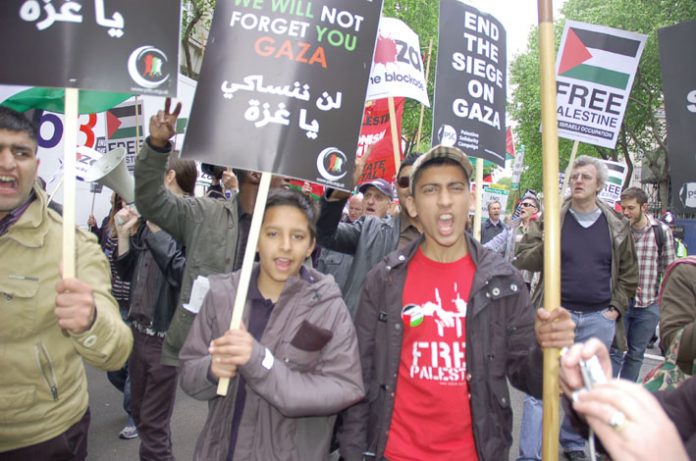 The Gaza Freedom March that will take place in Gaza on December 31st is an historic initiative to break the siege that has imprisoned the 1.5 million people who live there.
The International Coalition to End the Illegal Siege of Gaza says: 'Conceived in the spirit of Mahatma Gandhi, Nelson Mandela and nonviolent resistance to injustice worldwide, the march will gather people from all over the world to march—hand in hand—with the people of Gaza to demand that the Israelis open the borders.
'Marking the one-year anniversary of the December 2008 Israeli invasion that left over 1,400 dead, this is a grassroots global response to the inaction on the part of world leaders and institutions.
'Over 800 international delegates from 35 countries have already signed up and more are signing on every day.
'Participants include Pulitzer Prize winning author Alice Walker, leading Syrian comedian Duraid Lahham, French Senator Alima Boumediene–Thiery, author and Filipino Parliament member Walden Bello, former European Parliamentarians Luisa Morgantini from Italy and Eva Quistorp from Germany, President of the US Center for Constitutional Rights Attorney Michael Ratner, Japanese former Ambassador to Lebanon Naoto Amaki, French hip-hop artists Ministere des Affaires Populaires, and 85-year-old Holocaust survivor Hedy Epstein.
'We also have families of three generations, doctors, lawyers, diplomats, 70 students, an interfaith group that includes rabbis, priests and imams, a women's delegation, a Jewish contingent, a veterans group and Palestinians born overseas who have never seen their families in Gaza.
'The international delegates will enter Gaza via Egypt during the last week of December.
'In the morning December 31, they will join Palestinians in a non-violent march from Northern Gaza to the Erez/Israeli border.
'On the Israeli side of the Erez border will be a gathering of Palestinians and Jews who are also calling on the Israeli government to open the border.
'Inside Gaza, excitement is growing.
'Representatives of all aspects of civil society, including students, professors, refugee groups, unions, women's organisations, NGOs, have been busy organising and estimate that at least 50,000 Palestinians will participate.
'People from the different sectors will march in their uniforms – fishermen, doctors, students, farmers, etc.
'Local Palestinian rappers, hiphop bands and Dabbkeh dancers will perform on mobile stages.'
Participants meet December 27 in Cairo for briefing and group travel to Gaza.
Hundreds of members of the International Coalition to End the Illegal Siege of Gaza plan to meet in Cairo on December 27.
They will travel to Egypt's Rafah border the next day with the intent of crossing into Gaza on December 29.
CODEPINK and other march organisers are calling on Egyptian officials to open the border crossing so they can take part in the march and visit the areas most devastated during the Israeli invasion of Gaza.
To mark the fact that it has been one year since the Israeli attack, the coalition has mobilised an international contingent for a nonviolent march alongside the Palestinians of Gaza on December 31, towards the Erez border crossing with Israel, to break the illegal blockade.
Last month the United Nations Human Rights Council endorsed a report by a UN fact-finding mission on the Gaza conflict, which concluded that Israel has imposed a blockade, amounting to collective punishment, and has carried out a systematic policy of isolation and deprivation of the Gaza Strip.
The UN Mission headed by Justice Richard Goldstone, the former chief prosecutor for war-crimes tribunals in Rwanda and the former Yugoslavia, said Israeli acts that deprive Palestinians in the Gaza Strip of their means of subsistence, employment, housing and water and that deny their freedom of movement could lead the world court to find that the crime of persecution, a crime against humanity, has been committed.
One of those due to march is Eva Quistorp, a former member of the European Parliament and founding member of the German and European Greens and a co-founder and activist of the German peace, women's and environmental movement.
Also due to take part are Ministère des Affaires Populaires (Ministry of Popular Affairs), or MAP, an award-winning Rap group from the city of Lille, in northern France.
MAP's members include: DJ Stanko Fat, rappers Dias and HK, violinist Mr Hacène and accordionist Jeoffrey Arnone.
The group's name pokes fun at the politicians who are too busy taking care of their own affairs than the people's business. The name seemed appropriate to their style of music—simple and populist—so it stuck.
Also taking part is Holocaust survivor Hedy Epstein, who was 8 years old when Adolf Hitler came to power.
She remembers the Kristallnacht in Germany; the anti-semitism in school, the revocation of German citizenship, the burning of synagogues, and males over 16 being sent away to concentration camps.
In 1939, when Hedy was just 14 years old her parents found a way for her to escape the persecution sending her on the Kinder Transport to England. Hedy never saw her parents again; they perished at Auschwitz in 1942.
After World War II, Epstein worked as a research analyst at the Nuremberg Trials of Nazi doctors who performed medical experiments on concentration camp inmates.
In 1948, she moved to the United States and became active in the civil rights and human rights movements.
She has spoken in the US and Europe to audiences of schoolchildren, college students, and adults, appearing on both television and radio.
She has visited the Israeli Occupied West Bank five times since 2003, participating in several non-violent demonstrations in opposition to Israeli government policies towards the Palestinian people.
Epstein has written many articles on these social issues. Her autobiography, available in German, is titled 'Erinnern ist nicht genug: Autobiographie von Hedy Epstein' (Remembering Is Not Enough: The Autobiography of Hedy Epstein).