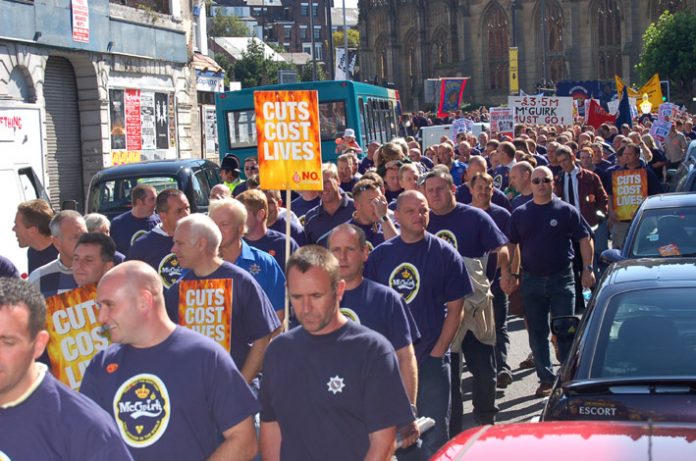 As the TUC Congress kicked off in Manchester, the Fire Brigades Union on Monday issued lawful notice of the resumption of industrial action short of strike over cuts in frontline 999 services in Essex.
The FBU said in a statement: 'The action will commence at 9am on Monday 20th September and include an overtime ban and a refusal to cover other staffing shortages.
'The long-running and acrimonious dispute began in 2009 over the axing of 44 firefighters from frontline fire stations spreading fire crews more thinly across Essex.
'The dispute also involves the controversial decision to downgrade the way specialist emergency rescue tenders and aerial (high reach) appliances are crewed.
'The numbers of firefighters at Colchester, Chelmsford and Harlow stations have been cut leaving only enough firefighters to crew three of the four appliances at these fire stations even when they are all needed in 999 emergencies.
'Fire crews throughout Essex commenced industrial action short of strike on 26th August 2009.
'Eight months later, on 30th April 2010, the industrial action was temporarily suspended – in good faith – as talks were progressing and a negotiated settlement seemed imminent.
'On 13th July it was thought an agreement had been reached between negotiators but the settlement document had to be signed by the Chief Fire Officer at a meeting arranged for 21st July. And that's when it all started to go wrong.
'At the last minute and without prior negotiation, the Chief Fire Officer unilaterally inserted an amendment to the settlement document negotiated and scuppered all prospects of an agreement.'
Keith Flynn, Essex FBU Secretary said: 'Ever since the chief's unhelpful intervention we have been trying to resume negotiations.
'But all our efforts have been met with obstruction, delaying tactics and lame excuses.
'Now the Chief has informed us that he won't sign up to settle the dispute over his last set of frontline cuts until he has drawn up his plans for the next round of cuts.
'Quite frankly, our members are livid.
'In good faith, throughout the summer fire crews have tried to cover the shortages on the frontline caused by the cuts whilst we have been negotiating a compromise settlement.
'That good faith has been thrown back in their face.
'We had a deal to end the dispute and now the fire authority have backed away from it.
'A seven day window exists before the lawful industrial action resumes and our negotiators are ready and willing to use that time should the fire authority be willing to reciprocate.'
l More than eight out of ten (85 per cent) of the public oppose government plans to cut funding in the Fire and Rescue Service.
That's the key finding from a YouGov survey commissioned by the Fire Brigades Union and released on Monday by FBU general secretary Matt Wrack at the Trades Union Congress in Manchester.
'It is not true that, when we oppose the cuts, we are acting in the interests of firefighters alone,' said Wrack.
'We are acting to protect a service that saves lives, and one that the public values highly.'
More than nine out of ten people (95 per cent) believe the number of frontline firefighters should either stay the same, or increase.
'The government, in planning to cut frontline firefighters, is acting in direct opposition to the view of the overwhelming majority of the British people' said Wrack.
And more than nine out of ten people (95 per cent) believe that a rapid response to fires – getting to fires as fast as possible – should be a high priority for the Fire and Rescue Service.
Wrack commented: 'This is important because those who wish to cut the service often suggest that such things as public education, fire prevention advice and fire risk assessments should have a higher priority than the emergency response to fires.
'Government policy makers have been attempting to undermine the importance of emergency response to fires for some time.
'This approach is the complete opposite of what the public want from their fire service.
'Most people agree with the FBU that getting to fires fast is a key priority, and every time you cut the number of firefighters or close a fire station or leave a fire engine without a sufficient crew, you make the response time slower.
'This approach will put the lives of the public and of firefighters at risk. It will also push up the economic losses from fire as fires will be bigger by the time firefighters arrive,' said Wrack.
Nine out of ten people (90 per cent) agree that the Fire and Rescue Service is good value for money.
Speaking at the TUC later, Wrack said: 'Only a few years ago, the mood of the public was extremely angry about the crisis in the economy, a crisis that has thrown millions across the globe into poverty.
'The bankers were hate figures.'
But, Wrack said, a 'sustained campaign by the government and media' was seeking to shift the blame for the economic crisis 'onto public sector workers'.
He added: 'That is a clear lie, a distortion and completely unacceptable.
'This is a cabinet of millionaires who do not care one hoot about public services.
'This is a war on the majority of the population on behalf of a tiny minority.
'These cuts can be defeated. We need to build a movement on a huge scale.'
He warned 'this lot are out to finish off' the assault on the Welfare State and the working class launched by the Thatcher government some 30 years ago.
'We have to say: "We will defeat your agenda and stop you in your tracks".'
YouGov surveyed 1,020 adults between 16–27 August 2010.
All figures, unless otherwise stated, are from a YouGov Plc survey commissioned by The Fire Brigade Union.
The survey was carried out online among a nationally representative sample of 1020 adults aged 18+ in the UK between 16-27 August 2010.
Data is weighted to be nationally representative based on age, gender, social grade and region.
• SECOND STORY
McGuirk apologises for his 'bone idle' remarks
In the wake of a furious response from trade unions and public sector workers, Merseyside chief fire officer Tony McGuirk yesterday apologised for claiming that some workers in the public sector are 'bone idle'.
McGuirk had told a seminar run by the right wing think-tank Reform that sick leave had become an 'epidemic' and went on to advise bosses to show 'muscle' and 'sack some people'.
McGuirk said yesterday that 'in hindsight' he used language which he now 'regrets'.
His comments – including a boast that the number of firefighters at Merseyside Fire and Rescue Service had been cut from 1,550 to 850 – were circulated at the TUC conference on Tuesday.
Merseyside Fire Brigades Union (FBU) chairman, Mark Dunne, said: 'To criticise the public sector in such a way, when he has done so well out of it with a £200,000 salary and a £500,000 pension, is highly hypocritical.
'We have received dozens of e-mails from people within the NHS and other public sector bodies expressing their disgust at his speech.
'The majority of us work in the public sector because we believe in it and we understand that we are providing an essential service.'