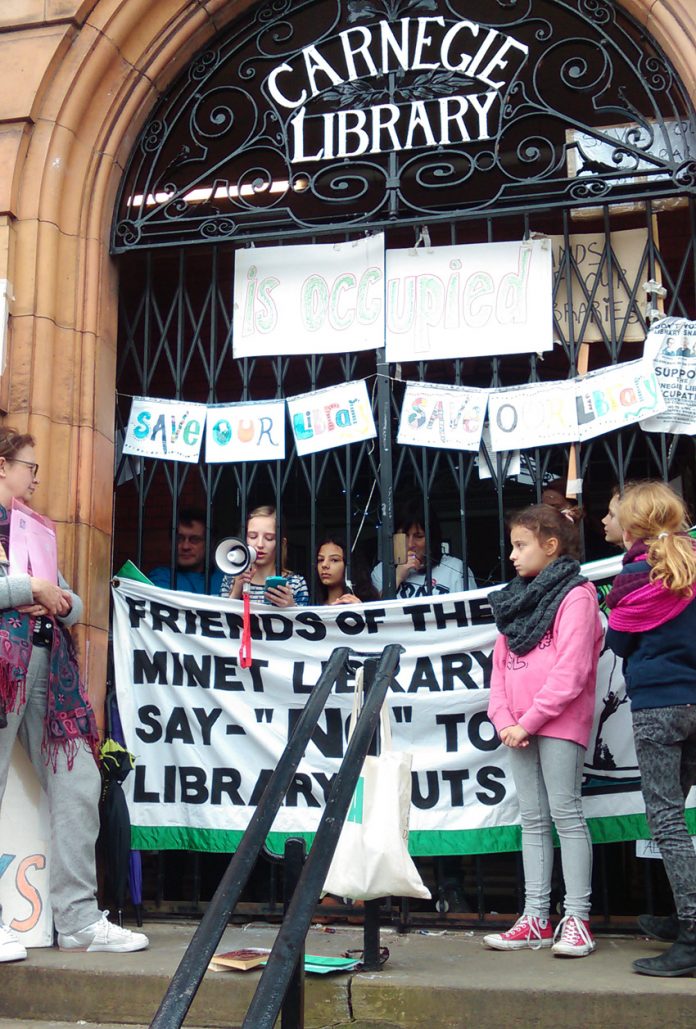 A BATTLE is well underway save 44 threatened libraries across Essex as figures show that 127 public libraries were closed across the UK last year.
The annual survey of British libraries by the Chartered Institute of Public Finance and Accountancy (Cipfa) showed that spending on libraries by local authorities fell by £30m to £741m. There was a net loss of 127 public libraries in England, Wales and Scotland, while 712 full-time employees lost or left their jobs and volunteer numbers increased by 3,000, to 51,394.
Campaign group Save Our Libraries Essex (Sole) has written to all the county's MPs last week urging them to put pressure on Essex County Council to withdraw their proposal, which could see up to 44 libraries shut across the area, had a significant impact on the recent local election results. Holland-on-Sea Library, in Frinton Road, is one of those earmarked for closure.
Sole's Andy Abbott said: 'Politicians across our county need to think long and hard about this act of cultural vandalism. If we don't see a U-turn on library closures, what happened in our county town and beyond will be repeated at the next County Hall elections.'
Almost 8,000 jobs in UK libraries have disappeared in six years, about a quarter of the overall total. Over the same period, some 15,500 volunteers have been recruited and 343 libraries have closed, leading to fears over the future of the profession.
So far, about 60,000 signatures have been added to more than 50 petitions opposing the Essex library closure plans.
Campaigners have also held protest marches, book raids at libraries and most recently a Young People's March for Libraries in Colchester town centre.
In its letter, Sole is calling for Essex MPs to write to David Finch, leader of Essex County Council, requesting the Future Libraries Strategy be withdrawn.
Campaigners will gather in Chelmsford on June 8th, before marching to County Hall in what is being called the Carnival for Libraries.
Meanwhile, new figures show a carnage of library closures in the North East of England.
More than half the region's 169 libraries moved to reduced hours between 2013 and 2018 while 42 closed altogether and 23 only stayed open when they were taken on by volunteers or third party operators.
The figures obtained under a Freedom of Information Act request also show that spending on libraries has fallen 16% over that five-year period while spending on books and other stock dropped by 41%.
Council leaders say the reductions have been forced on them by government's austerity programme, which has massively reduced local authority budgets in the North East and seen cuts in other areas of council operations.
But campaigners say cutting spending to libraries has been an easy target.
Laura Swaffield, chair of charity The Library Campaign, said: 'The North has been disproportionately hit by government cuts to local authorities. This is just one example of the damage that follows. All the same, our experience shows that many councillors have no idea how much they hurt people when they slash library services.
'The overall cost is usually less than 1% of the budget. For that councils get an amazing chain of free walk-in centres that are a lifeline for everyone, including young mothers stuck at home, teens who have nowhere to go, researchers needing access to academic papers, benefit claimants forced to communicate online whether or not they have a PC, lonely older people needing a friendly place to go, schoolkids desperate for quiet study space, anyone who needs to find information … and more.
'Dumping libraries on to volunteers makes libraries far less effective. Closing them is a big slap in the face to those who most need help. At times of austerity, we need libraries more, not less.'
Ian Armistice, from Public Library News, said: 'The cuts to local government budgets, started in 2010, show no sign of slowing despite claims that austerity is over.
'Despite being a statutory service, government refusal to intervene in any cuts since they took office mean that councils can target libraries with effective impunity.
'More than 500 libraries are now volunteer-run instead of run by paid staff.
'In addition, there's been a ton of "hollowing out", with cuts in staffing, opening hours, bookstock and other things which naturally reduces demand and thus is used as part of a vicious circle to justify further cuts.'
Sunderland saw the biggest number of library closures between 2013 and 2018, with its 20 libraries being reduced to just three.
County Durham kept all of its libraries open but reduced hours in every one, while Newcastle reduced hours in 12 of the 14 libraries it maintained (from an original 15).
Staffing numbers in libraries in Tyne and Wear, Northumberland and County Durham fell from 704 to 499 over the five-year period while spending on libraries as a whole fell from £26.5m in 2013 to £22.4m in 2018. Spending on books and other stock fell from £2.4m to £1.4m.
Separate figures obtained by Labour's Shadow Culture team show that the number of books borrowed from libraries in the North East decreased from 13.5m in 2011 to 6.9m in 2018.
The 49% reduction in books borrowed was the largest fall of any region in England. The total number of books in stock fell by 21%.
Spending on library services as a whole has fallen by 16% over the last five years, while the budget for books and other stock went down by 41%.
Students of the Wadham SU at Oxford University are preparing to set a motion so as to continue an existing link between the college and the Greek ECHO Refugee Library.
In the project titled 'Education, Community, Hope and Opportunity' (ECHO), a small van has been transformed into a mobile library where refugees and asylum seekers in Greece have access to books, tablets, and wifi connections for a moment of peace in which to read and study.
Following the closure of the border between Greece and Macedonia in March 2016, over 50,000 asylum seekers remain in Greece, waiting to have their asylum claims heard and processed.
The Refugee Library project exists to provide a reading space, internet access, and tutors to help with using a computer, learning a language, enrolling in university or applying for jobs. Over 1,300 books in six languages ECHO began in August 2016 with a flagship project, in which a library was set up in the Vasilika camp in northern Greece.
Last year, the Wadham SU at Oxford University passed a motion to donate £300 to the ECHO Refugee Library in Athens and begin a relationship of donating books with the help of volunteers. As ex-Wadham student Hannah-Lily Lanyon wrote on the SU Facebook page. However, no further action has been taken since. As a result a new drive to continue support has been launched.
'They are going to donate the books and hopefully organise a college-wide book donation programme!' Lanyon commented, 'And hopefully they will donate more but if any other colleges want to that would be great as there is obviously an affinity between the university and the library project as spaces for learning.'