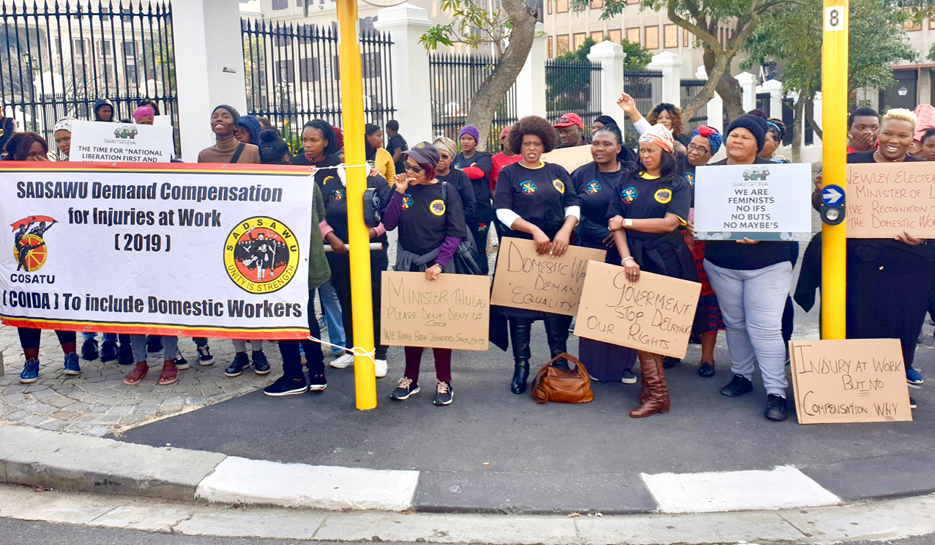 'ANYTHING can happen,' says domestic worker Florence Sosiba. 'I am sitting here in the house. A criminal can come. I am the victim. My boss is not here. I can die for his house.
'But if I am not in the COIDA (Compensation for Occupational Injuries and Diseases Act), how will my family get something?' asks the recently-elected president of South African Domestic Service and Allied Workers Union (SADSAWU).
The Act compensates workers or their survivors for work-related injuries, illnesses and death, but the more than one million domestic workers are not covered by this legislation.
Now, after years of fighting, domestic workers are one step closer to being included in the Act. But, if they are not organised, these efforts could be for nothing.
Sosiba sits on a couch in her employer's grand Johannesburg home. The lounge looks out on to the swimming pool, a common feature in the suburb of Fairland. The dull buzz of the lawnmower filters in from outside.
Sosiba has been a domestic worker for 36 years. She says working in a private household means there is no one to ensure that labour laws are being complied with.
'You can be abused. You can be undermined. You can work long hours … You work hard and you don't get the benefits,' she says, beads of sweat gathering on her forehead and nose.
It also means, Sosiba says, that if a domestic worker is disabled or dies on the job they and their family members are left without a safety net.
'I'm scared that maybe I die – like Maria Mahlangu, falling in the pool. There are a lot of cases like this, a lot of them,' she says.
Mahlangu's death in 2012 sparked a seven-year battle to challenge the exclusion of domestic workers from the Act. She drowned in her employer's swimming pool, but her family received no compensation for her death.
In May, the high court in Pretoria handed down an order declaring the exclusion of domestic workers from the Act unconstitutional and invalid.
In October, the court further ruled that the declaration of invalidity must be applied retrospectively to provide relief to other domestic workers who were injured or died at work prior to the granting of the order.
Last week, the Socio-Economic Rights Institute of South Africa, on behalf of Mahlangu's daughter, Sylvia, filed an application in the Constitutional Court to confirm the high court order.
But the leaders of the domestic workers' organisation say there is yet another hurdle ahead of them: organising and educating domestic workers about their right to claim compensation.
Sosiba says she has learned a lot about her rights through her involvement in Sadsawu. But it is difficult to get domestic workers to join unions. 'It is difficult, because I am working here alone. Next door, she is working there alone. It is not easy to organise. We try, but it is not easy.'
Sosiba is concerned that too few domestic workers know the ins and outs of the Act and will be left behind, even when they are finally covered. 'We must mobilise ourselves. We can't tell our members to go to a march before we educate them. We must sit down and have workshops and tell them what it means to be included in Coida.'
A member of fledgling union the United Domestic Workers of South Africa (Udwosa), Emma Mthimunye, says she would know 'nothing' without the efforts of the union.
'We learn there. We must know our rights. When we don't know our rights, employers can do whatever they want to us,' she says.
Mthimunye, who has been a domestic worker for 14 years, says many in her line of work are afraid to join unions because they fear being fired.
'But we have to talk,' she says. 'Some of our employers, they know that they must pay us. They know that they must register us. But because we are afraid to talk, things just stay the same.'
Pinky Mashiane, the founder of Udwosa, is under no illusion about the trials ahead of domestic worker organisers.
She says the difficulty of mobilising them is paired with the problem posed by also having to ensure their families are educated about their rights.
'Others don't have the information that we have about Coida. Many domestic workers don't know anything about Coida, and they have been in the line of duty,' she says.
'When it comes to those that have died, their families have lost their breadwinners and parents. How are we going to find all of them?'
The other difficulty will be ensuring that there are records of worker injuries or deaths that occurred before the High Court order regarding the Act, Mashiane says.
It is also necessary to make sure employers are on board. According to the Act, employers must register with and pay yearly contributions to the Compensation Fund.
'The compensation commissioner must go to the employers and sit them down,' Mashiane says. 'They must reach out to the employers and tell them to register.'
There is also the question of money. With few paid-up members, domestic worker unions barely collect enough subscriptions to stay afloat. In 2011, Sadsawu was on the brink of deregistration, but was saved by its labour federation, Cosatu, and outside funders. At the time it had only 1,500 paid-up members.
Sadsawu deputy general secretary Eunice Dhladhla said the union still relies on outside funding. For Udwosa, money is even tighter.
Mashiane still works part-time as a domestic worker and as a porter at a hospital. The money she makes goes towards travelling around the country to organise domestic workers.
'If there was money, every weekend I would be going to find domestic workers to tell them about Coida,' she says. 'I try to reach them with the little that I get, but there is no money.'
Meanwhile, South African Airways (SAA) and unions are locked in a meeting facilitated by the Commission for Conciliation, Mediation and Arbitration (CCMA) for the latest round of wage negotiations and other related matters.
Operations at the embattled airline are at a halt after it decided to ground all flights due to an ongoing employee strike.
Members of the National Union for Metalworkers of South Africa (Numsa) and the South African Cabin Crew Association (Sacca) are picketing for a second day on Saturday, after talks with the employer deadlocked. Employees are demanding a wage increase of 8% while the national carrier has so far offered a 5.9% hike.
SAA lost an estimated R52 million on Friday as a result of flights being cancelled. Numsa's Irvin Jim has applauded employees for being steadfast in their demands.
'Both Numsa and Sacca members, and workers from technical and the rest of SAA, we want to applaud them for remaining united and we think that they are making history.'
At the same time, Numsa and Sacca say they will appeal to non-striking workers to join them if South African Airways refuses to give in to their demands.
SAA is operating with skeleton staff as most of its workforce at various airports have downed tools. The strike has forced the state-owned airline to cancel most flights for the next three days.
The unions say they will attend Saturday's negotiations with SAA at the CCMA as they are determined to end the strike. While the airline may be losing millions daily, as operations are shut down, workers are also not being paid.
Numsa's Phakamile Hlubi-Majola says it's all in their best interests to end the strike. 'They have said themselves that it's R52 million a day, times four! I mean it is much more than what we are demanding in wages. Why don't they just sit with us so that we can negotiate and find a way forward?'
Her counterpart at Sacca, Zazi Sibonyoni-Mugambi, says that if SAA doesn't improve their offer, they will approach non-striking workers to join.