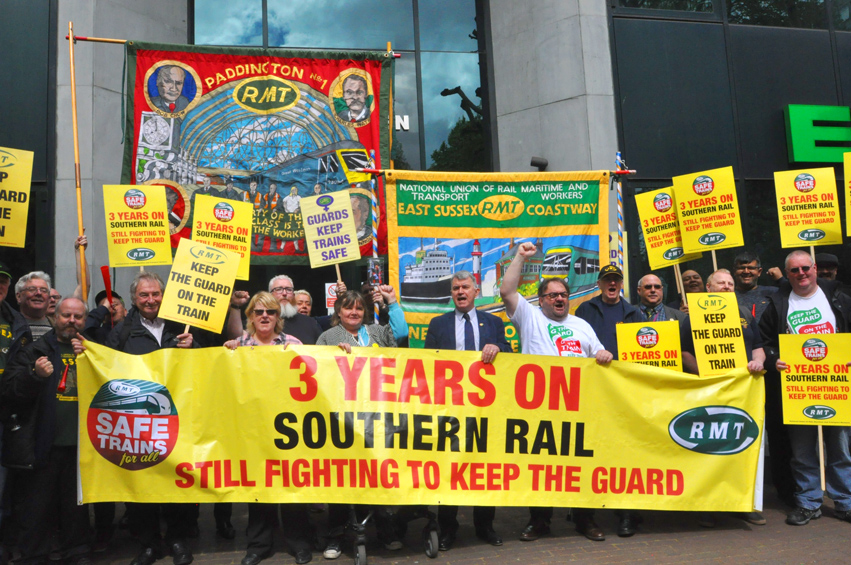 THE RMT warned on Tuesday that the long-awaited Government Rail Review – set up on the watch of serial failure Chris Grayling – is set to be a wholesale sell-out to the private operators.
It will enable the privateers to tighten their grip on the rail network through the creation of a business-loaded QUANGO designed to push the industry further away from public control and accountability, warned the union.
The Williams Review was instigated by Grayling purely to hide his own legendary incompetence and litany of failures including rising fares, the timetable chaos of May 2018 and a whole raft of cancelled electrification and essential upgrade projects.
The review is now nearly a year into its work and with its recommendations due to be implemented in 2020 the expectation is that its conclusions are due to hit new Transport Secretary Grant Shapps desk soon after the summer break – possibly for release just prior to a snap general election this autumn.
Rather than accepting that privatisation has been a wholescale disaster, top industry boss Keith Williams has suggested in speeches and interviews that his answer to the chaos on our railways is to set up an industry dominated and unaccountable body to oversee the railways.
He has refused point blank to even consider the option of public ownership.
Under this setup, RMT is warning that passengers will continue to lose out while the government and private operators are let off the hook.
What makes this idea even worse is that it is nothing new and is instead a reincarnation of the now defunct Strategic Rail Authority.
Rather than wasting time and money on something which has already failed, RMT is stepping up the campaign to demand that the government take back the railways into public control and ownership – a policy supported by two thirds of the British people.
RMT General Secretary Mick Cash said: 'Keith Williams was handpicked by Grayling and his cronies in government to hide the failures of privatisation.
'He has boasted about "cost saving" at British Airways by replacing staff with self-service kiosks.
'It is clear that he only has the interests of private business in mind, despite his claims that he has the interests of passengers at the forefront.
'Ignoring the wishes of two thirds of the British people on the central issue of public ownership leaves this whole costly and time-consuming review process stinking of a stitch-up.
'In fact, new Transport Secretary Grant Shapps knows rail privatisation has been a failure, as just last year he called for Govia Thameslink Railway (GTR) to be immediately stripped of its franchise because of delays and disruption.
'Now he is in post, he has the chance to put his money where his mouth is and fix the broken system once and for all rather than ploughing on regardless with the discredited and damaging Tory ideology of privatisation at any cost.'
The Williams Review call for evidence closed on 31 May 2019.
The RMT's response to the review set out why privatisation of rail has been an expensive failure.
Privatisation has also led to a complex fragmented system which is confusing and inefficient for passengers.
As part of the call for evidence, the RMT surveyed rail workers from across the network about their experiences of working on the railway. More than 800 responses were received.
Findings included:
94% of railway workers think that train companies are most motivated by making a profit, rather than delivering a service and value for money for passengers.
91% of railway workers believe that the railway would work better as a national single unified organisation, rather than as separate companies.
89% of railway workers believe that the current privatised system should be replaced with a publicly owned and nationally integrated railway.
In a speech in favour of replacing workers by machiines, delivered on 19 March 2019, Keith Williams stated: 'But it was not only a cost saver, it also brought in several other customer benefits such as self service check in, self service printing of boarding passes, delivery of boarding passes by SMS or email.
'At my old airline, British Airways, we replaced banks and banks of customer service agents firstly with self-service kiosks and then brought in mobile phone check in.
'I don't have recent data but when I left the airline a few years ago more than 40% of customers were using mobile check in.
'It was a win-win – easier for them and the cheapest of channels for the airline.'
Meanwhile, new RMT research shows that the three main private companies responsible for supplying trains to the railways have been paying massive dividends to their shareholders – that could have funded hundreds of new vehicles – while shuffling money away into overseas companies based in Luxembourg to avoid taxation.
These three companies paid £1.2 billion in dividends to their shareholders between 2012 and 2018, enough to fund 700 new vehicles, while figures on inter-company lending suggest that this is just the tip of the iceberg.
'The ROSCO Racket' shines a light on the shady world of rolling stock provision by examining company accounts of the three companies who own 87% of the UK's rolling stock between 2012 and 2018 and tracing their ownership structures, including uncovering their use of Luxembourg-based companies set up with the sole intention of channelling money up through company structures without paying tax.
RMT General Secretary Mick Cash said: 'These figures should be a wake-up call for the new Transport Secretary.
'For years, we've known that the Rolling Stock Companies (ROSCO's) have failed to deliver new investment in vehicles for a modern railway, leaving passengers paying the highest fares in Europe to travel on clapped out, overcrowded trains.
'Now we can see some of what they've been up to.
'Huge dividend payments and interest on group loans have been flowing away from our railways.
'Because of their shady group structures and their use of companies in low tax regimes and tax havens, we'll probably never know how much they've salted away from our railways, but what we can see shows that passengers and taxpayers are being ripped off every day.
'It's not just the train operating companies we need to see off, it's time to end this racket once and for all and take control of our rolling stock.'
Between 2012 and 2018, the ROSCOs passed on a total of £1.2 billion to their parent companies or owners in the form of dividend payments. To put that in context, three companies paid out the same amount as all the Train Operating Companies managed across 20 franchises over a five year period between 2012 and 2017.
The dividend payments the ROSCOs have made to their overseas parent companies between 2012 and 2018 would have financed the capital costs for a further 700 vehicles. This is more than enough to fund the demand for rolling stock on High Speed 2 over Control Period 7.
In addition to the dividends they pay, these companies engage in extensive inter-group financing which enables them to extract profits in the form of interest payments. Most of this is concealed within company accounts, but the interest on one loan paid by Eversholt to a parent company in Luxembourg amounted to almost £328 million, more than its dividend payments over the same period and enough to finance the capital costs for 172 new vehicles.
The three ROSCOs are now owned by large asset management funds working for investment banks and institutional investors focused on the market in infrastructure such as ports, toll roads, airports, water and electricity companies and rail. Infrastructure is attractive to these funds because it is characterised by low investment costs, predictable income, low exposure to economic cycles or market volatility and high barriers to market entry that prevent competition and allow the companies to raise prices over time. In other words, they are reliable sources of income based on services that people will always need which are relatively easy to monopolise.
• All the ROSCOs have owners with companies based in Luxembourg, which is a low tax regime in which interest payments between companies are not taxed. In 2014, the LuxLeaks (leaked papers revealing the tax agreements of dozens of companies in Luxembourg) revealed that in 2009 AMP Capital, who now own 65% of Angel Trains, were using a complex web of companies using various forms of intra-group lending to avoid paying tax on money they were extracting from Angel Trains and other investments.