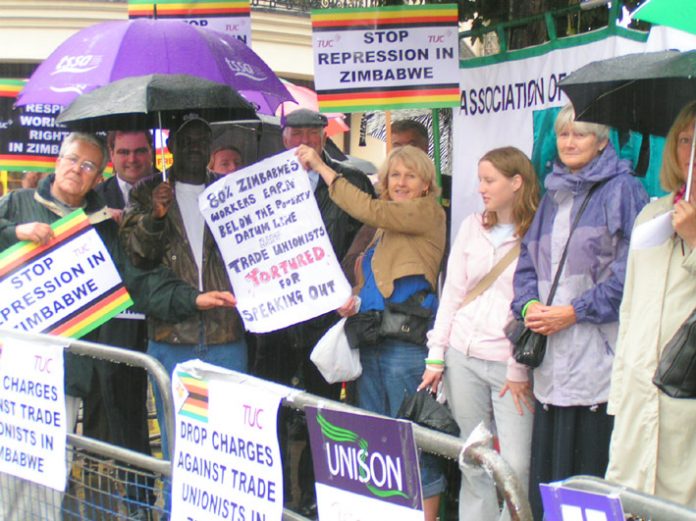 Zimbabwean riot police arrested opposition leader Morgan Tzvangirai when they prevented a mass anti-government protest yesterday.
Police rounded up dozens of opposition activists and trade union leaders.
At least four MPs from the opposition Movement for Democratic Change (MDC), which is based on the trade unions, were among those held by riot squad officers.
They had tried to reach a sports ground in defiance of a ban on anti-government demonstrations, the MDC said.
'A number of our senior officials have been arrested,' William Bango, spokesman for main MDC leader Tsvangirai said.
As well as the legislators, the party's chief spokesman Nelson Chamisa and the head of a splinter MDC faction, Arthur Mutambara, were also arrested as they tried to make their way to the Highfields township.
The rally, convened by The Save Zimbabwe Campaign, would have been a rare show of unity from the rival factions of the MDC since the party split in 2005 over a decision to contest senate polls.
But armed police sealed off all roads to Highfields, subjecting travellers to rigorous searches and turning away vehicles.
Truckloads of armed police were patrolling the streets, dispersing residents seen either walking towards the venue of the demonstration or gathered in groups.
'Highfields has been turned into a no-go area,' Chamisa declared before his arrest by police who pulled him out of a car in which he was travelling with party colleagues, and frog-marched him into a police truck.
He added: 'There are policemen every 40 or so metres. I have never seen such fascism.'
However the organisers, The Save Zimbabwe Campaign coalition of trade unions, church, rights and opposition groups, would not be cowed by threats from police to block the rally, he said.
National police spokesman Wayne Bvudzijena told journalists that police would not allow the rally, which the organisers had described as 'a prayer meeting' following last month's ban on political rallies and processions.
Riot police used teargas and water cannons to break up another MDC rally three weeks ago which was due to have been addressed by Tsvangirai, even though the high court had rejected a bid to ban the demonstration.
With inflation now the highest in the world at 1,730 per cent, opposition to Mugabe has been steadily mounting. Shortages of basic foodstuffs are widespread while most of the population is living below the poverty line.
The Congress of South African Trade Unions (Cosatu) has announced that it will join the Zimbabwe Congress of Trade Unions (ZCTU) in its two-day strike next month by demonstrating 'in all the establishments of the Zimbabwe Government'.
In a statement released in Harare, the ZCTU said COSATU would target Zimbabwe government establishments such as its High Commission in South Africa in solidarity with the general strike called by the ZCTU on 3rd and 4th April.
Cosatu, which has been one of the ZCTU's major blocs of support over the last seven years, said it would never turn a blind eye to the ruling Zanu PF government's abuse of workers and human rights.