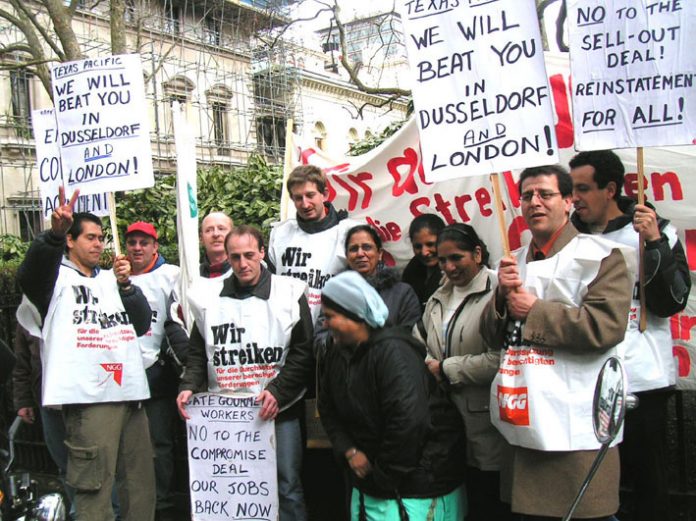 PRIVATE equity raider, the Texas Pacific Group has sold airline catering company Gate Gourmet to bankers Merrill Lynch.
Gate Gourmet, which is based in the United States and Switzerland, has been wracked by a financial crisis and industrial action since Texas Pacific bought it from Swissair Group in 2002 for 1.1 billion Swiss francs, and sought to 'straighten out the company' by sacking up to 700 workers by megaphone.
At the time, Texas Pacific was said to be betting on an airline industry recovery after the September 11, 2001 attacks on the Twin Towers World Trade Centre in the United States.
However the recovery did not take place, but BA baggage handlers did stop work in an unofficial action for two days in protest at the Gate Gourmet mass sackings, stopping Heathrow in the process, and lopping £50 million off of BA's share price
Despite the cooperation of the leadership of the TGWU trade union in agreeing to accept the mass redundancies, the sacked workers never did.
They are still fighting for their jobs back on their old terms and conditions of employment.
As a result of this determined struggle, and the odium that it brought on Texas Pacific all over the world, the corporate raider restructured Gate Gourmet's debt and ceded some control of the company.
It then disposed of the rest of its holding to Merrill Lynch at the end of February.
Gate Gourmet Chairman and CEO Dave Siegel has issued the following statement to company employees.
'I would like to inform you that TPG has sold its remaining membership interest in the Company to Merrill Lynch, which becomes one of the company's largest members.
'This is a key milestone in Gate Gourmet's evolution as the company continues its transition from a single member to a more diversified and balanced ownership structure.
'With a financial restructuring and organisational realignment behind us, Gate Gourmet is well positioned for success, and we welcome Merrill Lynch's increased ownership stake.
'Our various new shareholders have met with management, and are very supportive of our goals and plans. . .
'Today's development has no impact on the day-to-day operation of the company or on the composition of the senior management team, and I remain chairman and CEO.
'All of us at the senior level remain committed to Gate Gourmet for the long term.'
It is however in doubt as to whether the new owners are committed to the present management either in the short or the long term.
Parmjit Bains for the Gate Gourmet sacked workers told News Line yesterday: 'Good riddance to Texas Pacific, they were rubbish.
'They thought that they could just trample all over us, but we have seen them off.
'We remain fighting for our jobs back on our old terms and conditions.
'Our advice to the new owners is to see sense, put an end to the war that Texas Pacific started with us, and agree to our return to our jobs, on our old terms and conditions.
'Until that happens our fight goes on.'