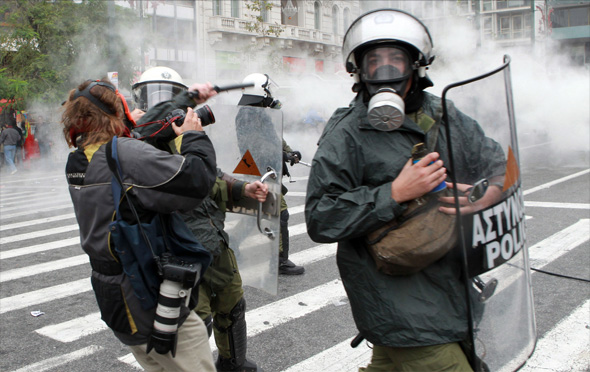 The Greek Prime Minister Yiorghos Papandreou, speaking at a meeting of his party's parliamentary deputies on Saturday, emphasised that 'no-one likes emergency procedures but we are at war'.
Papandreou has been criticised severely by opposition parties and by several of his deputies for adopting emergency parliamentary procedures in pushing through unpopular Bills.
Papandreou once again presented a rosy picture for the future, claiming that by 2013 Greece would be out of the recession.
He also announced a committee to campaign throughout Europe for the gathering of one million signatures to force the European Union to discuss the so-called Eurobond scheme already rejected by Germany and France.
Papandreou called the meeting in order to cement his party and parliamentary deputies ahead of this Wednesday night's vote on the Budget.
Up to now, Papandreou has lost four parliamentary deputies who refused to vote for the IMF-EC imposed 'austerity measures' and his parliamentary majority has been cut to six.
But striking printworkers and journalists who marched with other workers in Athens on Friday night insist that 'the real opposition is us, out in the streets'.
For the first time since the 1970s, printworkers, journalists and TV and radio technicians staged a joint national two-day total strike last Friday and Saturday.
No newspapers appeared in the stands, except one, and there were no news nor current affairs TV and radio programmes broadcast.
Urban transport workers and railway workers carried rolling 24-hour strikes all last week.
The Transport Unions Co-ordination Committee said it would be organising further action this week and decided to call for a 24-hour general strike next Wednesday.
The Co-ordination Committee of Trades Unions, which rallies several smaller trades unions, has also decided to call on the big trade union federation to come out on a general strike next Wednesday.
But the leaders of the GSEE (Greek TUC) decided on just a three-hour stoppage for next Wednesday; usually these stoppages draw very limited support from Greek workers.
Meanwhile, the Greek Union of Press Photographers (EEF) has protested to the Minister for the Protection of Civilians, Christos Papoutsis, accusing the riot police of deliberate violence against professional photographers during last Wednesday's general strike march.
The EEF states that its President Marios Lolos was viciously attacked by riot police despite wearing distinct press dress and carrying large equipment.
The EEF also states that riot police attacked and broke the arm of News Pictures photographer Maxime Cyzelinck and beat up press photographer Bagelis Patsialos.