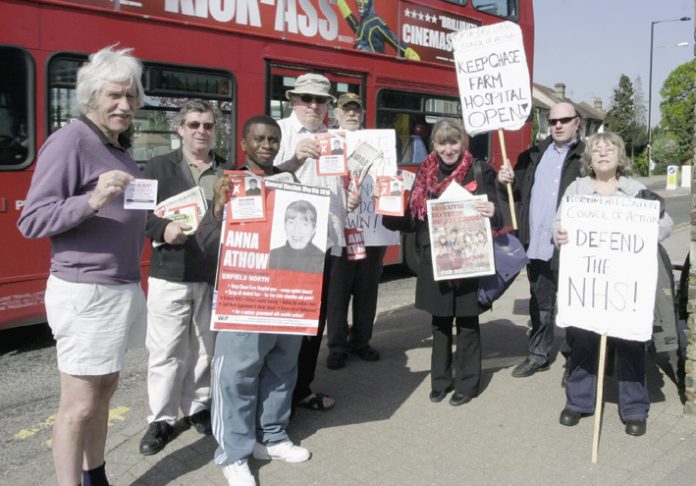 A LIVELY North East London Council of Action monthly picket of Chase Farm Hospital won big support yesterday for its determination to keep the hospital open at all costs.
Anna Athow, who is the WRP parliamentary candidate, also won great support for her stand that an occupation must be organised to stop any attempt to close the hospital.
She told News Line: 'Many people are angry that the government is making massive cuts in the NHS because of the public sector deficit.
'It's clear that all the major political parties have the same policy, and that is to cut £20bn off the NHS budget and implement a mass hospital closure programme.
'There is great support for our policy of occupying departments threatened with closure, to keep Chase Farm Hospital a fully-functioning district general hospital.
'At the end of the day, we need a workers government to nationalise the banks and fully fund all our public services. I am standing to fight for this.'
Local roofer Wayne Ball declared to News Line: 'If this place wasn't open I wouldn't be standing here.
'About 14 years ago, I was run over be a 14-ton lorry in Hoddesdon.
'They airlifted me to Chase Farm, and I was in hospital for about six weeks. They stitched me up and put two pins in my knee. They said I would never play football again and wouldn't walk for five years.
'But the hospital gave me physiotherapy on my knee and gave me check ups and everything healed up really well. Now I'm a roofer and go up and down ladders every day and play football at the weekends.
'The plans to close down the A&E are a load of rubbish. It should be kept open. I'd support an occupation to keep the hospital open.'