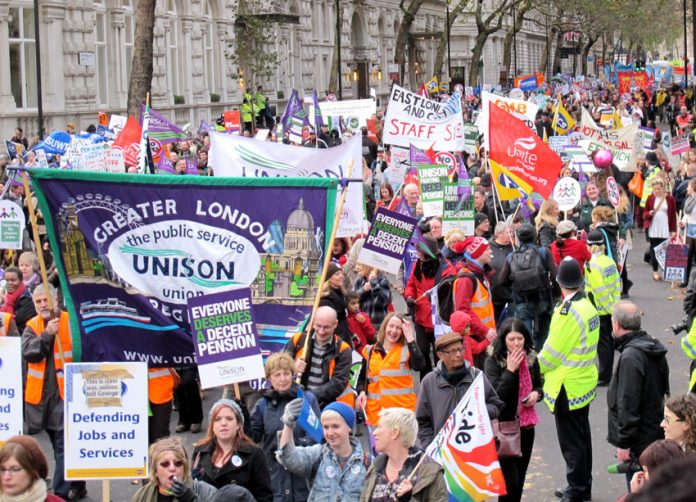 UNITE and Unison rebutted threats issued by Cabinet Secretary Francis Maude yesterday morning, in which he poured Tory vitriol on this Thursday's mass one-day public sector strike and reiterated plans for new legislation to ban strikes.
A Unison spokesperson told News Line: 'We will be looking for a big turnout on Thursday to show this government that enough is enough.
'Our members are angry and this is down to the government's squeeze on public services and on public service workers' pay.'
On the strike ban threat, she said: 'We have some of the harshest anti-trade unions laws in Europe. It's time that the country got rid of these draconian laws instead of trying to introduce even more, harsher, restrictions.'
Gail Cartmail, Unite Assistant General Secretary said: 'It's easy for millionaires to dissemble against public sector workers.
'The lowest-paid public sector worker's pay rate will be overtaken by the National Minimum Wage in October, when that goes up, when that increases.
'Half a million public sector workers are paid below the Living Wage. Three quarters of our members polled rely on benefits. Really this is an awful state of affairs for the sixth biggest economy in the world.
'Francis Maude talked about partnership, talked about us doing business with the government. What's incredible is that his government, his cabinet, tore up the independent Pay Review Body recommendation for NHS workers, tore it up and said don't bother to meet next year.
'Our people in local government have had reduced income over five years of about 15%. Enough is enough.
In his TV interview, Maude said: 'We want to look at whether there should be a threshold … in terms of turnout, so that a ballot with a turnout below a certain level should not give a valid legal mandate for strike action.
'But we should also be looking at whether there should be some rule that says that a mandate falls after a certain time.'
On pensions, Maude claimed: 'The public sector pensions issue is a resolved issue. No budging on that.'
However, along with its participation in Thursday's 24-hour strike, the FBU has announced that it is holding eight consecutive days of two-hour strike action from Monday 14-Monday 21 July in defence of its members' pensions.
Matt Wrack, FBU general secretary, said: 'Three years of negotiations have come to nothing because the government is simply unwilling to compromise or even listen to reason despite a huge amount of evidence showing their planned scheme is unworkable.'
Firefighters voted by 78% for strike action in defence of their pensions in August last year.