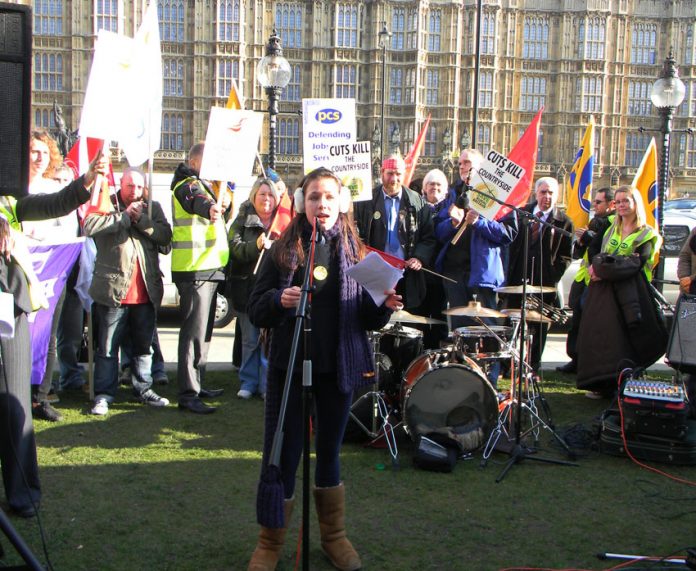 Westminster MPs heard calls for the government to 'Stop, Listen and Think Again', as trade unionists and community groups lobbied Parliament asking them to vote against The Public Bodies Bill which would see non departmental public bodies (NDPBs) abolished, merged, privatised or drastically changed.
Equity, Unite, Unison, and PCS flags created a colourful fanfare for 200 lobbyists from such diverse bodies as the Agricultural Wages Board, UK Arts Council, the Forestry Commission and other advice services.
Over 400 organisations will be affected and many people are set to lose their jobs.
A Unite statement said: 'The union believes that sweeping these bodies away is an act of political vandalism which will shut ordinary people out of the decision-making process'.
News Line spoke to Jane de Florez from Equity, who said: 'If you take the Iraq war which was opposed by over a million people with marches and demonstrations, and the war still bloody well continued, then obviously this protest has to be a lot stronger even than that to get them to change their policy.
'The message has to be much much stronger, otherwise we can be ignored. They don't take notice.
'The Poll tax riots worked.
'The coalition is very weak, but the protests have got to be stronger. There has to be a general election and we should force it with a general strike'.
Steve Lennock Chair of the Agricultural Workers' Union said that abolition of the wages board would be a setback for some of the most poorly paid workers.
He said: 'Even the farmers don't want the wages board abolished.
'Everyone of those men in the cabinet are either millionaires or multi-millionaires.
Lennock added: 'The students have shown the way. We will defend public services'.
Tina Roche from SSSNB, said: 'The school negotiating body for support staff in schools, which was set up to obtain national terms and conditions for these staff has now been scrapped.'
Ellie Paskell from Equity Council and Vice chair of the Young Members said: 'The national debt is not the problem. The ConDem government is. Tax avoidance by big business would pay at least three-quarters of the debt.
'They can afford to pay for books but we are the ones who need libraries. They don't care, but we do and there are a lot more of us than there are of them.
'Unions should be encouraging people to strike as much as possible'.