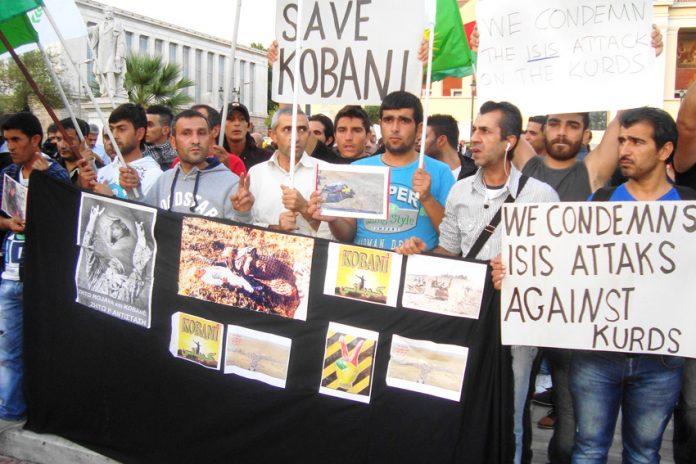 TURKEY'S foreign minister Mevlut Cavusoglu has said his country cannot be expected to lead a ground operation against Islamic State (IS) militants in Syria on its own.
He also called for the creation of a no-fly zone over its border with Syria after talks in Ankara with new NATO chief Jens Stoltenberg.
However, Turkey is under some pressure to do more to help Kurdish forces fighting IS in the strategic Syrian town of Kobane.
UK Defence Secretary Michael Fallon told the BBC yesterday that the government believes Parliament would not currently approve expanding air strikes to Syria.
Fallon said: 'We certainly would like to see Turkey more involved. But in the end it's a decision for their government.
'Clearly, every country in the region has got to see now what it can do to contribute to dealing with ISIL, otherwise we will have Iraq falling apart and Syria falling apart, and that is a danger to the whole region.'
He was speaking as fighting continued to rage in the Syria-Turkey border town of Kobane, with at least 400 killed in recent weeks.
UK Foreign Secretary Philip Hammond has warned air strikes alone will not prevent Kobane being seized. He also made clear that he was opposed to any joint action alongside president Assad of Syria against IS.
Turkey has stationed tanks along its border overlooking Kobane, but has made no move to intervene.
It is prepared to fight to the last Kurd.
Turkey remains opposed to getting involved because it is concerned about arming the Kurdish forces who are fighting the Islamists. Turkey has fought a long civil war with its Kurdish minority.
Kurds have recently staged angry protests in several Turkish cities during which over a dozen Kurds were killed.
Turkey, a NATO member, wants the creation of a border zone or safe haven, enforced by a no-fly zone, along the Syrian side of its border to stop fighters moving across and to ease the influx of refugees into Turkey. Its priority is to take action against Syria's President Assad.
• About 1,000 Kurds and Turkish political refugees, along with Greek workers and youth, marched last Wednesday night in Athens demanding 'Free Kurdistan' and 'Free Kobane', the city besieged by IS forces on the border with Turkey.
The march was organised by the Athens Meeting of Resistance and Solidarity of Kurds and Turks living in Greece. A speaker representing the march's organisers said at the rally that 'the Turkish army is preventing solidarity and assistance to Kobane'.
Marchers waved flags of Kurdistan, of the PPK (the party of the imprisoned Kurdish leader Abdullah Ocalan) and of PYD (Kurdistan Democratic Unity Party).
Young Kurdish refugees held up placards stating 'Apo (Ocalan) said: Neither fall nor surrender; resistance to final victory' and 'We condemn the ISIS attack on Kurds'.
Throughout the march in the Athens city centre, marchers kept on chanting slogans such as 'Free Kobane', 'Free Ocalan', 'Fascist Erdogan', 'Long live PKK'. Greek armed riot police and vans prevented the march reaching the Athens Office of the European Union.
Outside the Vouli (Greek parliament) Dr Ibrahim, the PYD representative in Athens, said that earlier he had spoken over the telephone with the Kurdish fighters in Kobane who told him that they desperately needed 'water, food and bullets'.