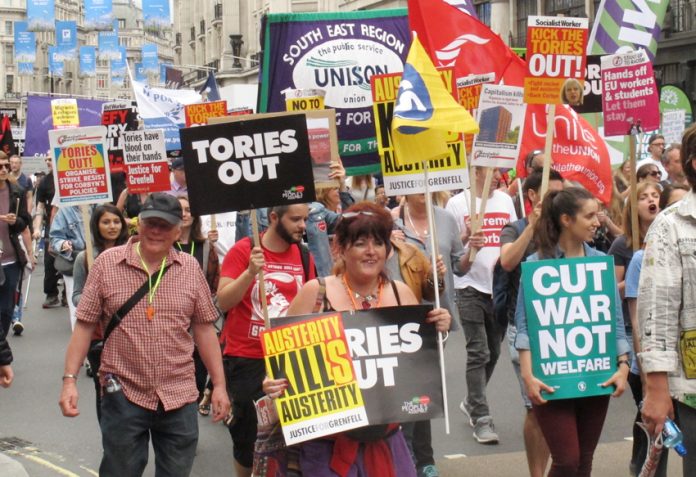 THE TUC has joined the Tory government's new National Taskforce on Carillion.
In fact it had launched the call for May to form the taskforce.
The TUC said on Thursday said it was 'pleased that government has agreed to union calls for a national taskforce'. Millions of TUC trade union members will be extremely displeased as its decision to work with the Tories and the bosses rules out any real defence of their wages and jobs.
The TUC joined other 'key stakeholders', Tories, bosses and bankers on the taskforce, which met on Thursday.
The TUC said that it used the meeting to press for:
• the transfer of private sector contracts to alternative providers with jobs, pay and pensions protected;
• a comprehensive support package for at-risk workers, apprentices and small firms;
• protection for agency and zero-hours workers on Carillion contracts to ensure they can recover unpaid wages;
• bringing Carillion's public-service contracts back in-house to ensure consistent delivery and certainty for workers;
• an urgent risk assessment on other large outsourcing firms to avoid another crisis, and a moratorium on future outsourcing.
TUC General Secretary Frances O'Grady said: 'We are pleased the government has agreed to union calls for a national taskforce to deal with the collapse of Carillion. Time is of the essence in dealing with this crisis. We need urgent action to protect jobs, pay and pensions. This cannot be a talking shop.'
The first meeting was chaired by Tory Business Secretary Clark Gregg. The TUC, which attended the meeting, declined to comment or issue a statement afterwards. Dave Wiltshire of the All Trade Unions Alliance commented: 'It is an absolute disgrace that the leaders of the trade union movement have sided with the Tory government in a "National Taskforce on Carillion" rather then fight for the workforce which require leadership in this desperate time.
'This TUC wants a small say in the running of capitalism, whereas the workers require leaders to break with the Tories and capitalism to bring down both and go forward to socialism.
'By joining the Tories in their National Taskforce they have deliberately tied their own hands, putting themselves in a position where any general strike action to remove the Tories is ruled out.
'An emergency conference of the TUC must be called immediately and these leaders must be replaced by a new leadership that is willing to call a general strike and bring the Tories down, as the only way to really defend jobs.'